originally published: 10/13/2020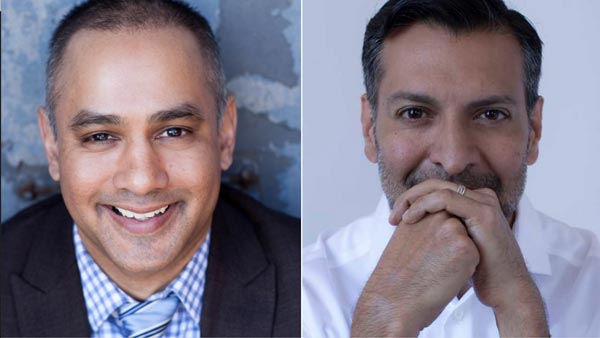 (WEST ORANGE, NJ) -- Luna Stage presents When They Go Low, a solo conversation with Rajesh Bose about race in America, streaming on October 16, 18, and 19 at 8:00pm on Luna's live stream channels. Presented in collaboration with the South Orange Performing Arts Center (SOPAC), Bose's conversations will be followed by virtual group discussions facilitated by Emmy-nominated TV producer Riaz Patel, who creates perspective-shifting experiences that inspire real-world change. Advance registration is required for this free event.
This truthful, hard-hitting look at the state of our country examines race in America, asking "how exactly do we go high?" New York-based actor and writer Bose says there were two moments that led to the creation of this piece: the 2016 election and a defining encounter with a stranger, the central event of his solo conversation. "I'm exploring how we respond to violence," says Bose. "Should our response to violence be civic engagement?  Should it be something else?  At what point is civic engagement simply naive or not enough?"   
The goal of the evening is not to provoke conflict, but to offer an opportunity for constructive listening and dialogue. Bose's story will launch a community conversation facilitated by Patel, Emmy-nominated TV producer and creator of The EPIC System, a new framework that changes how we talk about divisive issues, which was recently profiled in Forbes, The Washington Post, CNN, The Blaze, The Daily Beast and The Huffington Post.
Audience members will be invited to participate in the dialogue along with Bose and Patel.
"At this moment in history, open and connecting conversation has become increasingly rare as we are isolated by the pandemic and separated by social media," says Patel. "And yet it's the only way to truly understand each other. Great theatre can spark great conversations. Rajesh's humanizing work is the perfect launch pad to talk about where we are in 2020 - and where we hope to go."
---
The article continues after this ad
---
---
On October 16, 18, and 19 at 8:00pm, When They Go Low will stream on Facebook Live and YouTube. The performance will subsequently be available on Luna Stage's website. Advance registration is required for this free event and available here.
When They Go Low is part of Luna Stage's Voting Writes Project, a two-month interdisciplinary arts event featuring commissioned plays, films, a concept album, a virtual dance party, and other interactive experiences celebrating civic engagement in the November 2020 election.
The Voting Writes Project is created in collaboration with The Andrew Goodman Foundation, and supported in part by the National Endowment for the Arts. It features commissioned virtual concept albums and short films, plays, and other interactive experiences. All events are open and free to the public, though registration for When They Go Low is required. A complete calendar can be found at https://www.lunastage.org/votingwrites.
---
Rajesh Bose is an actor based in New York City.  Off-Broadway and regional favorites include: The Crucible (Bedlam Theatre), Henry VI (NAATCO), Pygmalion (Bedlam), Against The Hillside (Ensemble Studio Theatre), Indian Ink (Roundabout), Oslo (St. Louis Rep), Mary Stuart (Folger Theatre), Guards at the Taj (Capital Stage), Disgraced (Playmakers Rep, Huntington Theatre, Long Wharf Theatre – Connecticut Critics Circle Award, IRNE Nomination), The Who & The What (Gulfshore Playhouse), and The Invisible Hand (Westport Country Playhouse, Hartford TheaterWorks). Film & Television: "Quantico", "Blacklist", "Blue Bloods", "Elementary", "Damages", "Nurse Jackie", "Madame Secretary", "The Good Wife", "Law & Order: SVU", "Criminal Minds", the series finale of "The Sopranos", and the Academy Award nominated film Frozen River.
---
Riaz Patel is an Executive Producer of TV projects that create 'perspective-shifting' experiences for real people.  He has been nominated for two Emmy-Awards, an NAACP Image Award, and a Women's Image Network (WIN) Award. His shows have been filmed in twenty-one countries and are distributed worldwide by companies like Discovery, A&E, NBC/Universal, Netflix, MTV, and Oprah Winfrey Network (OWN)
In reaction to the growing "divide" in America - and our social media-induced communication crisis - Riaz created The EPIC System, a new framework that changes HOW we talk about divisive issues. His EPIC System has been profiled by Forbes, The Washington Post, CNN, The Blaze, The Daily Beast, The Huffington Post and is currently taught at universities, high schools, companies, and places of worship. He hosts a weekly talk show on Facebook/YouTube called 4 CHAIRS where he applies EPIC to conversations about divisive topics between 4 total strangers from all over America. 
---
SOPAC is an accessible cultural destination located in the heart of downtown South Orange that presents world-class artists in an intimate and welcoming environment.
The mission of SOPAC is to enrich individual lives, and to engage and serve the community in South Orange and beyond, through arts experiences that inspire and transform.
---
Luna Stage develops and produces vibrant plays about local and global experiences. Firmly rooted in New Jersey's Valley Arts District - a crossroads of cultures - Luna brings its communities together for artistic events that spark conversations and create understanding and change.
Luna Stage is the recipient of the 2019 People's Choice Award for Favorite Small Theatre in New Jersey. Luna has contributed to the development of over 100 new works for the stage, many of which premiered at Luna and have gone on to be produced in New York, regionally and internationally.
As producer, innovator, and educator, Luna is dedicated to eliminating barriers to participation and allowing all community members to nurture their own creativity and vision. Luna offers classes for children and adults, as well as opportunities for early-career and established theatre artists to develop and incubate new work.