originally published: 10/12/2020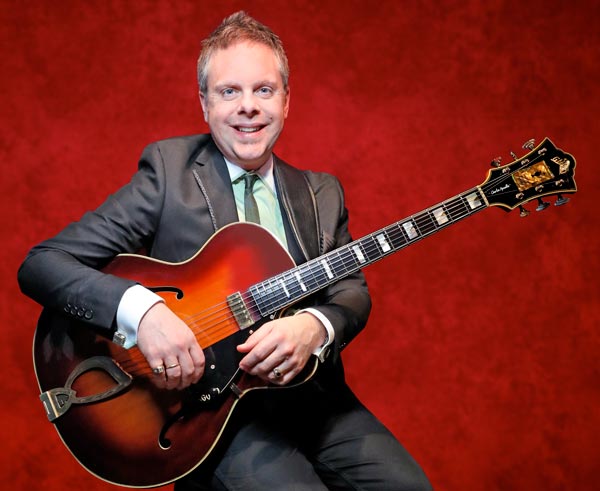 (LAVALLETTE, NJ) -- "A gumbo of styles that run from New Orleans blues and Chicago funk to Motown and New York bop." That's how AllAboutJazz's Don Phipps described Charlie Apicella & Iron City's 2019 album, Groove Machine. "The combination," added Phipps, "makes for a 'groovy' listening experience – road music that will keep the head nodding and the mind trucking."
On Sunday, October 18 from 4:00pm to 5:00pm, guitarist Apicella will lead his Iron City Quartet at the New Jersey Jazz Society's Virtual Social, which can be viewed on the NJJS Facebook page (NJJS). The concert will be streamed from Apicella's Lavalette, NJ, studio. 
A typical Iron City set will always be based, Apicella says, on "the hard bop tradition of straight ahead jazz. I'll focus on my compositions and tunes that I transcribe from the hard bop vernacular of musicians such as [alto saxophonist] Lou Donaldson and [guitarist] Grant Green." Original compositions, he adds, are at the core of hard bop, which differs from Tin Pan Alley, aka the American Songbook. "Those are songs," he explains. "They have lyrics. Jazz tunes like 'Giant Steps' [John Coltrane] and 'Woody 'n You' [Dizzy Gillespie] are all about original chord progressions. A lot of hard bop bands wrote music specific to the ensemble – Art Blakey and the Jazz Messengers and bands led by Horace Silver, for example."
Apicella's band members are organist Radam Schwartz, drummer Allan Korzin, and saxophonist Gene Ghee. He likes to think of this group as a modern-day version of the Jazz Messengers. "What attracted me to that band," he explains, "is the professionalism and craftmanship – the shared mentality the musicians clearly had, the ability to put the music first. We're not an all-star band. We're a cohesive unit that puts the band and original music first."
Funding for the NJJS Socials has been made possible in part by Morris Arts through the New Jersey State Council on the Arts/Department of State, a partner agency of the National Endowment of the Arts. Additional funding has been provided through a generous grant from Nan Hughes Poole.
---