originally published: 10/09/2020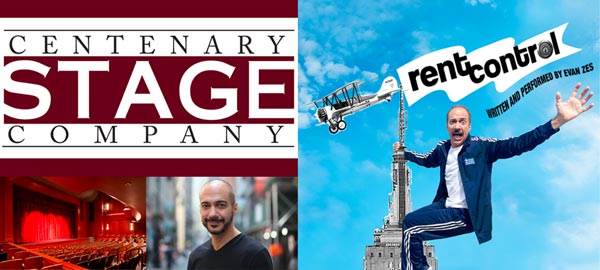 "In the year 2000, I moved to New York to be an actor." So begins "Rent Control," Evan Zes' one-man comedy about how an Upper East Side two-bedroom he lucked into the day he arrived in the city changed his life. Only $918 a month, Zes describes finding one of the last rent-controlled apartments in New York as akin to "discovering plutonium." He then takes the audience on a fast-paced trip through what happened next – a tale replete with shady landlords, comic roommates, and an ill-advised AirBnB scheme that almost derailed his acting career.
In the span of a non-stop 75 minutes, Zes plays not only himself, but more than 25 other characters, all while providing a rueful but hilarious commentary on a pivotal moment in his life. New York Theater called the performance "as disarmingly frank as it is funny." "Rent Control" is the opening production of Centenary Stage Company's Fringe Festival, with performances October 8-11.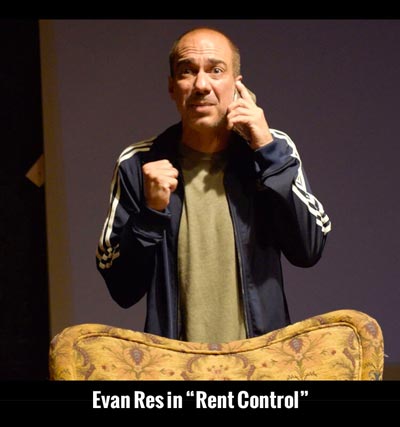 "I like taking the audience on a ride that they don't foresee coming," said Zes in a phone interview from his childhood home in San Jose, California, where he's been staying during the pandemic.
Theatre has been at a standstill, but self-produced solo shows like his are some of the first making the slow return to the stage. Zes is an actor with New York, international, and regional theatre to his credit, as well as film and television. Lately, he's been auditioning on Zoom, but Centenary Stage in Hackettstown, New Jersey marks his first live performance since the shutdown began.
Rent Control is ready to go because it's his own production: not only is Zes the writer and performer, he also controls complex lighting, multimedia, and audio cues from his laptop. It's how he's brought the play to theatres in Greece, Costa Rica, and all over the United States, including New York, Hollywood, and the Bay Area.
Originally scheduled for CSC's intimate "black box" theatre, Zes will now perform in their 600-seat Sitnik Theatre, where the audience will be spread out to ensure social distancing. The mostly empty theatre will be unusual, but Zes is confident that the show will work.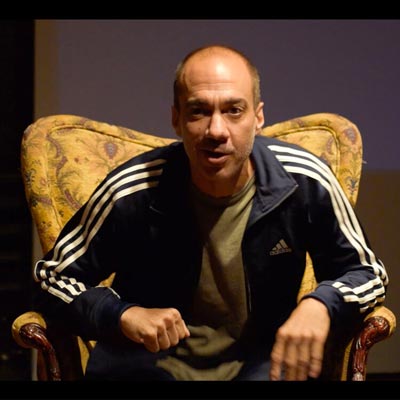 "It's a bit like standup in the beginning," he says, "I'm pretty relaxed in my telling and my setup. And then the rug gets pulled out, as it did from under me—it's pulled out from the audience about 25 minutes in when the crisis hits. At that moment, I can feel everybody just tense up, and they're on board for the next 40 minutes in a way that's very fun as a performer. It twists and turns in a way you don't expect."
Evan Zes will give four performances of his award-winning "Rent Control " as part of Centenary Stage Company's Fringe Festival October 8-11. Now in its 9th season, the festival was developed in an effort to bring a non-traditional or more experimental theatre experience to audiences in the Skylands Region.
"The type of theatre that you would normally have to travel to the downtown NYC theatre scene to experience," says Christopher Young, General Manager of Centenary Stage Company. "So we sort of took that really exciting, cutting-edge theatre that was happening in those venues nationally/internationally and transplanted them out here to CSC to help expose audiences in this area to some really interesting and different work that was being done."
Some of the show's CSC has brought in have come from or go on to have runs at really prestigious festivals, such as the New York Fringe Festival and the Edinburgh Fringe Festival. These pieces run the gamut from solo shows to small ensemble pieces and are often interdisciplinary, featuring the use of live music, dance, multimedia, and various other art forms to create a really unique type of storytelling.
"Traditionally, we would present three productions as part of the series," continues Young. "Each with a limited four-performance run and, historically, these events were presented in our Kutz Theatre (99-seat black box space), making for an incredibly intimate theatre going experience. In fact, some of my favorite theatre experiences have been from the CSC Fringe Festival events presented in that space. However, of course, due to COVID-19 guidelines and requirements for social distancing, etc., we've moved the series to our much larger Sitnik Theatre."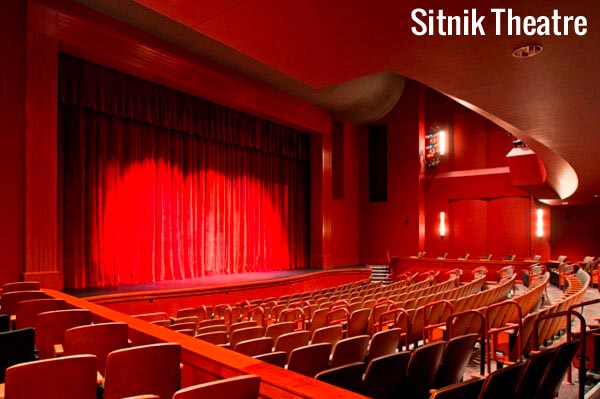 CSC remains committed to the health and safety of its community and is adhering to all requirements and regulations set forth by the State of New Jersey. This includes practicing social distancing, requiring masks/face coverings, and limiting attendance to a maximum capacity of 25 percent.
"We've basically broken our house down into available singles and pairs of seats. Between these pairs and singles, we've implemented a minimum of six-feet distancing in every direction," says Young. "We've also eliminated the first two rows of our orchestra, ensuring a minimum of approximately 12 feet from the edge of the stage to the beginning of the audience."
Additionally, they've implemented additional measures and protocols in an effort to create a safe and enjoyable theatre experience for patrons, staff, volunteers, and artists. These measures include contactless ticketing, increased availability of PPE for staff and volunteers, increased cleaning before and after every show, one way traffic patterns, etc. Patrons are also encouraged to purchase tickets in advance via the online system or phone, though its physical box office remains open for in-person sales.
CSC's online ticketing system is also set up for social distancing, and will not allow for more than two tickets to be purchased in a single transaction. It also does not allow for pairs of seats to be separated.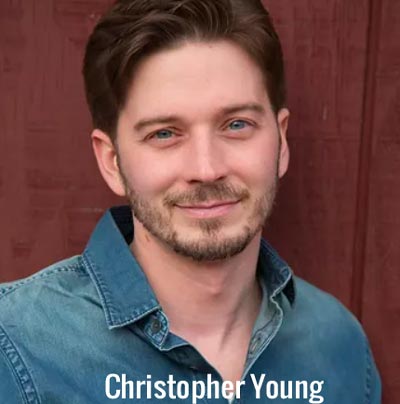 "In other words, I couldn't buy a single seat out of an available pair – the system will direct me to any open available single seats and if there are none available it will direct me to call the box office," explains Young. "This automatic fail safe will prevent single patrons from purchasing a seat directly next to another single patron."
"Of all the measures we're implementing, the tech nerd in me is actually really excited about contactless ticketing. It's a technology that our system has always been capable of, we've just never implemented it," says Young. "It's wild to think how this pandemic really has infiltrated every facet of how we interact – something as simple as ripping a ticket stub and returning it to a patron would never have raised an eyebrow pre-COVID, but now we're acutely sensitive to the risk factors associated to such a seemingly simple task.
"So I guess, if there's a silver lining to any of this it's that we're being tasked with the challenge of finding new creative and innovative ways to handle all elements of producing, and presenting theatre, which hopefully will make us all the better for it."
---
Centenary Stage Company's Fringe Festival kicks off October 8 through October 11 with "Rent Control." This limited engagement will be presented in the Sitnik Theatre of the Lackland Performing Arts Center on the campus of Centenary University at 715 Grand Avenue in Hackettstown, NJ. Performance dates and times are Thursday, October 8 at 7:30 p.m.; Friday October 9 at 8:00 p.m.; Saturday, October 10 at 8:00 p.m. and Sunday, October 11 at 2:00 p.m.
For more information, to learn more about CSC's COVID-19 policies, or to purchase tickets, visit centenarystageco.org. A special note: there's a BOGO special on tickets Thursday evening when purchased at the CSC box office beginning at 5:30 PM.
Additional insight included by editor Koren Rife