By Hamsa Hassan
originally published: 10/06/2020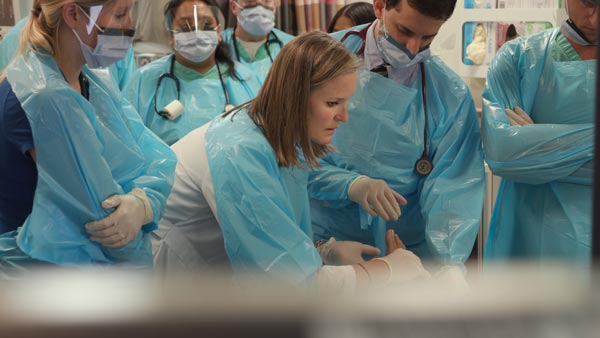 Here is my interview with In Case of Emergency Director Carolyn Jones:
Hassan: Your incredibly timely and important documentary film In Case of Emergency focuses on emergency nurses and their patients. Please tell us more about how you decided to make this film? 
Jones: We had just finished making our last documentary, Defining Hope which was focused on end-of-life choices, and I felt that there were still topics to explore within our health care system and how we deal with technologies.  When we say "do everything" what does that look like?  What does that mean?  What are we able to do for people to keep them alive?  We started brainstorming with Terrence Sykes at ENA (Emergency Nurses Association) and he spoke of the notion that the ER is a mirror of society, with all of the things going on in our country reflected there. I was hooked.
Hassan: Was the topic of nurses' emotional struggle with the hardships they have to deal with as well as the death and agony they witness day to day in their job a topic that you came into production wanting to cover or was this a topic that arose while filming?
Jones: The toll that this work takes on nurses is woven into the story, and it would have been impossible to tell the story without capturing the nurses' emotional struggle. One of the things I want to do with my work is to address our misperceptions about the nursing profession, which I have grown to admire greatly.  What nurses witness and experience gives them not only enormous wisdom to guide their patients, but also to lead wider conversations about our healthcare.  I think if people really understood what nurses know, they would turn to them more readily for advice and guidance – and that's a good thing.  A nurse is perhaps the only person in the chain of our healthcare who truly looks at us holistically. 
---
The article continues after this ad
---
---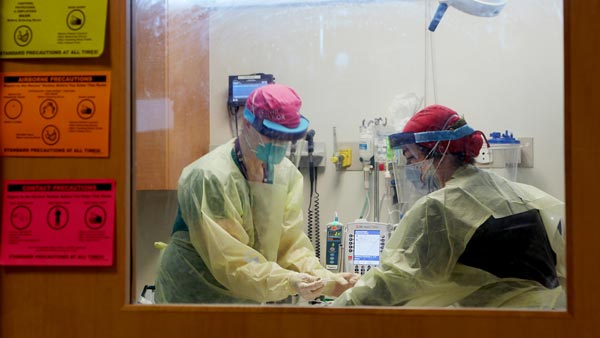 Hassan: When choosing which excerpts of the interviews to include in the final cut of the film did you want to bring together the similarities between these nurses and emergency rooms or did you aim to highlight the individuality of each as they face their own sets of challenges while being connected by the overarching health care problems that face the united states as a country?
Jones: The interesting thing was that no matter where we were in the country, the emergency nurses were similar in many ways. Sometimes they're dealing with different issues, but there are similar challenges and struggles and I think each nurse finds a path to being able to emotionally handle this work.  They see the worst of the worst and have to dig into their souls to pick up and move onto the next patient.  There is a certain skill set that they develop to do that.  We chose locations that would help us understand the opioid crisis and gun violence, we wanted to capture urban and rural environments as well as really remote parts of the country. So yes, you've got it right, as individual as these nurses are, they are connected by their profession and the tools required to do it, and no matter where we were in the country, they were dealing with the problems of our healthcare system.  
Hassan: How was it like to go back into production to cover COVID-19? For how long did you film this time around and how did your filming process change in order to be more accommodating of the nurses and emergency rooms during such a time?
Jones: We waited over a month to get back into the ED when COVID hit.  St. Joseph's University Medical Center (in Paterson, NJ) was the closest and busiest ED among our 7 locations so we really wanted to get back in there and follow nurse Cathlyn Robinson. We were able to film for only two days and it was complicated.  Of course we had to wear the same PPE as the nurses and it was a pressure cooker inside the ED.  The tone was different, sadness was right there under the surface, it felt like a war zone. I felt that what I was asking them to relive through the interviews was an awful lot to ask.  I was walking on eggshells.
Hassan: Do you want audiences to look at this film and be inspired to take action in support of better health care changes? If so, using what methods?
Jones: YES – we want people to VOTE more than anything.  Our healthcare system has deep rooted problems and we need to find ways to change it.  People don't have enough insurance, people don't have access to primary healthcare, there are major disparities, and this was all made clear to us over and over.  We can't just ignore what has happened during COVID. Having some kind of centralized system is key. Supporting the frontline workers is key—not just with a 7pm nightly celebration in the streets, but with funding for PPE and living wages for frontline healthcare workers in hospitals, nursing homes and patients' homes. It's a complicated issue and there are many different thoughts out there – so mostly we want people to participate by voting for local and national leaders with real policy ideas to solve these challenges.
But there is another thing we hope for.  We are asking so much of our Emergency Departments.  The people that work there are expected to solve our problems, over and over. We all asked ourselves, what would we do without these people that fix us up? We, as members of our communities, have a chance to help.  We can get more involved with local organizations that are focused on providing the desperately needed social services to address the opioid crises or gun violence or whatever issue is prevalent in our backyard. Some of us can pitch in more, we can volunteer, we can donate, we can all get more involved. It's really a question of finding out what you can do for your neighbors. 
Hassan: Are there any memorable stories while you made this film or any other info about your film you would like to relay to our readers?
Jones: We made this film over a two-year period and I came out of the experience thinking of the ED nurses as badass warriors.  They all had a quality that made them able to deal with just about anything that came their way. Honestly, they are a unique group of people and exactly who you would want to be shipwrecked on a desert island with.  And then COVID hit and we witnessed the depth of their despair, and it really affected me.  The nurse that we spent the most time with, Cathlyn, gave us the privilege of filming her at home before and after a shift at the hospital during COVID.  When we arrived at her house at dawn, I could literally feel the weight on her shoulders as she prepared for another day. I could see the marks on her face from the masks, the color of her skin, the sadness in her eyes. She opened her heart to us and I felt as though she represented every nurse, all nurses everywhere who are going through this. I watched her gather herself up from her porch and put on her scrubs and go into work to tackle another day and I was in awe of her ability to do that.  So many times during this project, we would see or hear something that made me want to crawl into a hole and pull a towel over my head – but then you would see nurses running toward the problem, putting their own feelings aside so that they could help someone, and it really moved me.  We have got to realize how valuable nurses are and what they go through to care for us, and then we have to make sure that we do whatever we can to support them and make their world better. 

Here is Carolyn Jones's  In Case of Emergency Intro to the New Jersey Film Festival Screening:
In Case of Emergency is part of the Fall 2020 New Jersey Film Festival.  Here is more information on this screening:

In Case of Emergency – Carolyn Jones (Brooklyn, New York) All of our country's biggest public health challenges—from COVID19 to the opioid crisis to gun violence to behavioral health and lack of insurance—collide in emergency departments. Nearly half of all medical care in the U.S. is delivered in emergency departments and nurses are on the frontlines of that care, addressing our physical and emotional needs and sending us back out into the world. In Case of Emergency is a documentary that follows emergency nurses and their patients in seven unique settings across the U.S, from urban to rural, shedding light on some of the biggest health care crises facing Americans today, and the opportunity that emergency nurses have to help break a sometimes-vicious cycle for patients under their care. 2020; 76 min.

Co-sponsored by the Rutgers University SAS Honors Program!
Saturday-October 10, 2020 - $12=General

Film will be available on VOD (Video On Demand) for 24 hours on Saturday-October 10, 2020. 

To buy tickets for this screening go here:

https://watch.eventive.org/newjerseyfilmfestival2020/play/5f1341ceff0f96007e44d9bd

Information: (848) 932-8482; www.njfilmfest.com

https://watch.eventive.org/newjerseyfilmfestival2020

https://newjerseyfilmfestival2020.eventive.org/schedule