By Thomas Kozakiewicz
originally published: 10/02/2020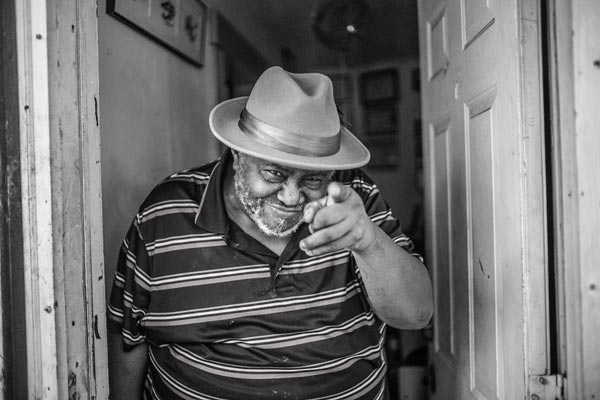 Remembering, reciting, and even reliving the traumas and horrors of our past can help us heal from those traumas themselves, both on an individual and communal level. In the documentary short Ashes to Ashes, which is playing at the virtual New Jersey Film Festival this Sunday, we see how this can be done through the extraordinary story of Winfred Rembert and compassionate guidance of Dr. Shirley Whitaker. Winfred Rembert suffers not only from health problems and hypertension but from the trauma caused by his interactions with American racism in the 1960's. Involved in the civil rights movement, Rembert was jailed and almost lynched but managed to escape. While he may have survived one of the thousands of attempted and mostly successful lynchings of African Americans in the United States, Rembert did not survive the mental price the events would have on him. Through Rembert's amazing hand-tooling leather artwork talent, he is able to express his traumatic yet important stories through his art so that they, as he says, "never fade away. Never!"
The film highlights the important role of art in the process of healing from events such as these whether that be a leather artwork, painting, dance, or a song. By singing Chain Gang with each other, Rumbert and Whitaker are not only able to share a meaningful, pure moment of cathartic release but remember and honor the work of past prisoners just like Rumbert. Art serves as a way to document history through a creative, engaging, and insightful manner. As Rempert recalls the story of his physical escape from the lynching, we see detailed depictions of those events through his leather artwork. These beautifully brutal images that have been created by the man who experienced these horrendous acts first hand can speak for themselves. Hearing them spoken in words only reinforces the power of these stories.
Honoring the thousands of African Americans who were lynched because of their desire to obtain equal rights, Shirley Whitaker began her Ashes to Ashes project in order to rest the souls who were lost too soon and to create a better, healed country. A country that is willing to look back at it's darkest times in order to shed light on people and stories who deserve to be recognized, heard, respected, and honored. While giving a speech to a church full of people during the funeral to commemorate and rest the innocent lives lost, Whitaker refers to the victims as patients, suggesting that it is our responsibility to give them the care and treatment they deserve, the care and treatment they never received. These stories can be remembered and carried down through the same medium and for the same reason that Rumbert uses for his stories, art. During the funeral, a little boy dances for the lives lost. During the funeral, a choir sings for the lives lost. During the funeral, a painting from Shirley, which depicts the lynching of an African American by the hands of the KKK, is shown to everyone to remember the lives lost. While working on his leather art, Rumbert suggests that his mother is one of the reasons he is doing what he's doing. This is the core of this film. To honor the people and stories before us. To do something NOW for the people who can't anymore or who did not even have the chance to. This must be carried on. We still need to remember their stories. After the credits start, we still hear Rumbert denting his leather work. His art will be around long after he is gone. His work will not be limited to his time. We should follow.

Ashes to Ashes will be screened as part of the Fall 2020 Virtual New Jersey Film Festival's Short Documentary Films Program which is screening this Sunday, October 4. Here is more info on this screening:
The Hustle Is Real – Thomas Draudt (Watertown, Massachusetts) The Hustle Is Real is a story about creating your own lane to make money doing what you love and the hustle and grind that goes along with it.DJ Prestige makes a living as a DJ spinning 7" 45 rpm vinyl records.  He's also a freelance writer, graphic designer, and champion of all things vinyl.  His lane is music that has soul, music that moves you.  Funk, jazz, soul, hip hop, latin, disco, and more are what he delivers at his DJ night.  Whether it's in the lobby of the ACE Hotel in NYC, the SHAKE party in Brooklyn, behind the decks at various venues on the beach in Asbury Park, NJ, or as a guest DJ at Boston's SOULELUJAH,  Prestige is known for his impeccable selection that controls the vibe and moves the dance floor.  2019; 12 min
Islander – Derek Pastuszek (Glendale, California) The storm took everything... but, now, pieces have begun to wash ashore. This film was shot entirely on Long Beach Island NJ, in Beach Haven, where the director, Derek Pastuszek, spent a significant part of his childhood and adolescence at his family's summer home, which was built by the director's grandfather in the 1960s. The film was shot by then-fellows -- and edited/finished by current alum -- of the AFI Conservatory in Los Angeles. Islander was shot just after Hurricane Sandy famously devastated the island -- as well as so much of the east coast – and scarred the collective psyche of so many people in the Northeast. The writer/director's family ended up having to part ways with their longtime short-home on LBI, a beachfront property on 4th St. in Beach Haven. The tough decision to say goodbye to such an important place in so many family members' lives was primarily motivated by the damages on the island done by Sandy and its trying aftermath. This was the seed that grew the story of Islander. 2019; 12 min.
---
The article continues after this ad
---
---
Karaoke League – Jeb Banegas (Brooklyn, New York) Four teams battle to become the best karaoke team in New York City. 2019; 24 min.
Ashes to Ashes – Taylor Rees and Renan Ozturk (Park City, Utah) Winfred Rembert, the only living survivor of a lynching, a Star Wars fanatic and leather artist, develops a friendship with Doctor Shirley Jackson Whitaker who is on a mission to memorialize the forgotten 4,000 African Americans lynched during the Jim Crow era. Together, their journeys of healing intertwine. 2019; 25 min.
Sunday-October 4 - $12

Films will be available on VOD (Video On Demand) for 24 hours on the show date.

To buy tickets for this screening go here:

https://watch.eventive.org/newjerseyfilmfestival2020/play/5f148e39c73f05003ee14604

Information: (848) 932-8482; www.njfilmfest.com

https://watch.eventive.org/newjerseyfilmfestival2020

https://newjerseyfilmfestival2020.eventive.org/schedule