originally published: 10/01/2020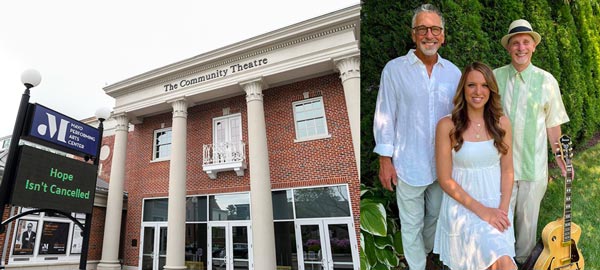 It's been a year of reinvention for the arts world ever since the pandemic hit. Venues like Mayo Performing Arts Center (MPAC) in Morristown were forced to shelf the majority of their shows for the year and find new ways to stay active. Instead of shows in the theater, they presented concerts in parking lots and online. On Friday, October 2nd, MPAC will welcome audiences back into the theater for the first time in months – with the added wrinkle of the show being available for purchase as a livestream as well.
The first show features local jazz artists Brynn Stanley, Grover Kemble, and Jerry Vezza. Tickets are $50-$75 for the live audience, which has a maximum capacity of 150 people (as per Governor Murphy's executive order), and the concert is available via livestream for $20. Face coverings and temperature checks will be required and patrons will be appropriately socially distanced.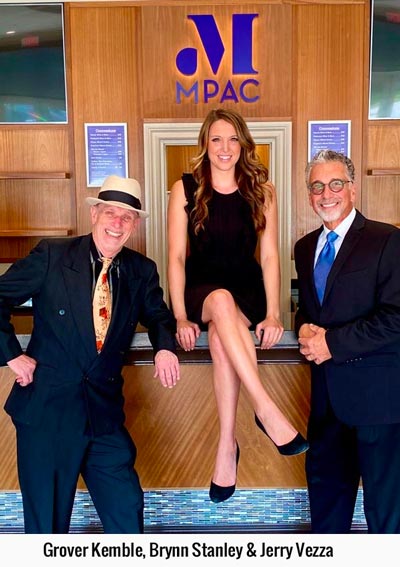 "We were honored to be asked to do the show since we're local musicians and they chose us as opposed to a more national act," said Grover Kemble. "I think it's a wonderful thing that they did that – allow local people to be the presenters for a gala event like this. We're excited. We've got a nice show planned."
"We're doing mostly Great American Songbook standard tunes," explained Jerry Vezza. The show is intended to be upbeat and uplifting. Some of the songs the trio has been practicing include "Sway," "Smile, "Old Black Magic," "Give Me The Simple Life," "Let It Be Me," "It Don't Mean A Thing (If It Ain't Got That Swing)," and "Hallelujah I Love Her So." They're all part of a show that's named after the first song they plan to do, "Get Happy." They're also doing two original songs by Grover Kemble - "Jazz & Blues" and "Oh Grover."
"Grover's a tremendous songwriter," Vezza said. A lot of people who follow jazz were pleased to learn about the show, but expressed hesitation at going into the theater. When Vezza told them that the show was also being streamed and they could watch from home for $20, they were like, "Yeah, we'll do that!"
If anything positive for the arts comes out of the pandemic, it might involve streaming. Not only have venues been able to present shows online, but the hybrid format is very intriguing. There's no substitute for seeing live music in a theater for many people, but streaming offers the opportunity to reach those who may not be able to attend a show - people like the elderly, the disabled, those outside the area, and those who were not able to get a ticket before a show sold out.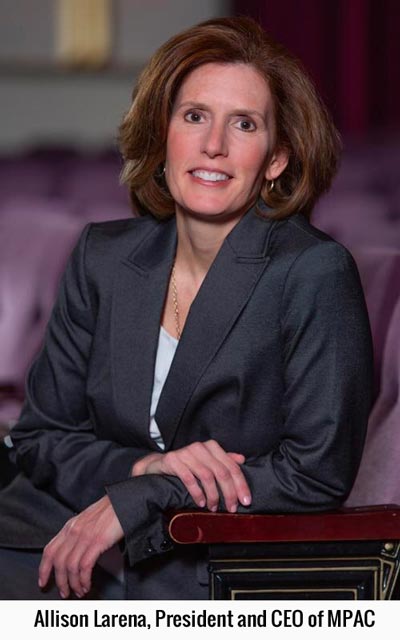 "We definitely see more of these shows coming, but this is new territory for us," said Allison Larena, President and CEO of MPAC. "We announced this particular performance would be a streaming event and it's been pretty well received by our audience."
In addition to allowing more people to see the performances, hybrid shows offer a new revenue source for venues and artists. The question is whether or not the industry can make it work between all involved (venues, artists, promoters, agents, etc.)
"I think it's something that our industry will need to take a closer look at," continued Larena. "And, of course, we will speak with artists on a case-by-case basis. We'll start one step at a time like everything else.
"We're reinventing an industry and how we serve our community. We've been reinventing for six months. Between the drive-in concerts, virtual concerts and programs online – and now virtual classes – there's so many different aspects of what we do that have had to be reinvented. We've had to pivot and figure out what works and what might not work. But we have a long road ahead and we're willing to try anything to make sure our community is served and engaged and to keep meaningful arts programs out there."
The three artists for Friday's show – Vezza, Kemble, and Stanley – have performed alongside each other many times, including as a trio for a benefit concert in August. That was for their beloved Shanghai Jazz club, where they've each played numerous times.
Jerry Vezza's career spans over 45 years as a band leader and accomplished jazz pianist. Grover Kemble has performed in some of New York City's most famous clubs, and festivals around the world. And Brynn Stanley has the perfect timeless voice to make Great American Songbook standards come alive. The combination of all three will make for a very special night.
"They're the brothers I never wanted, but I'm happy to have," said Brynn Stanley. "All joking aside, I've known both individually – they are so talented, such pros, but more importantly they lead with their good hearts."
The venue is looking forward to welcoming people back and showing all of the improvements they've made over the summer. Everything from new HVAC systems to touchless fixtures in the bathrooms and enhanced cleaning and sanitizing protocols are part of a plan to make sure audiences feel comfortable returning to live events inside the theater. And if people aren't ready to return, MPAC and the artists hope they will purchase a ticket to the livestream to help bring some needed revenue to the venue.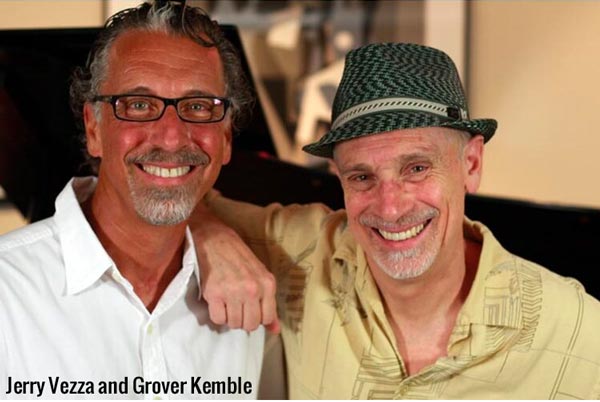 Each of the artists expressed confidence in returning, noting the added safety protocols and building improvements. More than anything, they're ready to perform on stage again in front of an audience.
"I think we're all doing the best we can to stay positive and safe," continued Brynn. "The arts have always been a place of comfort during troubling times and I think we all need that right now. We're taking all the precautions we can to stay safe. We can't live in fear. I will say nothing lasts forever. The good, the bad, so let's make sure we enhance the good while we're here to enjoy it."
All of the performers are donating their services to MPAC for the show because they all know how important it is to the local community. Both Vezza and Kemble remember the early days of the venue and back when Morristown had its own jazz clubs. The town is still one of the few places in the state where one can find jazz music on a regular basis between shows at MPAC and the Bickford Theatre, as well as the annual Morristown Jazz & Blues Festival.
"There's a cultural knowledge of jazz music in a town like Morristown," said Kemble. "I think a place like MPAC adds a cultural aspect that improves the entire surrounding of the town - the restaurants, businesses, the people that are going to come there and be part of the scene."
"When there's a show in Morristown, that whole town is buzzing on those nights," Vezza added. "Every restaurant is packed, the traffic is twice as much as usual, and the parking spaces are taken. It's alive! And on nights when there's no show and the theater's dark, it's a quiet town. The theater brings life and energy."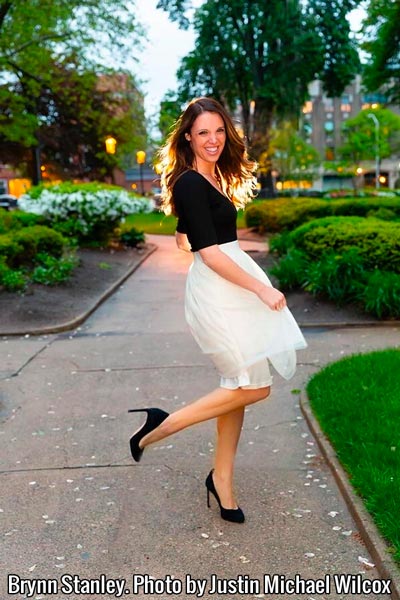 Brynn goes on to say that art is the "heartbeat" of a town. "It brings culture, life, and community. It's critical that we support MPAC and ensure that it thrives. It adds so much to our community. It is a very special place and I'm happy to be able to help in any way that I can to keep it thriving. I hope to grow old together."
Thriving sounds great, but venues like MPAC are more worried about simply surviving right now. All of the virtual shows and drive-in concerts are nice, but only bring a fraction of the revenue needed. If this show does well with streaming, it will offer more possibilities and hope for the future. But there's still a long way to go. What MPAC needs is to keep plugging away at live shows as the capacity allowed is increased until they can finally host a show at full capacity. It's not just about the revenue, it's also about the energy. There's something about a sold out show that just makes an event seem more exciting, more vibrant, and more communal. It's what Allison Larena cannot wait to see again.
"I think we love to come together as a collective community to celebrate the arts and we haven't been able to do that in the way we've traditionally done that," said Larena. "I think it's been very isolating for many people. It's really about the uncertainty: Not knowing when we can reopen and when we can all be together again for a sold out performance. We just don't know when that might be and we're hoping that it's sooner than later. But what we do know is that there are brighter days ahead and we will all be together as a community at a sold out performance at MPAC. Those large scale shows will happen again, we just aren't sure when. And we have to get through this dark time in order to get to that end goal."
"Get Happy" takes place on Friday, October 2nd at 7:30pm. For more information on the show or to purchase a ticket, click here.