By Ashley Terer
originally published: 09/29/2020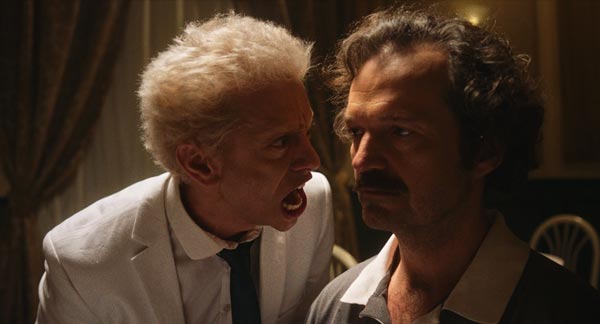 Here is my interview with My Dinner With Werner director Maverick Moore:
Terer: What was the true story behind this film and please tell us more about why you decided to make it?
Moore: The story was born out of our love and fascination with Werner Herzog and his borderline murderous relationship with Klaus Kinski. For over 15 years, acclaimed German filmmaker Werner Herzog made movies with controversial German actor Klaus Kinski. Their work together was legendary. Their partnership was notorious. Their methods were dangerous. And their "friendship" was stranger than fiction - both have sincerely plotted to kill one another at different points in their lives. This aspect of their collaboration contributed to their art together (which is widely celebrated in film circles worldwide). But in 1987, after making five films together, they stopped working together - forever. The exact event that led to their separation (if there is one) is a mystery. So, I was inspired to tell the story of what "really" happened - the night it all went devilishly wrong. When Werner also happens to be on a blind date.
Terer: Are chickens Werner's only weakness?
Moore: The real Werner Herzog is seemingly invincible, but the Werner character (being a fictional adaptation) had to have a weakness. And it had to be chickens. But that choice was inspired by actualities we discovered through research. Essentially, Werner Herzog identifies chickens as living manifestations of death – most are bred to be domesticated and then killed. So, according to him, when you look into the eyes of a chicken, you'll see the part of yourself that you're most afraid of – your final destination: death. And the most frightful kind of stupidity. Which, according to Herzog, is the devil. So, it just made sense to go with chickens.
---
The article continues after this ad
---
---
Terer: What was your favorite scene to film?
Moore: There's a scene involving a poisonous dart and a sad, lonely patron that was a ton of fun to film. I don't want to give it all away, but that was my favorite scene to shoot – largely because it was all improvised and we got to play around a lot because of that. Everything the waiter (Grant Virtue) and the lonely patron (Trey Dickerson) did in that gag was entirely made up on the spot, and they tried something different take after take (and we did a lot of takes). They made us laugh every time, and the sense of freedom and discovery we felt from shooting the scene that way was both refreshing and exciting. The final scene in the film, the one immediately after the end credits, was equally fun – and for similar reasons. It was totally improvised.
Terer: Tell us more about the compelling cast in your film.
Moore: The main cast - Matthew Sanders (Werner), Andrew Perez (Klaus), and Chynna Walker (Christine) - are all-around awesome people, actors, and collaborators. I love them all. We found Matthew Sanders through a traditional (but rigorous) casting process. He first sent in a tape performing Werner Herzog's monologue about the jungle and the harmony of the universe from Burden of Dreams, and then a tape of a few scenes from the film, and then we did a chemistry test with Chynna Walker. Andrew Perez was found through a similarly meticulous process, though he emailed me outright while we were casting to tell me that he had essentially already reincarnated Klaus Kinski – he studied him for over a decade and even wrote and starred in an award-winning play, The Second Coming of Klaus Kinski. Chynna Walker starred in my previous short film, SHOTGUN, and we always intended to work together again. I knew she would be a great fit for this movie, so we (Ryan McNamara and I) wrote the role for her and, in some cases, with her. Unlike Werner and Klaus, her character is an ambassador of the audience and not based on anyone, so we worked closely with Chynna on her character's identity, personality, motives, and backstory. The actors were excellent in every step – from casting through production and beyond. I was incredibly lucky to work with each of them, and I am endlessly thankful for their hard work, dedication, trust, talent, and friendship.
Terer: What can the public appreciate about Wrestlemania?
Moore: I'm admittedly not a Wrestlemania aficionado, but another fun discovery from researching everything Werner Herzog was learning about his love and admiration for Wrestlemania. Herzog compares the fake, choreographed, larger-than-life storytelling of Wrestlemania - with bombastic characters like Jesse "The Body" Ventura (which he particularly adores) - to what was likely the raw, primitive beginnings of ancient Greek drama. To him, Wrestlemania is the emergence of a new form of drama and storytelling. If that doesn't make you appreciate Wrestlemania, I don't know what will.
Terer: Are there any memorable stories while you made this film or any other info about your film you would like to relay?
Moore: Previously, I mentioned a scene with a poisonous dart. Naturally, we also needed a bamboo blow-gun. And one of the most memorable experiences was making those bamboo blow-guns, which were made by my grandma and I in her backyard with machetes during Thanksgiving. It was a great bonding experience, and probably one of the best Thanksgiving holidays I have ever had. But that's how the film was made – everyone (family, friends, students, professionals, and even chickens) coming together and doing everything we could to make it a reality. I owe them everything. It was a challenging movie to make, but - thanks to them - we pulled it off. And I was gifted with many wonderful memories in the process.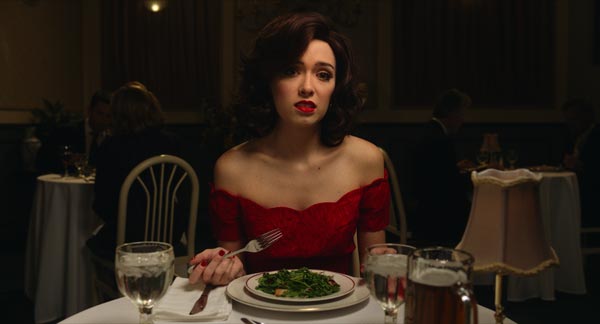 My Dinner With Werner is part of the New Jersey Film Festival Super Shorts II Program. Here is more info on this screening:
Super Shorts II Program
thunder.struck – Tory Delahunt (New York, New York) A young woman has one more thing she must get -- and do -- before leaving her home, and her abusive partner, forever. 2019; 5 min.
NIUNIU-Xi Wang (San Francisco, California) Mina tries to fit in with people around her but she finds that it is hard to connect. Then she finds a snail Niuniu, who unexpectedly become her best friend. And develop a special friendship. Mina and Niuniu live in their own world. 2019; 6 min.
Ghost of a Chance – Manes Duerr (Vienna, Austria) Ghost of a Chance is a snapshot into the relationship of a young working class American couple. Two individuals bonded together through the expectance of a newborn baby, yet with different priorities - racing through their lives, we question whether one man's childhood dream is more important than three people's reality. 2019; 10 min.
My Dinner With Werner-Maverick Moore (Robinson, Texas) Based on real events, real people, and real things they actually said, My Dinner With Werner is a wildly bizarre and wacky farce about a 1987 dinner date with a murder plot as the main dish. 2020; 18 min.
Thin Walls – Nick Canellakis (New York, New York) An aspiring novelist moves into a new apartment, only to find her next-door neighbor is an obsessive cellist who practices all day long. How far is one willing to go for their art? 2019; 19 min.
How to Say I Love You at Night – Andree Ljutica (New York, New York) A single take film exploring notions of male-on-male intimacy, sexuality and violence through one romantic encounter gone awry between a drugged up Benny and an emotionally disturbed, Paul. 2019 17 min.
Saturday-October 3 - $12=General

Films will be available on VOD (Video On Demand) for 24 hours on their show date.

To buy tickets for this screening go here:

https://watch.eventive.org/newjerseyfilmfestival2020/play/5f148cd54120b10062678c96/5f133c1f99572600368314f7

Information: (848) 932-8482; www.njfilmfest.com

https://watch.eventive.org/newjerseyfilmfestival2020

https://newjerseyfilmfestival2020.eventive.org/schedule