originally published: 09/25/2020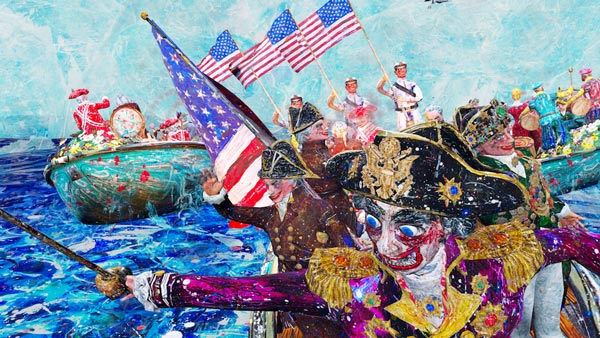 (GLASSBORO, NJ) -- Rowan University Art Gallery presents The Bacchanalian Ones, an exhibition that investigates the contradictions and inaccuracies in historical narratives that have led society to a chaotic era of misinformation, corruption, and hypocrisy. On view by appointment from November 2, 2020 – January 9, 2021, The Bacchanalian Ones will feature augmented reality-based artworks, a new virtual reality project, paintings, and never before seen video animations from artist Federico Solmi.
In The Bacchanalian Ones, Solmi presents his ghoulish, satirical depictions of political leaders, colonial rulers, and historical explorers as indulgent devotees of Bacchus/Dionysus engaged in exuberant and deranged celebrations, parades, parties, ballroom dance, and feasts. In this body of work, Solmi blends ancient mythology with contemporary celebrity culture, fabrication of modern myth, fake and useless gods. Debuting in The Bacchanalian Ones are these brand-new works: The Dreadful Ones, Solmi's first virtual reality piece with custom headset masks, The Bathhouse five-channel video painting installation, The Indulgent Father video painting, and a new augmented reality embedded in his 2019 painting, The Great Debauchery.
Solmi says of his work, "I always believed that art can be used as an effective tool for social change. Art for me it's a vehicle to fight injustices, a tool to spread awareness and independent thinking. With my artworks I hope to inspire people to discover facts, to try to decode reality from fiction, historical truth from propaganda. One of the greatest difficulties I encountered when I moved to United States in 1999, was to decipher American history, its contradictions and inaccuracies that I often encountered in my research and reflections. I had a lot of troubles distinguishing the reality of historical facts, unequivocal, from the government propaganda told in the books. I strongly believed that only if I had been able to understand the origins of this nation, in its roots, would I one day understand the society in which I had chosen to live, and only thus one day, would I have been able to have my say."
A catalog will be produced for The Bacchanalian Ones with an essay by celebrated author and art critic Eleanor Heartney. Ms. Heartney is an independent cultural critic and author residing in New York City. Currently, she is contributing editor for Art in America and Art Press and co-president of the American Section of the International Art Critics Association. She has written for most major cultural publications including Artnews, New Art Examiner, the Washington Post, Sculpture, and the New York Times. She recently published a new book entitled Doomsday Dreams: The Apocalyptic Imagination in Contemporary Art which includes Federico Solmi. 
Federico Solmi (Italy, 1973) is a multi-disciplinary artist based in New York. In 2009, Solmi was awarded by the Guggenheim Foundation of New York with the John Simon Guggenheim Memorial Fellowship in the category of Video & Audio. His work has been included in several international Biennials, including: Open Spaces: A Kansa City Arts Experience (2018), the Beijing Media Art Biennale (2016), Frankfurt B3 Biennial of the Moving image (2017-2015), the First Shenzhen Animation Biennial in China (2013), the 54th Venice Biennial (2011), and the SITE Santa Fe Biennial in New Mexico (2010).
---
The article continues after this ad
---
---
Solmi has several forthcoming museum solo exhibitions, including; The Block Museum of Northwestern University (2022), Morris Museum, Morristown, New Jersey (2021), Tucson Museum of Art, Tucson Arizona (2020), Rowan University Art Gallery, Glassboro New Jersey (2020), and upcoming group exhibition at Smithsonian National Portrait Gallery. Washington DC  and The Block Museum of Northwestern University (2020). Most recently, Solmi's work was featured in Times Square New York for the Midnight moment and in a solo exhibition in the Ronald Feldman Gallery booth at the 2019 Armory Show (NY).  
Rowan University Art Gallery, located at 301 High Street West in Glassboro, New Jersey, serves as a premier cultural destination for South Jersey, the Rowan community, and the surrounding region. Our mission is to provide a platform for discourse on best practices in contemporary art by professional artists, curators, and scholars through the presentation of interdisciplinary art exhibitions, panel discussions, guest curatorial projects, and other public programming. 
Rowan University Art Gallery is open by appointment only. Please call or email the gallery to schedule a visit. All visitors must wear a mask and practice safe distancing.
Support for programming at Rowan University Art Galleries is made possible by funds from the New Jersey State Council on the Arts, a partner agency of the National Endowment for the Arts.   
IMAGE: (C) Federico Solmi, The Indulgent Father, 2019 (Video Painting), Acrylic paint and mixed media on plexiglass, Led tv, video loop, 4 x 6 ft