By Al Nigrin
originally published: 09/24/2020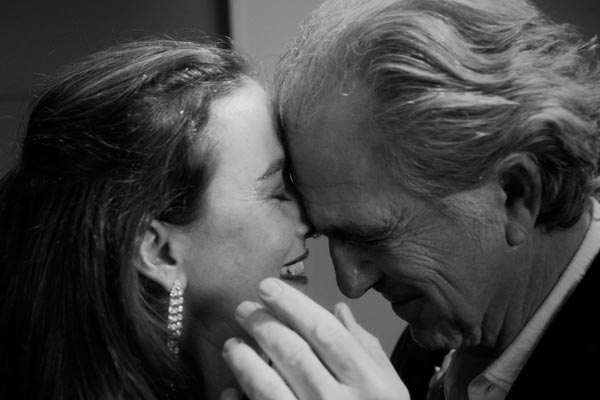 Here is my interview with Love is not Love Director Stephen Mills:
Nigrin:  Your gorgeous feature film Love is not Love focuses on the ups and downs of a variety of New York City relationships in the 21st century. Please tell us more about how you decided to make this film?

Mills: It was actually the film that decided. The script took me aside one day and said: "Look, you've been working on me and changing me around for far too long. Don't you think it's about time we did something?" That was good. It told me the film wanted to be made and that's all you really need to know. Not that it's in perfect shape, but is it ready to play. I had felt resistance from the script up until this time, but now that was in the past and the film was putting me on the spot. "Do it!" it was saying. That was my catalyst, my prod, my slap in the face. If I didn't, I would be committing the equivalent of a crime against creation. And you go crazy if you do that.  Another deciding factor was the budget. We shot under the SAG-AFTRA Ultra Low Budget Agreement with a cap of $250K. Where was I going to get that? Easy. Against all advice, I cashed out my IRA. The US Treasury was happy. I was happy.  I wanted the theme of domestic discontent to be everybody's theme, so setting the story in NYC made sense because it is full of everybody. So we start with the collective and proceed to the private as the crowd fades to the background and our main guy comes to the fore, furthering the story in a personal way now that it's been set up by all the surrounding pedestrians.
Nigrin:  The terrific ensemble of lead actors that play in your film are really great. They include Alejandra Gollas, Tonya Cornelisse, Russell Simpson, Cameron Tagge, Tamela D'Amico, Cathy Shim, Louise Martin and yourself. Tell us more about them and how they ended up playing in your film?
Mills: It's a well-known dictum that casting is 90% of the director's job. In other words, if the casting is right, then the director doesn't really have to do anything, except maybe stay out of the way. I had done my 2-character short film, LIMINAL, with Tonya and Alejandra and wanted to work with them again, so I wrote the parts of Joelle and Reyna in Love is not Love for them in order to get my wish. They had to be in the film. Cathy Shim was brilliant in another short of mine, A Cigar at the Beach, so she agreed to a cameo for old time's sake. I had met Louise in Bobby Moresco's Actors' Gym where a lot of the script was developed and Louise was my first Paula. We played together so well I was relieved she became my only Paula. I can't think of another actor who could do what she did. Tamela was a stroke of luck and timing. She wasn't cast until the night before she was called to play an all-Italian cameo. The actor who had been cast suddenly left the day before and I had to scramble through a lot of resumes until I came upon Tamela's which listed Italian as one of her extra talents. I called her agent late that afternoon and she took the challenge and, even better, the next morning she rose to it. Casting. The X-factor was the Irish Construction Workers. They had to be good. They establish both the energy and the philosophy of the film. I shot the New York scenes last and some of the cast who had already completed their work were worried. These guys better be great or all the work up to this point goes for naught. I knew that. I knew I'd find them. A notice on Actors Access, an audition space at Film Independent and two days later the Construction Workers were cast—Russell Simpson who is from Belfast and Cameron Tagge a recent grad from Loyola here in LA. They got on great and their rapport whisks us through the myth of Tristan and Isolde and the dilemmas of Choice versus Fate in a beautifully performed blink of an eye. All I had to do was find a Frank. Who was going to cast a 60-something (me) as a romantic lead? Answer—the 60-something director (also me.) It's who you know.
---
The article continues after this ad
---
---
Nigrin:  The film's black and white cinematography is absolutely beautiful. The opening credit sequence reminded me a lot of Woody Allen's Manhattan. Please tell us more about the DP and how you decided to give the film this look.
Mills: I was looking at the Mood Board one morning when Steven Fadellin, our cinematographer, put down a photo in front of me and said: "What do you think of that?" It was a long crane shot of a man walking away from camera down a dusty narrow road, bushes and trees and meadows all around. My eye went immediately to the man, though he was far away. "I only see the man." I said. Steven smiled. The photo was in Black and White. And that was his point. B&W takes your focus exactly where it should be. If that same photo had been in color, finding the man would have been like a Where's Waldo book. In B&W, there is no question where you should be looking. Also, I felt a sense of emotional resignation in the man. I started to get into his story. In color I wouldn't have felt a thing. Black and White is the medium of the private and the personal—even at long distances. As viewers of a story, we want emotional details. B&W delivers them all. You don't look anywhere else, because nothing else is as interesting. Background becomes background and not another visual competitor in the scene. From that moment, there was no question. B&W it was going to be.  Steven is an adventurer and a risk-taker. When I first met him, I learned of his experience in shooting skateboarding competitions and racing events and x-games. It meant he really had to enter the scene and be fast, qualities he would need here as well. Low Budgets require good people who can beat the clock.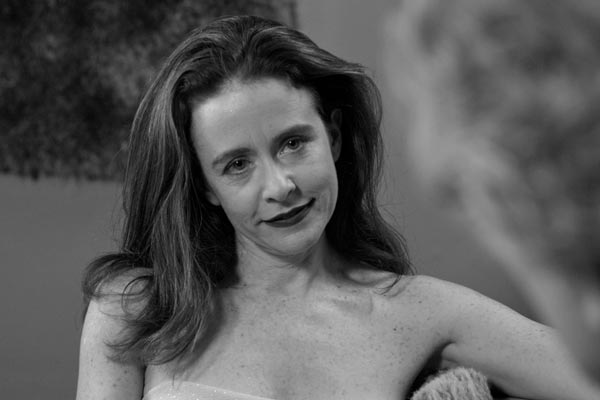 Nigrin:  Your film has been classified as satirical, surreal and Felliniesque. Do you like these descriptions? Do you think they are appropriate?
Mills: Anyone who wants to compare my work to Fellini is a friend of mine. I am in awe of him and many of the Nouvelle Vague auteurs. I did grow up on those films and while I humbly step back from such a flattering association, one thing is true: they are non-linear folk and so am I. I like Fairy Tales which go where they need to go without biography or establishing shots. The psyche is a smarter and quicker audience than formulaic writers acknowledge. My psyche provokes me to write and I stay as close as I can to it. So, words like surreal, satirical, or Felliniesque are guideposts really that tell the audience that they are going to get there, but they won't know how and they may not recognize exactly their arrival because it's an intuitive way to travel. No maps. All those directors threw out a challenge to their audience—are you a little bit cautious, afraid even, to enter my Funhouse? Come on in. That element is something I confess to stealing.
Nigrin:  Are there any memorable stories while you made this film or any other info about your film you would like to relay to our readers?
Mills: You know all the NYC shots were rear-screen projections. Steven and I went to the city and picked locations, timed out each scene, estimated the distance between actor and camera, the speed of the actors, and shot "Plates" that we then brought back and projected onto a huge 14'X20' screen with an equally huge Christie Roadster projector, about 40 thousand lumens. We put the actors on treadmills and there we were in the great outdoors of the beautiful city, though actually in the great indoors at my studio at The Brewery in downtown LA. Now one thing we couldn't change was the length of the "Plates" we shot. We predicted it pretty close, but if the actors didn't complete their playing of the scene within the time-limit of the rear-screen projection, then the screen would go to black. So, this is my newly discovered trick of getting actors to be faster without getting them mad at me. Just blame the scene's timing on the rear-screen, meanwhile they had to speed it up in order to complete the scene while the background was still up there. It was perfect timing!
Here is Stephen Mills exclusive Intro for the New Jersey Film Festival Screening::

Love is not Love is part of the Fall 2020 New Jersey Film Festival.

Here is more info on this screening:

Love is not Love – Stephen Mills (Los Angeles, California)

Early December, New York City, and everyone is on the hunt for love. Why? Because they haven't found it and because they haven't found it, they make it into a myth and chase the myth instead. That is not love in this romantic drama of fantasy, fate, and yearning. Beautifully shot with great special effects and a terrific cast! 2019; 95 min.

Saturday, September 26, 2020 - $12=General

Films will be available on VOD (Video On Demand) for 24 hours on their show date. To buy tickets for this screening go here:

https://watch.eventive.org/newjerseyfilmfestival2020/play/5f148963253b210055f7b8c9

Information: (848) 932-8482; www.njfilmfest.com

https://watch.eventive.org/newjerseyfilmfestival2020

https://newjerseyfilmfestival2020.eventive.org/schedule