By Al Nigrin
originally published: 09/22/2020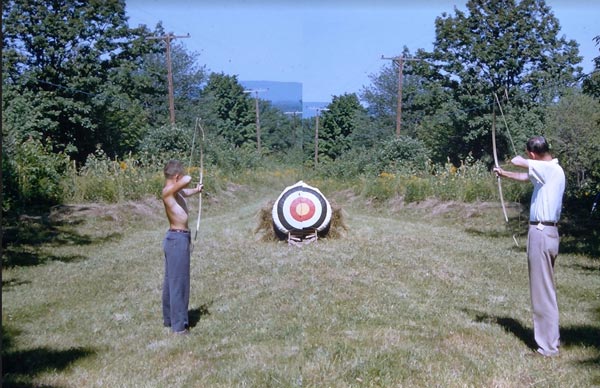 Here is my interview with Slideshows From The Peanut Gallery Director Paul Rodgers:

Nigrin: Your fascinating experimental animation short Slideshows from the Peanut Gallery is at times creepy, at times funny and at times quite beautiful. Please tell us more about how you decided to make this film and what you are hoping viewers will get out it?

Rodgers: I love to solve puzzles. The vintage Kodak slides I work with, all of people I've never met, are a kind of puzzle in that they present an incomplete picture. In the same spirit as the archeologist, I try to reverse-engineer a story. Unlike an archeologist, my relationship to these photos is less scientific and more psychic. In other words, while rifling through thousands of these artifacts (which, astonishingly, are made available on Ebay!), there is a vague sense of nostalgia and familiarity. In almost all the boxes I open, there are consistencies of place and events. Christmas morning, for example, is a ubiquitous feature. By animating these scenes as a response to these familiar/unfamiliar images, I guess I'm hoping to bring to life a feeling of a movie trailer that doesn't give away the plot but still contains the spirit of thing. And there's something to be gleaned about memory when viewing animated family photographs. I like to think that the tonal shifts are reminiscent of sitting in bed thinking about the past and how a wide-range of memories seem to continuously pop up quite arbitrarily. 
Nigrin: Tell us about how you made the still images move and more about the whole animation process you used?

Rodgers: I use Photoshop and After Effects to trace out the characters and separate them from the backgrounds. The vacant space left behind is then filled in with available surrounding information using clone stamping. All the movement is a motion graphic technique called pinning, which works in a similar way to puppetry, which was an intriguing way to think about manipulating the subject, here.
Nigrin: Why do you use a split-screen throughout? Sometimes these diptych images are obviously connected and are mirrors of each other. And sometimes they are quite disparate. Please comment on this.
Rodgers: I've used diptychs quite often in 2d work. There's a great opportunity to create metaphor and play with formal relationships, and to think of the panels as before/after, like a comic strip. In this case, I like to think about connections across space and time, and how these connections influence us. The forces that shape who we are through our biology and environment are often hidden to us. This work represents the idea of a predetermined fate; and in this case, the animator himself is pulling the strings. More simply, I like the idea of creating a sort of game in which the viewer is asked to toggle back and forth between images and to find these connection and often very subtle movements. I often tell my students that they could put any two objects next to one another and make some connection. This kind of forcing to reconcile disparate parts often reveals the more effective and surprising metaphor. My hope would be that the viewer is able to make at least one surprising discovery of their own while trying to solve the puzzle.

Nigrin: The soundtrack is pretty amazing. You have a droning ambient industrial sound as the foundation with two kids commenting on the images that you are showing in a low whisper. At times you can make out what they are saying but most of the time you can't. Was this done to enhance the film's dreamy feel?

Rodgers: Like the images, the audio is appropriated from found documentation. The two voices are from a home movie (also purchased on Ebay!) in which two children got a hold of their parents camcorder and spent several hours whispering to each other. These VHS tapes were meant to become a separate project, but the audio seemed to fit here. The dialogue has been collaged together, slowed down, and layered on top of the ambient noise. I tried to find clips that somehow related either indirectly or directly to the images so that the viewer gets the impression that they are hearing commentary, and that the speakers are in a sense situated in the audience with them. Much like the photos that move subtly and slowly, the whispers kind of force you to "lean into it", which hopefully creates a sharper focus to detail throughout.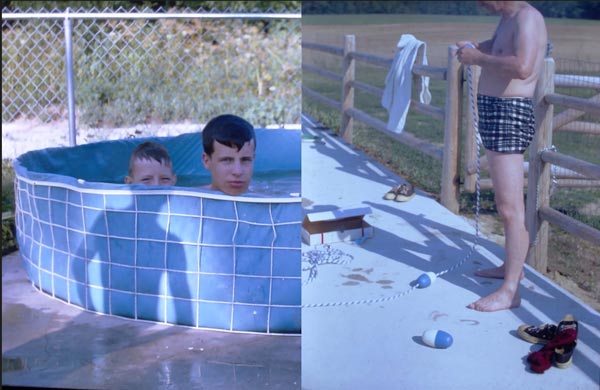 Slideshows From The Peanut Gallery is part of the New Jersey Film Festival Experimental Film Shorts Program. Here is more information on this screening:
---
The article continues after this ad
---
---
Experimental Film Shorts Program
Motion at a Distance – Lindsay Packer and Andrew Yong Hoon Lee (Brooklyn, New York)  Color takes ephemeral form into the sound space. Shadow shapes emerge, interact and recede as luminous, temporary geometries call into the question the division between analog and digital ways of seeing and believing. Motion at a Distance is a stop-motion animation by Lindsay Packer. Optical sound by Andrew Yong Hoon Lee guides Packer's light-based installation and performance work into the realm of film. Lee's composition uses sound as material and is pushed and pulled much like paint on a canvas to create abstract textures that evoke mood and memory. 2019; 3 min.
Dysphoria – Eric Butler (Orlando, Florida)  An A.I. or person struggles to recognize the self in it's truest sense, from second to second, taking into account past, present, and future (Family pictures, watching screens, and the Free Will Thereom), all of which is happening in every moment. Warning: strobe effect. 2020; 5 min
Night Birds & Ghost Crabs  - Robert Sickels (Walla Walla, Washington)  In pairing experimental imagery with interviews in which people from all walks of life discuss the gamut of that which keeps them up at night, Night Birds & Ghost Crabs documents those lonely late night moments we share with so many others the world over. As it turns out, though we are physically alone during the wee dark hours, we are united in sleeplessness with untold millions, and there's a kind of reassuring comfort in that realization. 2019; 6 min. 
Slideshows From The Peanut Gallery – Paul Rodgers (Lexington, Kentucky)  Slideshows From The Peanut Gallery is an experimental animation that examines this pathology of longing by producing a hyper-facsimile of the family photo. The process starts by digitally scanning Kodak slides that have some formal or conceptual relationship. The subjects are then digitally traced, cut out, and animated: a kind of forensic archeology in response to the photographic image that breathes life into the subjects—and conversely flattens and mechanizes them. The resulting animation is a dream-like, non-narrative reenactment of the past that echoes the fleeting and arbitrary nature of nostalgia and the corruption of memory, an uncanny slideshow for strangers. 2020; 8 min.
Patient's Copy – Patrick Tarrant (London, England)  A hand-made reflection on the underconscious and on the illustration of ideas on plastic. This collage film comes about after the discovery, in my university office, of a thousand overhead transparencies used for teaching biology. A chemically induced gaze looks out over this archive while a light shines down on obsolete treasures, buried ideologies and the science of life. Patient's Copy focuses on the capacity of these acetate transparencies to not simply allow light to pass through them, but also to allow light to reflect off them. This suggests a new function for images that have not only been excavated from their pedagogical and technological moment but which, in their new fluorescent form, are both less plastic, and more plastic than ever before. 2019; 10 min
Bubble – Haonan Wang (Beijing, China)  This is an urban tale of love and sacrifice set in a mysterious restaurant hidden in an alleyway. On an ordinary night, a man eats a lot of herbal plants in front of a woman, transforming himself into the woman's food. In Mandarin, subtitled. 2020; 14 min.
Knock, Knock, Knock – Arom Choi  (Seoul, South Korea) Knock, Knock, Knock follows Hana, a young woman who confines herself to a tiny box-like room. She interacts with the world by listening through the thin walls that separate her from her neighbors. Hana is consumed by thoughts of death, only to be confronted by an unexpected death. The room itself acts as an antagonist; the limited space and sound has the power to manipulate human emotion. In Korean, subtitled. 2019; 16 min.  
Bella – Seth D. Myers, Sarah Stolar (Dubuque, Iowa)  A young female dancer travels on an emotional journey through psychological and physical landscapes to discover a crucial truth that lives within her. 2019; 18 min.
Co-sponsored by the Rutgers University Cinema Studies Program!
Friday, September 25, 2020 - $12=General

Films will be available on VOD (Video On Demand) for 24 hours on their show date. There will also be special Filmmaker Introductions and Q+A Sessions available for many of the films. To buy tickets for this screening go here:

https://watch.eventive.org/newjerseyfilmfestival2020/play/5f14866886665b005f05688e

Information: (848) 932-8482; www.njfilmfest.com

https://watch.eventive.org/newjerseyfilmfestival2020

https://newjerseyfilmfestival2020.eventive.org/schedule