originally published: 09/22/2020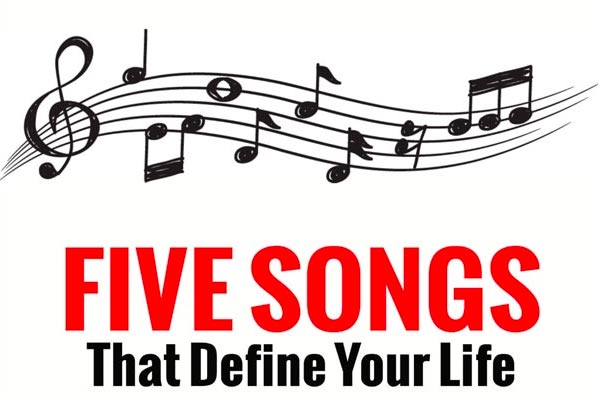 This is the third in a series at New Jersey Stage.  We reached out to people to find out what were the five songs that define their life.  It's a different type of list than just your favorite songs.  We're looking for songs that are deeply personal to you, songs that motivate you, or songs that describe your life in some way.  They may wind up being your favorite songs, but the interesting part is trying to narrow your list down to just five.  It's harder to do than it sounds and it provides a good look into each person. Mick Chorba, Ken Shane, and Rick Barth give their lists here. 
If you would like to be considered for the series, please email us at: info@newjerseystage.com
Mick Chorba:  5 Songs
"Hound Dog" - Elvis Presley. This is one of a dozen or more 45 records I found in my parent's closet when I was 6 or 7 years old. For about 3 or 4 years my world revolved around "Hound Dog" and "Don't Be Cruel" (B side)... as well as "Shake Rattle and Roll" by Bill Haley and the Comets, "Sha-Boom" by the Crew Cuts, and "I'm Walkin" by Fats Domino, and may others.  I rigged my record player so that when I flipped on the light switch the needle would play "Hound Dog"...the opening snare run was magical.  These records captured my imagination.  I acted out the "one eyed cat peepin' through the seafood store"...I thought the RCA Victor dog at the old gramophone speaker pictured on the label was actually the hound dog that Elvis was singing about.  It's strange how something you experience at such a young age becomes the road map for how you experience life.  That's how it was for me.  At the time though I took it totally in a literal way.  Elvis was singing about a dog.   Not a cheatin', no good, two timin' lover. 
Ah so innocent!
"Yesterday" - The Beatles. When I was a kid I used to play the melody of this song on a little white Casio keyboard in my room and cry.
---
The article continues after this ad
---
---
"I Can't Explain" - The Who. When I was in 7th grade a good friend's brother turned us onto The Who. The Who, especially their album Quadrophenia, mirrored and helped me to make some sense of my teenage angst.  But really "Can't Explain" captures it all….I feel something, I'm confused by it and I don't know how to express it.  I'm angry and sad and I don't know why...I Can't Explain!
"Here Comes A Regular" - The Replacements. I found this song on a cassette that was left in a car I bought, a 1976 Chevy Caprice.  It was a live version that I learned later appeared on "The Shit Hits the Fans".  So the Replacements are more important to me than any other band.  I finally found my identity in a band that rejected everything.  I liked punk but wasn't angry enough or secure enough to look punk.  I liked bands like the Cure but felt like an outsider with people into "alternative music" like that at the time.  The Replacements belonged to us all who didn't fit in...I was too insecure to take myself seriously enough so my identity fell into the realm of self deprecation and nihilism.  I loved that they played covers and butchered them.  They played Hank Williams songs and Thin Lizzy covers.  As soon as they seemed to find success they sabotaged themselves.  I respected that because I was too insecure and alienated to take myself seriously...but the hidden gem here is that The Replacements were brilliant.  Their songs were smart, and empathetic.  At the same time they made things seem so simple that I felt I could  do the same thing.  "Here Comes a Regular" is a sad song about a guy whose life seemed to be going nowhere.  It's so damn sad.  How about the line "I used to live at home, now I stay at the house".  Wow what a way to express those weird times when you are trying to be an adult but have no idea how to do it.
"Give Back The Keys to My Heart" - Uncle Tupelo. When I first heard Uncle Tupelo it was weird...like I already heard what they were doing in my head… in fact it was what I wanted to do but had no idea how to accomplish.  This Doug Sahm cover was the hook for me but it opened up a whole new world of alt country….mixing roots and puck and rock.  Taking the attitude and urgency of Hank Williams and marrying it with the snotty attitude of The Clash and The Stooges.  And it was all done with a garage DIY sound that was exactly what I wanted to do with my band.  It was so inspirational.
---
Ken Shane: 5 Songs
"Desiree" – The Left Banke. Not their biggest hit. It barely scraped into the top 100 in 1967. But this beautiful orchestral pop song written by Michael Brown is one of my all- time favorites.
"Hello It's Me" - Nazz. Before he became a solo artist, Todd Rundgren was in a Philadelphia band called Nazz. This is the original version of the song that later became a huge solo hit for Todd. This version is much slower and more emotional and Todd is not the lead vocalist. It's sung by Stewkey Antoni and it was released as the B-side of the Nazz single "Open My Eyes" in October, 1968. It will always be a A-side for me though.
"Jungleland" – Bruce Springsteen and the E Street Band . The sax solo on Jungleland . Sure it's a great song, and a great album, but very few pieces of music have the power to move me like Clarence's solo does. I've been known to jump up and down, swing my arms, and weep tears of joy, overcome by the power of rock and roll, every time I hear it. And I've heard it a lot of times over the past 45 years. Losing Clarence has only served to make it more meaningful for me.
"I Am the Blues" - Laura Nyro. My love for Laura knows no bounds. Her music has been a constant in my life for more than 50 years and remains so today. There are many songs to choose from but this one, from her Smile album, would have to be my first choice. A beautiful, haunting melody paired with emotional lyrics and a powerful vocal performance adds up to one majestic ballad.
"If We Were Vampires" - Jason Isbell and the 400 Unit. Jason has written some of the best songs of the last 20 years or so and this one might be at the top of the list. The concept is brilliant and the lyrics are a dagger to the heart and become more heartbreaking with each passing day. If you're lucky enough to have a soul mate you can't help being moved by this.
"It's knowing that this can't go on forever
Likely one of us will have to spend some days alone
Maybe we'll get forty years together
But one day I'll be gone
Or one day you'll be gone"s search high and low and everywhere in between wandering through life condemned to search.

We are not losers, we are the lost...
---
Rick Barth: 5 Songs
"Don't Move" - Butch Walker. If I'm being honest, there could be ANY Butch Walker song on my list (he is my favorite singer/songwriter, after all).  I chose this one because I think it is a perfect encapsulation of his style.  Without a doubt, Butch can write an amazing song, but the lyrics and emotion here are just incredible.
"Shock Me" - KISS. This band was everything to me when I was younger.  But it was this song specifically and, in particular, the version on Alive II with the extended guitar solo that made me want to play guitar.  And, as I've said so many times before, everything in my life is because of that instrument.  Thank you, Ace!
"Boys In The Street" - Greg Holden. My wife and I first heard Greg Holden when he opened for Butch Walker.  He is an amazing singer/songwriter (he also co-wrote 'Home', performed by Phillip Phillips).  The emotion and the way the story is told in this song is very powerful.  It's about the relationship between a father and his gay son (told from the son's perspective).
"Love Song" - Tesla. One of my all-time favorite songs by one of my all-time favorite bands.  This song was HUGE when it came out and for good reason…. It's awesome.  Great lyrics, great arrangement, and great playing by the band.  It broke the "power ballad" formula of the late 80's. 
"Scenes From An Italian Restaurant" - Billy Joel. It goes without saying that Billy Joel is a legendary singer/songwriter.  Like Butch Walker, I could've chosen any number of his songs that are important to me.  I picked this one because the lyrics and arrangement are perfect for the story he's telling.  And, let's be honest, it's fun to sing along with.
If you would like to be considered  for the series, please email us at: info@newjerseystage.com