By Gary Wien
originally published: 09/22/2020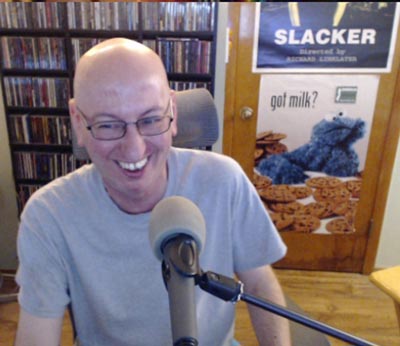 BlowUpRadio.com is a website and online radio station that has put a spotlight on New Jersey music for two decades.  Run by Lazlo, the site is also known for music news, benefit compilations, and a never dying mission to promote New Jersey artists.   
New Jersey Stage reached out to Lazlo to see how he plans to celebrate the 20th anniversary in December, talk about highlights from over the years, and see how the music industry has changed since the site began.
BlowUpRadio.com was one of the first NJ based music sites and very likely the longest running.  How does it feel to be celebrating two decades?
Strange... in large part because 2020 is a strange year. Before the pandemic hit, the plan was for BlowUpRadio.com to celebrate turning 20 with a series of live shows. Obviously we are not able to do that, so I am looking for other things we can do to celebrate. Hopefully the pandemic will be over before December 2021 and we can do it up big when we turn 21... maybe even talk to a local microbrewery about doing a limited edition BlowUpRadio.com brew since BlowUpRadio.com will be old enough to drink next year.
Twenty years also feels like it went by in the blink of an eye, until I stop to think how much has changed in 20 years. When I started BlowUpRadio.com people were buying CDs, or stealing music from Napster. There was no iTunes or streaming music sites, outside of other internet radio stations. There was no YouTube, and the only social media were chat rooms and message boards. Most everyone on the internet, myself included, was using dial up connections, which meant downloading an MP3 took 10-15 minutes.
---
The article continues after this ad
---
---
In December of 2000 the service I use to broadcast didn't have capability to do live internet radio, so I prerecorded a 3-6 hour show each week and spent every Sunday afternoon uploading the entire show to the server so it could run on a loop.
But the main thing I feel about 20 years of doing this is how thankful I am that the local music scene has always been supportive of BlowUpRadio.com. I say this a lot but it bears repeating, I wouldn't be able to do this station without the wonderful and diverse local music scene like New Jersey has. Every week I am able to do an hour of new music solely from the Garden State, that is a true testament to the talent in our local music scene.
You were such a fan of local artists that you created an online radio station built around NJ artists. Do you remember the initial reaction of local musicians and music fans when the station was first introduced? Were people surprised you had that much local music to play?
The first thing I remember when I started BlowUpRadio.com was contacting Al Muzer, who had a weekly local music column in the Aquarian, to see if he could mention the internet station. I've long since lost the e-mail, so I am paraphrasing here, but his response was something like, "It is amazing no one has thought of doing this before!" He wrote a nice column about the station, and word of mouth quickly spread. I was happily surprised at just how quickly it spread, and that within a month or two I was getting multiple album submissions a week. 
As for the amount of local music I had to play at the beginning, I was lucky that when I started BlowUpRadio.com I already had a large collection of NJ indie bands I had amassed from doing a local music radio show at WMCX (Monmouth University) before working at a commercial radio station, and from buying albums when I went to local shows. So when the station began I already had about a hundred acts to play.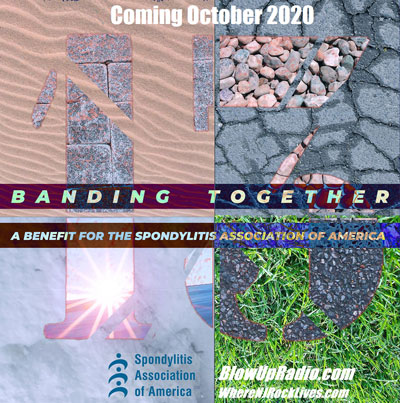 Other than having a station centered around Jersey artists, two things that come to mind when thinking about BlowUpRadio include the annual Banding Together benefit for Spondylits Association of America and your live shows like New Years Eve. 
The first benefit for the Spondylitis Association of America (SAA) was 13 years ago, and was not even billed as "Banding Together". It was a 3 day music festival at Buddie's Tavern, and came together quite quickly. A few months before the first benefit my wife had been diagnosed with Ankylosing Spondylitis, after over a year of doctors trying to figure out why she was always in so much pain. For those unfamiliar, Spondylitis is a genetic rheumatoid arthritis condition that causes fusion of the bone and great pain in the spine and ribs. People can find out more about the condition and the SAA at www.spondylitis.org.
One of the worst feelings in the world is watching a loved one in pain and being powerless to do anything useful to make it better. When my wife was diagnosed with Spondylitis and she started using the SAA as a valuable resource, I realized I may not be able to directly help my wife, but I can help the SAA. I know a lot of musicians, and I've done benefit concerts in the past, here is something I can do that is productive and I'll feel like I'm not completely powerless to the situation.
After the success of the first year, I realized we could do it as a webathon and reach the world, instead of just people in New Jersey. So year two we brought it online, as well as a live concert in NJ, and dubbed it "Banding Together". As downloading music was still in its infancy at the time, that year anyone who donated to the SAA was sent several albums that had been donated by local artists.
The first year we did a downloadable compilation was 10 years ago, and it was a collection of over 100 songs that encompassed some of the many artists that we played on BlowUpRadio.com during our first 10 years. We've done a compilation every year since then, and most years we do a mix of webathon and live concerts. This year, for obvious reasons, there will not be live concerts, but I am thrilled that thanks to live streaming technology we can have musicians performing live during our annual webathon remotely from their homes or rehearsal spaces.
The first New Year's Eve broadcast was December 31st, 2013. It started off as a one off idea, but, like so many things I have done just to see what would happen, caught on, and people come to expect it to be an annual thing now. So the plan is to do it again this year, like the webathon and our weekly Guitar Pulls, broadcasting live with everyone remotely streaming. It will be a benefit also, but I cannot say what organization it is for yet.
In addition to the Banding Together benefits, you've presented live shows and created compilations to raise funds and awareness for many groups with the Rock Against Hate Volumes and Rock the Lup compilations. How great is it to be able to utilize your site to help causes like these?
It is wonderful to be able to combine my love of music and my love for helping good causes! Back in December of 2001 when we celebrated our first anniversary, we did a benefit concert for Toys For Tots. Since then we have been involved with benefits for numerous small and large non-profit organizations. We usually manage to do 2-3 different benefits a year, including Banding Together. I wish we could do more but logistically it becomes difficult, and if we do too many benefits I think the listeners and musicians would get burned out (I might too). But whenever possible, I am happy to facilitate benefits for worthy causes, or work with others on benefits.
Just to give people an idea, how long would you say it usually takes you to put together a compilation?
Well, I normally send an e-mail out to musicians about 3 months before I plan to release the compilation, letting musicians know what I am looking for and if they are able to donate a song to let me know. Over the span of the next few months I will send follow up e-mails to see how people are coming along and listen to the songs as they come to make sure they will work for the compilation. Once the deadline has passed, I spend days, sometimes a week, putting the songs in different orders to determine the best track listing for the compilation. I know most people don't listen to albums from beginning to end in order anymore, but I do, and I know some people do. I want those that do to have a good listening experience of being taken on a musical journey with an ebb & flow. During this time I also work to get a press release together and sent out to the media and to get some sort of cover art. Since I am not a great artist, I am very lucky that Dw Dunphy often donates his time to create the cover art for the compilations, such as this year's Banding Together compilation.
You also have created a huge archive of your live interviews.  How many artists would you say you've interviewed over the years?  Any particular ones stand out for you?
I have been lucky enough to interview hundreds of musicians, mostly local artists, but some well known names, over the years. Honestly, the local artists are generally more fun because they don't do hundreds of interviews. They are happy to talk about their music and don't have stock answers ready.
My favorite interviews, and I'm lucky that there are many that fall into this category, are the ones where me and whomever I am talking to fall into a more normal conversation, and it is less question, answer, question, answer, repeat, than just having a conversation and through it discussing things I would have asked, and often things I would not have even thought to ask.
Sometimes just saying the right thing, not even a question, can get someone talking. I remember interviewing John Wozniak from Marcy Playground (best known for the 90's hit "Sex & Candy"), and commenting that their new album at the time, "Leaving Wonderland...in a fit of rage" was a wonderful mix of really fun, happy songs & really sad songs, to which he very openly talked at length about how he was suffering from clinical depression while making the album, and the songs were a result of that. His being so open about something so personal.... it was a powerful, memorable moment, and I am happy that he was willing to share that.
What about live concerts? You have presented shows regularly for a long time.  Any stand out as your favorites?
Oh, there are so many. One I've been thinking about lately was a summer where I reached out to a bunch of musicians about them collaborating with other musicians, and the end result was 2 concerts with musicians pairing up to perform their songs together, and in a few instances write new songs together. I wish I did that annually, and maybe after the pandemic I will try to bring that back.
What is sad is thinking back on all the shows I have done over 20 years, and shows I have been to even, is the number of venues that we have lost in that time, and how many more we may lose because of the pandemic. When the pandemic is over and it safe to go to venues again, please support venues that support the local original music scene.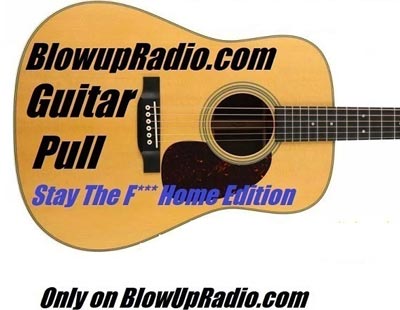 Speaking of shows, what's it been like for you during the pandemic? Do you watch any of the virtual shows?
Most of the times when stressful things that are outside my control happen I go through several days to a week of kind of being in a state of shock and confusion and angry at things outside my control and unsure what to do. Then one morning I'll wake up and just say, OK, this is what it is, what can I do with this situation, and that is how I planned the first Stay The F*** Home Virtual Festival that BlowUpRadio.com aired April 3rd thru 6th. I also started doing a daily interview show called #StayHomeWithLazlo, which more recently I have had to pull back to just doing once a week on Wednesdays. Soon after I realized I could use live streaming technology to continue to do the Guitar Pulls I would do at Espresso Joe's remotely, with me and the 3 singer-songwriters all on a video call and broadcasting the audio live on BlowUpRadio.com. We've been doing that every Thursday, though we will likely be talking October off from them to focus on Banding Together. So for me, I've been keeping myself busy and trying to offer even more from BlowUpRadio.com, which I think has helped keep me from thinking too much about how I miss live music in person and seeing people in person.
So obviously I am broadcasting audio from virtual shows on BlowUpRadio.com, but I have watched plenty also. It is weird not seeing an audience, but it is still great to hear live music. The weirdest to me though are the ones doing it from empty music venues, because it just makes it more obvious what we are missing right now. I prefer the ones from people's homes or yards.
Finally, what would you say you're most proud of regarding BlowUpRadio? And what, if anything, would you like people to know about the site?
I'm proud of being able to say that for 20 years BlowUpRadio.com has stuck with our mission statement of being Where NJ Rock Lives. More than 90% of our programming is NJ indie music, with only a few specialty shows playing music from outside of the Garden State. I'm proud of being able to use this station to support some good causes, and I am proud of the friendships I have made. I can't play an instrument or sing, but I've been taken in and accepted as part of the local music scene, and that is something special. 
I realize that is several things, and "most" should be one, but much like if someone asked who my favorite musician is, I can't pick just one.
I want people to know that BlowUpRadio.com has been here for the local New Jersey music scene for almost 20 years now, and I expect to be here for another 20. I really don't care if anyone remembers me, but I hope people remember BlowUpRadio.com, and even more importantly, the music we play on BlowUpRadio.com. It is why my motto is always, "Support Good Music".
---
Gary Wien has been covering the arts since 2001 and has had work published with Jersey Arts, Elmore Magazine, Princeton Magazine, Backstreets and other publications. He is a three-time winner of the Asbury Music Award for Top Music Journalist and the author of Beyond the Palace (the first book on the history of rock and roll in Asbury Park) and Are You Listening? The Top 100 Albums of 2001-2010 by New Jersey Artists. In addition, he runs New Jersey Stage and the online radio station The Penguin Rocks. He can be contacted at gary@newjerseystage.com.
---