By Gary Wien
originally published: 09/22/2020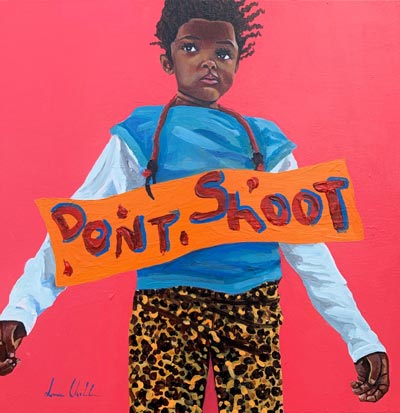 Since the murder of George Floyd, artworks protesting police violence against Black lives have emerged all over the world. Art Against Racism: Memorial. Monument. Movement is a nationwide virtual exhibition created in response to this issue and will be presented on a groundbreaking video platform beginning October 3 at 5:00pm EST, just in time to get out the vote.
"This is a grassroots project welcoming all voices, both professional artists and those who express themselves in other forms," says Art Against Racism founder and organizer Rhinold L. Ponder.
Artwork will continue to be accepted until Inauguration Day, January 20,  2020. To participate, view the prospectus here.
Organized by a New Jersey-based coalition of Black, Brown, and White artists, educators, writers, curators, attorneys, journalists, and activists, the project will document and exhibit the outpouring of artwork that has sprung up across the nation.
New Jersey Stage reached out to Rhinold L. Ponder to learn more about the organization.
---
The article continues after this ad
---
---
The organization began in 2019.  Was there one particular incident that led to its creation or was it the multitude of incidents?
Art Against Racism was a direct outgrowth of my art practice and my provocative but highly acclaimed art exhibition "The Rise and Fail of the N-Word."  Based on my work, I was asked by Pam Caputo the founder of Create Core Courage, based in Asbury Park, to respond to a call for arts activists to organize issue-themed exhibitions.   So, I, in partnership with artist and curator Ruth Ann Traylor and Robt Seda-Schreiber of the Bayard Rustin Center, organized the first exhibition last year in the Princeton-area. 
It was very successful, so after the murders of George Floyd, Ahmaud Arbery, Breonna Taylor and so many others, I felt the responsibility to formalize the effort.  I felt the need to hold myself and others accountable for the mission to empower anti-racism through the arts. 

Who is behind the organization?  
I am the driving force behind the organization.  However, every effort, opportunity and experience we create is the result of community collaborations with artists, curators, activists, art and community organizations.  All our success is the result of great partnerships with community members who believe in a just, equitable and anti-racist society.
Last year our organizational partners included the Morven Museum, McCarter Theatre, the YWCA, the Princeton Arts Council, Princeton United Methodist Church, and the Unitarian Universalist Congregation of Princeton. All our partners bring great value; no one is a partner for name recognition only.  
This year, for Memorial.Monument.Movement we have a superb organizing committee which began with artists Judith Brodsky, Andre Veloux and Cynthia Groya giving birth to this idea of a national on-line exhibition and civic action for voting.  We brought other well-respected and highly decorated artists and arts administrators onto the committee: Kimberly Camp, artist and former director of the Barnes Center; Ilene Dube, arts journalist, curator, documentary filmmaker;   Nancy Shell, an established artist based in Philly;  Isabel Nazario, founding director of the Rutgers Latino Center for Arts and Culture; and Mary Oestereicher Hamill, a socially engaged artist/educator and curator at Princeton University's Bernstein Gallery.
Our major organization partner for this project is Rutgers University which has been instrumental in making the collection of art in video format possible.
This project has also attracted other support for the organization.  Spitfire, a major marketing and communications firm has agreed to help us with messaging and branding.  Coding for Impact, a student-run nonprofit that builds websites and creates software for nonprofits is creating our website.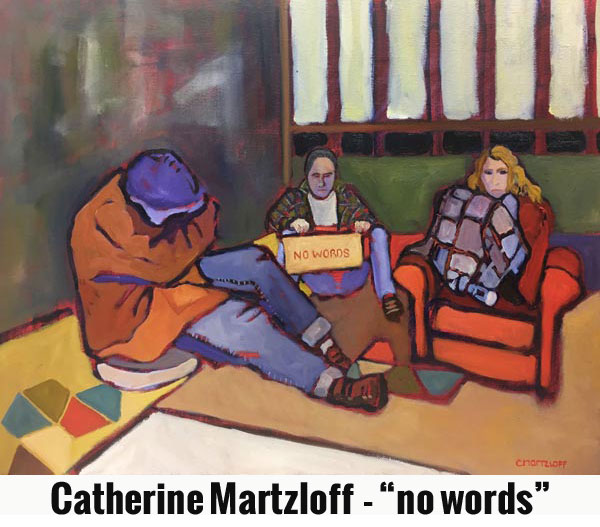 Tell me about the Art Against Racism: Memorial. Monument. Movement.  Have you been receiving submissions from around the country? The world?
Memorial.Monument.Movement (MMM) is actually so much more than a typical on-line exhibition.  Art Against Racism projects are designed to educate and engage the public; they are meant to provide an experience through art and an opportunity for the public to learn and act in a way that benefits society.
MMM is part exhibition, part historical archival project and in large part a call to action, paralleling the BLM protests around the nation.  The title of the exhibition reflects the solemnity in recognizing the on-going movement against the terrorizing and dehumanization of Black lives and the call to end historical erasure through false narratives and monuments.
In addition, to a call for art, this is also a call for action. We're also asking artists, activists, and organizations to create new public art and host art events to promote voter registration and voting.
For example, the West Windsor Arts Council answered the call for art and action.  They joined with the African American Parent Support Group of West Windsor-Plainsboro to create community flags from patches of cloth decorated by community members in honor of Black lives.  A brilliant idea to also promote the vote.  We can't wait to share it with our growing community.
We're accepting video of art through the Cinebody app which can be downloaded on your phone.  We're also accepting pictures of work, since much of the work has already been documented, though Dropbox.  The details can be found on our call for participation here. 
Overall, the response has been phenomenal.  We are receiving work captured from all over the country.  There is fabulous work, especially public art, being created from coast to coast: we have work from Newark, Philadelphia, Trenton, Portland and Seattle, just to name a few places.  We are even receiving great work from Africa.  We hope to receive work from other nations as well.
We are planning our on-line exhibition launch for October 17, 2020 at 5:00pm.  In order for work to be considered for the launch we must have it by September 28, 2020.  We will continue to accept work until inauguration for the ongoing exhibition.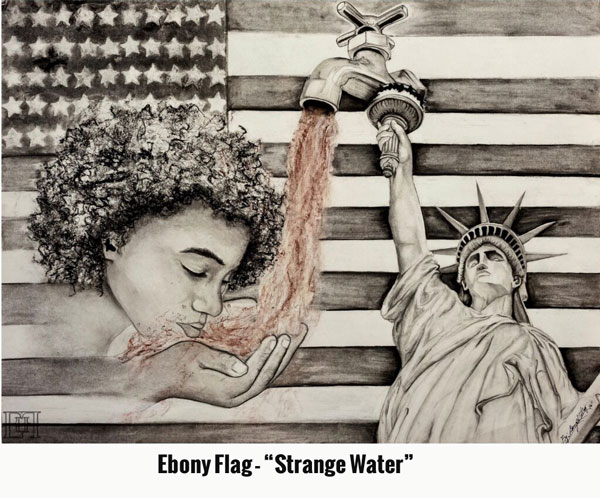 How are the pieces being chosen?
We have a curatorial team of nine artists and curators which may be expanded depending on the amount of work we receive.  Of course, quality and relevance of the work are critical.  We hope to attract work from a multicultural group of artists -- Latinx, Asian, Native American, white -- who have been inspired by this moment.  
Are there plans for the completed exhibition? Will it remain online for a period of time? Will there be a physical presentation someday?
The project will remain on-line indefinitely.   We have not discussed a physical exhibit for this project, although we may have events where the exhibit is projected on walls in communities around the country.  But right now, we are focused on making this the best and most comprehensive exhibit of work expressing the moment of turmoil, hope and action for racial justice and equity.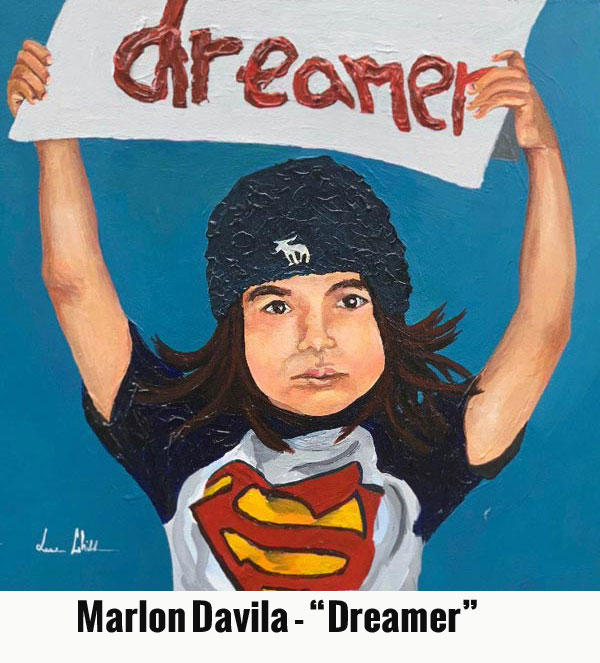 Deciding whether to take a stand or political view can often be difficult for an artist. Have we reached a point in which artists feel compelled to take a stand on racism without fear for how it may affect their audience?  
Or is taking a stand still a risk for artists?
Every individual has their own notion of risks and concerns about how their community or the marketplace will respond to their work.  But generally, most art is political in some way.  Art has always been an essential element of social change and resistance to oppression.  Art Against Racism provides another platform for artists to share their visions and to build a larger community of like-minded artists.
I would also add that artists of color by their very nature create political work whether it is representational or abstract. Their ability to survive in a society built on white supremacy and determined to diminish their humanity is a political act.  For most Black artists, what some consider a political view, is just life.  And for artists of color living is political.
Toni Morrison who taught at Princeton University for many years passed away in August 2019.  I was wondering if she was involved in the early stages of Art Against Racism?
Toni Morrison is involved in spirit.  She was the one who said, ""The best art is political, and you ought to be able to make it unquestionably political and irrevocably beautiful at the same time."  Art Against Racism is empowered by that sentiment.

How important is voting in the upcoming election?
Voting in every election is an important aspect of civil action and civil disobedience in favor of justice and an anti-racist society.  Yes, for many people of color voting is an act of civil disobedience in a society where there are constantly obstacles to our rightful participation in the electoral system. 
Unfortunately, we teach citizens that elections are about personalities or that elections alone are supposed to result in the social change we want. And when we don't like the personalities or we don't get all the change we want, we think elections are not effective.
But voting is just one essential tool of many – protest, community organizing, petitioning, lobbying, etc.  What makes this election important is that it is the next one and the one which can have immediate impact on ending the deterioration of our democracy and the normalization of white supremacist hatred and violence. 
The result of this election will not end racism, but it can move us closer to a more just, equitable and inclusive society.  We need to use every tool at our disposal to move us in that direction.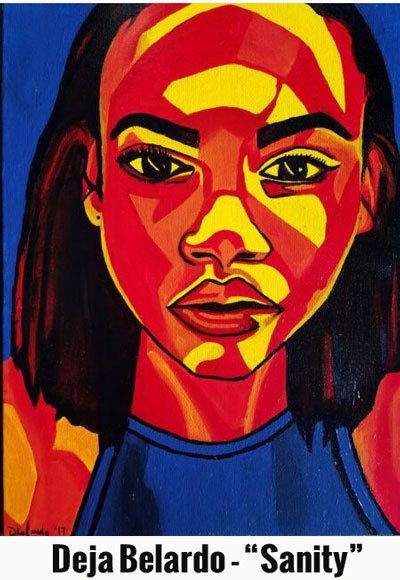 ---
Gary Wien has been covering the arts since 2001 and has had work published with Jersey Arts, Elmore Magazine, Princeton Magazine, Backstreets and other publications. He is a three-time winner of the Asbury Music Award for Top Music Journalist and the author of Beyond the Palace (the first book on the history of rock and roll in Asbury Park) and Are You Listening? The Top 100 Albums of 2001-2010 by New Jersey Artists. In addition, he runs New Jersey Stage and the online radio station The Penguin Rocks. He can be contacted at gary@newjerseystage.com.
---