originally published: 09/17/2020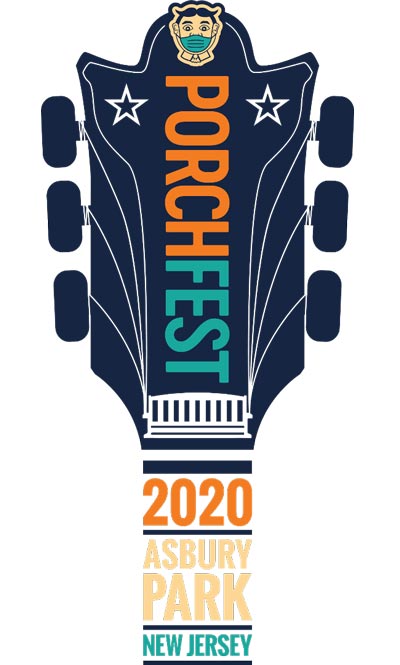 (ASBURY PARK, NJ) -- Even in a pandemic, music finds a way in Asbury Park!  The AP Homeowners Association's 4th Annual Porchfest event will be held on Saturday, September 26th from 1:00pm-6:00pm on porches all around town. Over 40 local bands and performers have already signed on, with more expected to be announced. 
This family-friendly, free event features musicians from a wide variety of genres. Attendees will stroll from porch to porch and relax on front lawns and sidewalks as they enjoy live, local talent. A program guide will be available and a map of porches and performers will be posted online a few days before the event.
Homeowners around AP have donated the use of their porches and lawns for a safe, socially distanced event. Attendees will be required to wear masks and sit or stand a minimum of 6 feet apart from others at each location. Full details are available on the FAQ page of the PorchFest website.
PorchFest was founded in Ithaca, NY in September 2007. Over the years, the concept of hosting performances on front porches for an audience that moved from home to home has grown with communities around the U.S. hosting PorchFests of all sizes. Asbury Park's passionate connection to music, its beauty and camaraderie, and its beautiful porches make it an ideal town for our own annual event. 
PorchFest is completely coordinated by volunteers who believe in the power of music and understand that engagement builds strong communities. Show your support for local music, the arts, and your community by sponsoring a porch, placing an ad in the event program guide or by simply making a donation, which helps the Asbury Park Homeowner's Association and supports the community.  Asbury Park PorchFest is a 501 (c)(4) non-profit organization. Donations are not tax deductible.  Interested in being an event sponsor? Reach out to JordanModell@gmail.com for more information.  
---
The article continues after this ad
---
---
In this crazy new normal and time of COVID-19 pandemic, let's prove we can have a safe and fun music event. Here are the few simple rules to keep us all safe:
1) Wear a mask or face shield at all times – if you don't have one, we'll provide it free of charge - just ask a porch owner. Note: This year we will not be serving food or water to ensure people adhere to the mask rule. Please do not bring food to the porches and, if possible, drinks should have straws to keep to the mandatory mask rule.
2) Keep socially distant. This has been defined as: increasing the space between individuals and decreasing the frequency of contact to reduce the risk of spreading a disease (ideally to maintain at least 6 feet between all individuals, even those who are asymptomatic). If you come with people whom you normally congregate with, please stay with them and keep socially distant from others.
3) Porch owners have final say on crowd size that they feel comfortable with.
4) To ensure it is a fun day for all - people who act irresponsibly will be asked to leave.
Covid rules change all the time. Please check the New Jersey COVID-19 Information hub or call 211.
---
Is PorchFest walkable?
Yes - Asbury Park is very walkable! You can walk, ride bikes or scooters, and push strollers as you move from one porch to another. While you can bring your WELL-BEHAVED dog, we don't recommend it because you will be responsible for your dog's actions. Some dogs get nervous around crowds and loud music. We wouldn't want a dog bite or fight ruining everyone's day!
What should I bring with me? What should I leave at home?

Bring your own folding chair, water, and an umbrella just in case we get sprinkles or to block the sun. Be sure to wear comfortable shoes!
Eating and drinking?

Attendees are welcome to bring water, but in order to keep masks on, no food is permitted this year. Masks may be lowered to take a drink, but then must be worn again immediately. A straw is preferable, if possible.
Do the artists get paid?

No – actually we are all volunteers. All planning and participation is done on a volunteer basis. Admission is FREE and open to the entire community. Performers are also free to sell their cd's and other merchandise at the event. Donations are taken to help Asbury Park Homeowner's Association.
Are you closing the streets during this event?

Currently there are no plans for street closures.
Will there be bathrooms?

PorchFest host homes are not obligated to provide any facilities.
Is there a rain date?

Yes, but let's hope we don't need it. Should we be rained out we will move the fun to Saturday, October 10, 2020.