By Al Nigrin
originally published: 09/16/2020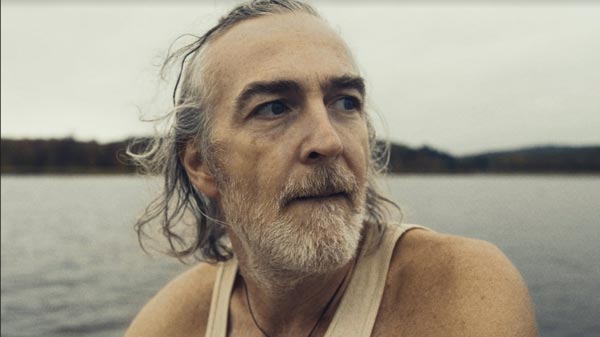 Here is my interview with The Red Marsh Director Drake Woodall:
Nigrin: Your beautiful yet spooky film The Red Marsh focuses on an isolated and angry fisherman. Please tell us more about why you decided to make this film? 
Woodall: The Red Marsh is an adaptation of Lafcadio Hearn's short story, Oshidori. Immediately after reading, I became interested in exploring grief in that fantasy realm. 
Nigrin: Your previous film Soot (which won Best Short Film at the Fall 2018 New Jersey Film Festival) was pretty dark as it was mostly filmed at night. In The Red Marsh the opening scene where the necklace is put around the woman's neck is quite beautiful and many of the other shots are pretty creepy but mostly in the day. Tell us about the moods you wanted to create in your most recent film.
---
The article continues after this ad
---
---
Woodall: Like Soot, this film is an exploration of grief and longing. I wanted to place those feelings that are most often associated with darkness, in an environment with beauty and color.  
Nigrin: The lead actor is pretty intense as are the others who perform in your film. Tell us more about Keith Winsted, Allison Brooks, Te'enna Klein, Stacy Collado, Kevin O'brien and how they ended up acting in your film?
Woodall: Keith is a wonderful Brooklyn based actor that I reached out to a month or so before we started principle photography.  We met and I immediately knew he was perfect for the part. Keith was fantastic to work with especially considering how physical that role was. Allison Brooks is the actor I first pitched the idea too.  Allison was immediately receptive and interested in playing such a surreal role.  Allison is trained at the Stella Adler studio and has great range. I knew her performance would be both entertaining and suspenseful.  I reached out to Te'enna Klein, after looking through headshots and thinking she was perfect for the role. Given the nature of her part, we only worked together for a few hours, but that isn't to say her role isn't one of the most important in the film. The televised performance that Stacy Callado and Kevin O'Brien are in is from an experimental project I shot a year or so ago.  I met both of them through other work and asked them if they'd be interested in collaborating on a project. I felt that their performances and the aesthetic of that project were perfect for The Red Marsh.
Nigrin: The film's cinematography is quite beautiful.  Please tell us more about how you decided to give the film this look.
Woodall: Thanks, I was striving to create a surreal atmosphere that felt both isolated and inviting. I didn't want this man's reminiscing to feel as though it was from a strictly cruel place. It needed to feel like it was in a place where anything could happen.
Nigrin: The locations are also amazing. Tell us about where you shot your film and how you ended up shooting in these places.
Woodall: The exteriors of The Red Marsh were shot in Caroga, NY on Canada Lake and West Lake.   We were very fortunate to befriend Ceci Eisenhardt, a film student working at the local marina. Ceci joined our team and gave us permission to shoot on her gorgeous wooded property.  I'm beyond grateful to her and her family for being so generous. The interior sequences were filmed on a set I built in my Brooklyn apartment.  I wanted control over the design of the fisherman's cabin that would have otherwise been impossible with my budget.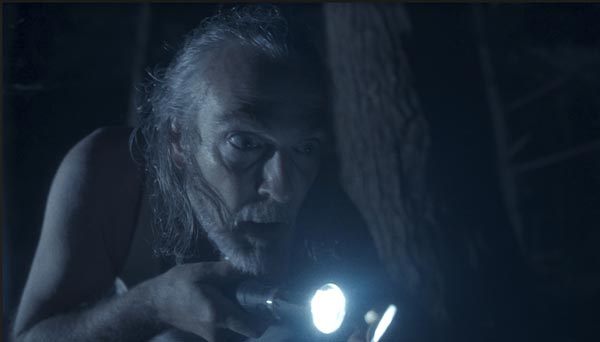 The Red Marsh is part of the New Jersey Film Festival Super Shorts 1 Program. Here is more information on this screening:

Super Shorts I Program
Yet Another – Tim Disbrow (Annandale, New Jersey) Cooped up inside and overcome with boredom, a young boy ventures out of the house to find a little excitement--but it's not the first time. 3 min, 2019.
Happily Everglades After – Daniel Kassel (Brooklyn, New York) Everybody's just doing their best in the lagoon. 2019; 4 min.
The Winter – Xin Li (Carlton, Victoria, Australia) A beautiful paint-on-glass animation that follows a peasant in a snowy forest.  2020; 5 min.
Nothing To Say – Aubrey Mintz (Toronto, Canada) Nothing to Say in an allegory in which a recent arrival at the zoo, a turtle, challenges the zookeeper and other animals by not speaking on command to receive his food. By revealing his story to the others, the turtle exposes themes of exile and being a refugee in a land that provides for the body at the cost of the soul. Various animation styles used in the film help to uncover the emotional quality of the turtle's experience. Narrated by Danny Aiello. 2019; 10 min.
She Who Invites – Sarah El Bakkhouri (Surrey, British Columbia, Canada)  An abstract visualization of the Shinto tale of Izanami; the Goddess of Death and Creation. 2019; 7 min.
Peanut – Andy Mills (Brooklyn, New York)  After learning he has an abnormally small brain, John is prescribed a gun to kill himself. Unfortunately, he learns a gunshot to the head is not quite sufficient for his affliction. 2020; 5 min.
Azrahel – Harry Valentine  (Los Angeles, California) When Dr. Lopez brings Vivian to the morgue to identify her son, she learns that there is no limit to what a mother will do -- and no force she will not turn to -- to bring back her child. 2019; 7 min.  
The Red Marsh – Drake Woodall (Brooklyn, New York) An isolated fisherman's latent grief resurfaces when desperation causes him to look elsewhere for food. 2020; 12 min.
Snowglobe – Timothy Rush (Los Angeles, California) A young woman wakes in a frozen wasteland. Searching for her lost co-pilot, on the run from a totalitarian regime, she discovers a world with many secrets lying beneath its surface. Along the way, she must face the darkness and find her voice if she hopes to survive. 2019; 11 min.
The Bronze Fly – Karleener  (Dijon, France)  A painter gives three magic pills to his visually impaired girlfriend, then intentionally loses her in the crowd. Thanks to a painting and to the three pills that transform the view into a painting style, she will search for the painter and his secret, without suspecting that, in the shadows, he will observe her during his passionate quest. In French, subtitled. 2019; 15 min.
Speed of Time - William Stribling (West Hollywood, California)  Future cop Johnny Killfire (John Hennigan) must go back in time and team up with his former self (Sean Marquette) in order to stop the TimeBorgs from getting their hands on an app that could break the space-time continuum by delivering pizzas into the past...before they were even ordered. 2020; 13 min.
Co-sponsored by the Rutgers University Cinema Studies Program!
Sunday, September 20, 2020 - $12=General

Films will be available on VOD (Video On Demand) for 24 hours on their show date. There will also be special Filmmaker Introductions and Q+A Sessions available for many of the films. To buy tickets for this screening go here:

https://watch.eventive.org/newjerseyfilmfestival2020/play/5f14936e3d3519007e48b892

Information: (848) 932-8482; www.njfilmfest.com

https://watch.eventive.org/newjerseyfilmfestival2020

https://newjerseyfilmfestival2020.eventive.org/schedule