originally published: 09/11/2020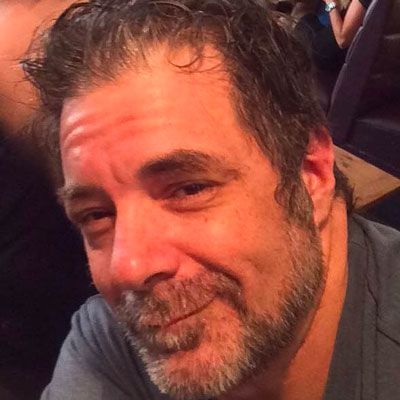 New Jersey artist, Tony Tedesco, will be one of three musicians to take part in Sunday Songwriters In The Round on September 13 at 7:30pm.  The event, hosted by Carol Lester Productions and Renee Cologne, features self published Songwriters with music poised for (or already licensed in Film, TV or Ads).  In addition to Tedesco, the event includes Renee Cologne, and Tracy Stark. The concert can be seen live on Facebook.
Hailing from Asbury Park, Tony Tedesco is writer, singer and lead guitar for Full Fathom 5. Tedesco's Music is made for everyone from peg legged saloon dancers to the most tender of longshoremen. Grit with heart. A stubborn passion born of the salt in the sea and the dust on the moon. Guaranteed to either shock your mother, or have her weeping tears of empathetic sorrow. Music to sharpen, throw and dodge knives to. Not brewed for local consumption. Best listened to from dark corners with nary a clue. You'll get to really enjoy Tony's Lyrics in this rare acoustic performance. 
In addition to touring with Meatloaf back in the day, multi-instrumentalist Renee Cologne has written, produced and performed original music that is "majestic and dramatic, painted in stunning, bold strokes on an over-sized canvas" (Womenrock.com). Renee utilizes a palette of lush vocals, soaring strings, horns and electronic elements, she creates what she calls "soundscapes" – aural rooms with layer upon layer of texture that intend to offer a listener surprise and reward upon repeated listens. This palette is on full display in Cologne's latest release, her fourth, called "Coverlings" a collection of 11 well-known pop songs from the 60's, 70's and 80's; reconstructed using both human (earthling – voice, acoustic, orchestral) and machine (alien – electronic, beats, synths) elements in a way that is fresh, rich and nuanced. Renee has written or performed for stage, dance and film. Her voice has been heard on many commercials, including M&M's, McDonald's, TJ Maxx, and her collection of a cappella choral pieces entitled Hymns to a Hungry Planet was a nod to her passion for the Bulgarian Women's Choirs.
Pianist / Music Director / Arranger / Bandleader / SingerSongwriter, Tracy Stark is an 11-Time MAC Award winner (Manhattan Association of Clubs and Cabarets), in the categories of Music Director, Piano Entertainer, and Song of the Year. She is also a Bistro Award winner for Musical Direction, and has won Cabaret Hotline's Songwriter of the Year Award. Tracy has worked with Sarah Dash (Labelle), Lesley Gore, Phoebe Snow, Karen Black, Nona Hendryx (Labelle), Randy Jones (Village People), Barb Jungr, Brenda Braxton, Justin Sayre, Eric Millegan (Bones), Tonya Pinkins, Nathan Lee Graham, and hundreds of other rock, jazz, and broadway vocalists. She stays busy creating and music directing 75-100 different shows per year, in addition to her ongoing work as music director for the Eugene O'Neill Cabaret Conference for the past 8 years. She has conducted, played, and sung at the finest halls, in addition to the the sleaziest bars all over the world. She has played/conducted on numerous television shows, including The Today Show. She has 3 CD's of original music in her catalogue, and her songs are included on at least 20 different compilations, and have been winning accolades in songwriting competitions for the past 25 years. Her 3rd CD of original music, Shades of Beautiful, was released on the Miranda Music label, exquisitely produced by Richard Barone, featuring world class vocalists, including Lillias White, Nona Hendryx, Ann Hampton Callaway, Lesley Gore, Jane Monheit, Janis Siegel, Karen Black, Barb Jungr, and other great artists.
Carol Lester hosts "2nd Sunday Songwriters" Showcase and Industry Event focused on Music Placement in TV, Film & Ads. Ms Lester is an Award Winning Songwriter and served as a six year Industry Judge for The Independent Music Awards (IMA), while VP of Mamapalooza Publishing. Ms Lester has had songs placed in TV, Film & Ads. Four songs from her 2020 album "No One Knows" have been picked up by Music Supervisors from LHM Linnette Harrigan Media and Vice Media Group. Ms Lester also represents Artist Pilley Bianchi, Composer Bianchi Musica, and secured a contract for 23 of her 'Pop Reimagined by String Ensemble' songs to be placed in mVIbe music Library.  
---