originally published: 09/10/2020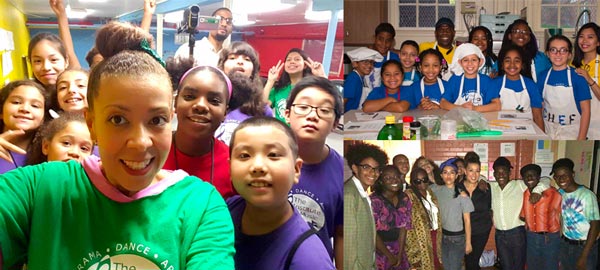 Alysia Souder is like that best camp counselor you ever had.
She's also a savvy organizer, fundraiser, and deeply committed to the transformational power of the arts.
As the executive director of The Institute of Music for Children, Souder has had quite a year. Like the rest of us, she's had to adapt at lightning speed to a new reality, all while keeping the mission of the Institute in clear focus.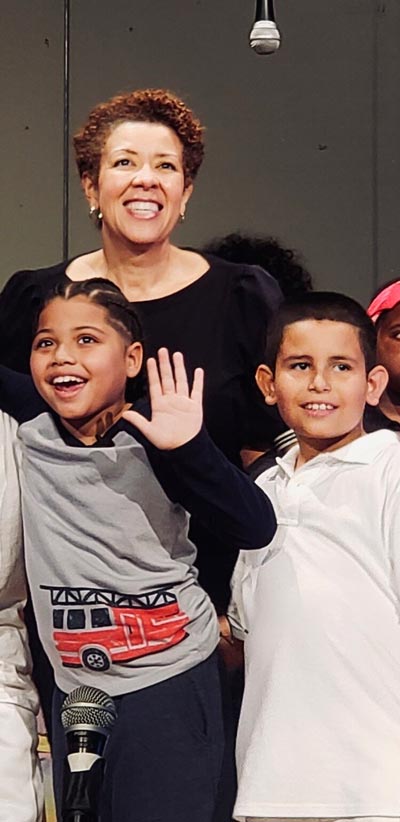 Based in Elizabeth, New Jersey, the Institute provides youth with high quality arts training of all kinds, including music, dance, the visual arts, film, and theatre. But this is not your typical suburban center providing over-scheduled youths with resume-building opportunities. The Institute is deeply committed to broadening participation in the arts in underserved communities, through a combination of tuition assistance, a diverse, bi-lingual staff and administration, and a variety of urban outreach initiatives.
When the pandemic hit, the families and students served by the Institute were among the most vulnerable. Suddenly, jobs were being lost, family members were trying to negotiate the healthcare system, and Souder saw that help was needed.
The Institute raised money for some of their immigrant families facing economic crises. With her staff, Souder also came up with new ways of talking to kids about some of the frightening issues facing the world. I spoke to Souder on September 4, 2020, at the end of a summer like no other, and the beginning of a very unusual school year.
Jersey Arts: The Institute is such a hands-on place and so important for so many young people. How did you respond when the pandemic hit in March, and through the summer?
Alysia Souder: We made the decision to move our program online in the spring. We did a lot of talking to our families, talking to our teachers, really exploring how we could build something online that still really focused on community and delivered a quality experience. It was a little rough and tumble, but we were able to create a new space for our classes and private lessons.
We also had other elements to keep community alive. We had online meetings with the kids and the parents, we had social groups called Teen Talk and Kids Speak guided by our youth leaders, and we had game time. We facilitated group games online where kids could join in whenever they wanted to, multiple times a week. So they still had spaces for fun, and socializing. So we finished out the spring online.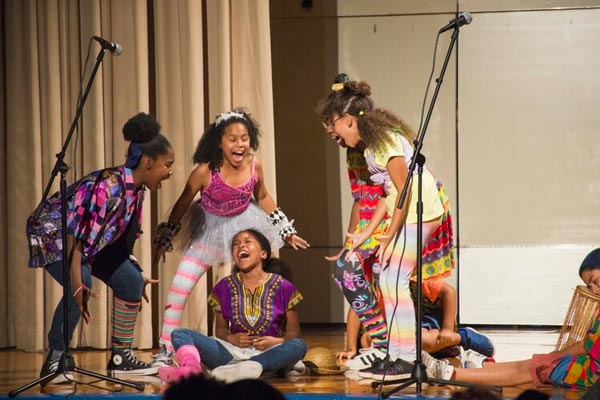 For the summer, we formed a partnership with the City of Elizabeth, because they had to cancel their traditional summer programs in the city. The Department of Rec sponsored 150 students in our program over the summer. But then we had hundreds actually sign up!
We launched an emergency fundraising campaign and raised an additional $11,000 so that we could offer a space to any child who wanted one in the summer. We were able to serve 350 children, and many of them with multiple classes. It was great! We met a lot of new kids, students that we didn't know before.
We also kept the social elements; we had game time every day, we had Kids Speak and Teen Talk every day. We offered spaces where they could choose to connect with each other, and a lot of kids came online just to do that.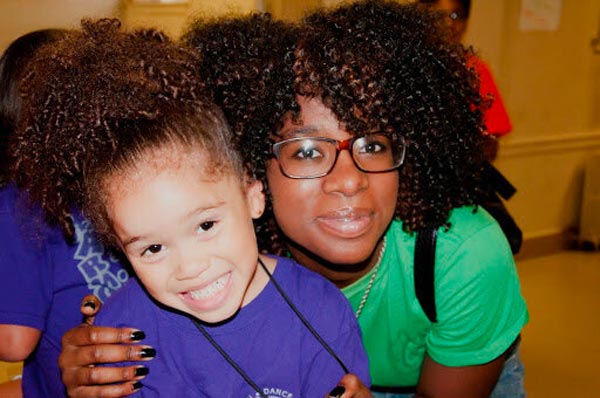 JA: What kind of games did they play, and how did that work online?
AS: There would be scavenger hunts, trivia competitions, charades, win/lose or draw, Pictionary games, lots of different things! Our youth leaders are our teen employees and many of them come out of our student body. As they grow up, we recruit them to join our youth leadership team.
Because they've been students of ours, they're really deeply invested in the program. By the time that they're really working in the program, these young people are rather phenomenal. They come up with the games, they work with each other to develop new ones, and they're really loved by the kids - sometimes the kids just want to hang out with a youth leader that they really connect to.
The youth leaders serve as surrogate big brothers and sisters, mentors, and just extra friends. Also, it was really great to be able to keep them employed this summer because a lot of these teens and young adults really rely on this income. So it turned out really well.
JA: How are you making the transition to fall, a time when you're normally focused on after-school offerings?
AS: At the Institute right now we're in a holding pattern. We want to be able to launch a fall program, but there's a lot of funding right now that we're waiting to hear about. Particularly, our state funding has been delayed because of the change of the fiscal year. So we can't move forward in our programming plan until we have a little more clarity about what's going to happen. Our program is not self-earning, and we subsidize all of the tuition for the students. Things have been working out so far, so I try to stay in that zone - but I also have to prepare the staff and community. We'll see.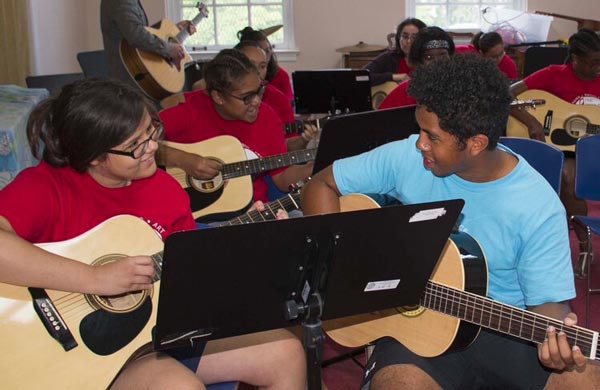 JA: Are the students at the Institute, as people of color or from immigrant communities, continuing to pay a greater price during the pandemic?
AS: Always. The George Floyd tragedy was really a tipping point for us to say, there's a whole lot of questions. This is not just about violence or police brutality, this is about our entire system.
I've spent my entire adult life in arts education, actually my entire life. It means a lot to me, this is my passion, it's my career, and it's what I believe in the most! I'm definitely a true believer; I do believe that arts education can save the world! I've seen it, I see it all the time.
There's very little that's more important to me than equity, and culturally responsive arts education. It's really time to "right the ship" in terms of access and equity. It's time to look at how many children are suffering and at such big disadvantages.
JA: Do you see any silver lining to this difficult time we're living through?
AS: I don't know if I fully see it yet, but do I believe that there is a silver lining. Always. The combination of Covid and George Floyd is really where the power's at. We have this new way of life all of a sudden, and we have a new lens that we're looking through, collectively. Or semi-collectively.
So there's this weird amount of time and focus that's a big change from our day-to-day grind - because arts and arts education is always a grind, a non-stop train, you're always working! So this time has caused us to pause, to re-examine how we're doing things, to think about what it is that we actually do. Are there things that we don't need to do anymore? How are we contributing to racism and racist systems, and how do we undo that?
This time period where everything is strange and new and frightening, is also kind of awesome. Because you're home now almost all of the time; you're with your family, you're trying new things – I started a garden! I'm growing string beans and broccoli; I've never done anything like that before!
A lot of great conversations are happening, especially about racism. People want quick solutions to something that took hundreds of years to put in place. So that's always something that's hard to shift, but I think the fact that people are working hard to make the shift matters a lot.
JA: So often young people want things to happen immediately, and they can be frustrated by the time that change takes.
AS: But young people are the spark of it all! Because they aren't used to things being the way they have been for so long. We need their energy, their idealism - their furiousness! "It has to be different!" We need that.
Working with so many young people at the Institute, it's been awesome for me to see them coming into that part of themselves. It turns out that a lot of them hadn't talked about the racism they'd experienced before, or how their families respond to racism. They'd never even talked about it with each other.
As an adult, I talk about it with my friends, or my colleagues at times. But to find that for young people it wasn't part of their daily conversation – but it was a big part of their lives – you know, it's a different culture.
There's been a sense of "everyone's equal, everything's fair" for this younger generation, even though it's not really real. It's been really incredible to see these teens coming into their activism, to see how excited they are to be a part of the change.