originally published: 09/10/2020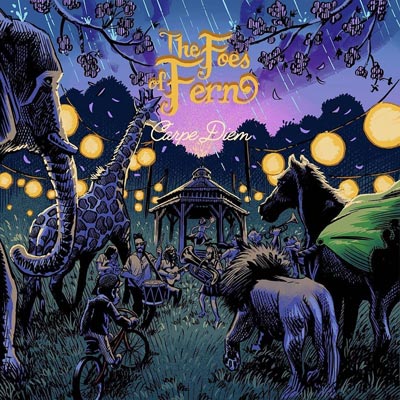 One of New Jersey's consummate guitarists in such bands as Airacuda, The Burns, and Avery Mandeville & the Man Devils, Matt Fernicola recently dropped his debut LP as the leader and singer-songwriter of his own band, the massive Foes of Fern. Featuring more than 50 performers, the Foes' 11-song "Carpe Diem" -- on producer (and Fern Airacuda bandmate) Joe "Pom" Pomarico's Telegraph Hill Records -- is a quirky but passionate collection of odd tales and luny laments.
Kicking it off is "Lydia," a spacey but in-your-face rant about a frustrating, infuriating love between a songwriter and the title character. In a complete 180 from the opener, "Maria Maria" tells the tale of an inspiring love who "paints with poetry like a sunrise in the fall."
They are followed by "Out of Our Heads, Vol. 2," an energetic ode to an out-of-touch (and apparently out of his head) soul brother. The tongue-in-cheek but touching track features fun gang vocals by the often Springsteen-inspired Dr. Zoom & the Sonic Boom-like ensemble and impressive harmony vocals by the Foes' tuba player, Victoria Laurence, and ukelele player, Jessie McCormick.
Next is "Play It Back," a passionate lament from the point of view of a guy whose unrequited love gets knocked up after a one-night stand with a player with whom she's enamored but wants nothing else to do with her. Just when you think Fern will mellow with a pretty acoustic number, "Simple and Plain" turns into a boisterously hysterical slap in the vain face of Instagram obsessives and other undesirable hypocrites.
The rest of the LP consists of six tracks that during the past two years have been or will be released as videos, including the romantic-sounding, pleading title track. The clip for "Carpe Diem" drops Sept. 25 and will premiere here as the Makin Waves Song of the Week. Throughout the LP, particularly on "Carpe Diem" Fern makes great use of the Foes' horns, meticulously arranged by sought-after saxophonist Michael Squillace, who also contributes alto, tenor, and/or baritone sax to five other tracks.
The album's other songs previously captured via video are:
* "The Monkey," a wonderfully weird and vocally rich horn-driven indictment of cliques within a scene that has lost its originality
* "Sun Day," an acoustic-oriented tune about enjoying nice weather, as well as life in general, that's as close to a ballad as the wonderfully wacky Fern and his equally zany band can get with great use of strings that bring the kooky track to a sadly sweet end
* The Johnny Cash-inspired "April Came in the Rain," the first song Fern released showcasing how he can make a guitar talk over his talented rockestra
* "Bike Song," a '60s-sounding pop nugget with tinges of Asbury Jukes-like bar-band horns about a bicycle stolen off the boardwalk, kind of like "The Bicycle Thief" at the Jersey Shore
* "Ghosts (Girl in All My Songs)," the epic closer and Fern's piece de resistance about a regretted breakup between a restless artist and a family-focused lass that features the best of several amazing performances by Saxman Squillace, as well as Fern on his axe.
A huge shoutout also should go to Pom for assembling the massive madness of The Foes of Fern into a cohesive, crafty album. Hear it live at two shows coming up Oct. 3 and 12 in Asbury Park. The latter is a livestream from House of Independents. Fern will release details about the other event, a house concert, day of show.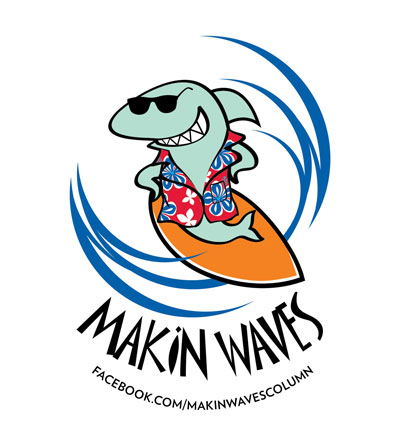 Bob Makin is a reporter for MyCentralJersey.com and the former managing editor of The Aquarian Weekly, which launched this column in 1988. Contact him via email and like Makin Waves on Facebook.