originally published: 08/23/2020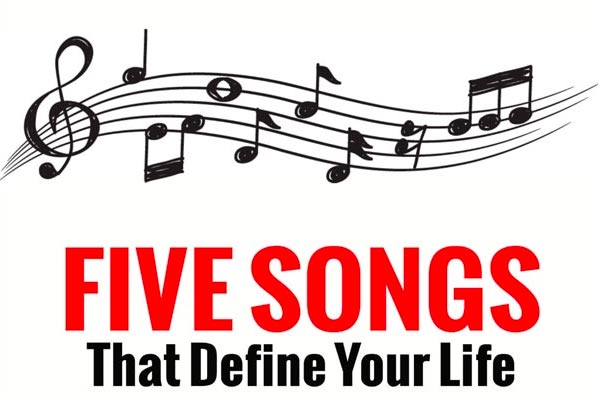 This is the second in a series at New Jersey Stage.  We reached out to people to find out what were the five songs that define their life.  It's a different type of list than just your favorite songs.  We're looking for songs that are deeply personal to you, songs that motivate you, or songs that describe your life in some way.  They may wind up being your favorite songs, but the interesting part is trying to narrow your list down to just five.  It's harder to do than it sounds and it provides a good look into each person. Karen Mansfield, Diego Allessandro, and Debra Devi give their lists here.  If you would like to be considered for the series, please email us at: info@newjerseystage.com 
---
Karen Mansfield:  5 Songs
"He Ain't Heavy, He's My Brother" - The Hollies. I've always loved this song and believed it was the truth, even as a little kid, when I most definitely heard it for the first time on the am radio of my parents Oldsmobile station wagon, yes, the one with the paneling. I know brotherly love and sacrifice for others is the way to go, and certainly the answer to so much of today's problems.
It's a plea really, for the whole wide world to just plain love one another. How hard can it be? Life On earth isn't meant to be heaven, but we can feel the joy in special moments while we share the journey and share the burdens with and for each other.
I've been the recipient of such brotherly love during some really dark times in my life and I will tell you that this type of selfless love that asks nothing in return is what saved my life and gives me purpose today.
---
The article continues after this ad
---
---
"Calling My Children Home" - Emmylou Harris. The first time i heard this song was during a time when my daughter and I had been going through some growing pains, growing apart, growing into the new season of our relationship.
Although I only have one child, I understand the pining of this lyric. I've celebrated every stage of my daughters life, yet there is a gentle ache and yearning for the years gone by when she was small enough for me to pick up to cradle and cuddle, sing songs to and read story books, to tuck in bed and say prayers together, then when she was a bit older we'd blast some music and dance around the living room, go swimming in the ocean and go on day trips. 
As a parent we want our children to be free to live their lives, but we can't help but wish them to be near to us always, in our hearts and in our homes if for only a little while.  I think we pray that they yearn for us the way we yearn for them.  Love never really ends.
"What a Wonderful World" - Louis Armstrong. Such a gorgeous song. I can't help but feel grateful when I hear this song. It brings the peaceful humility of acknowledging that there is beauty and miracles surrounding us every day. It's a challenge to not focus on our troubles and the worries of this life. This song always brings me to a place where I can be hopeful and thankful.
Friends shaking hands, babies growing and learning more than we'll ever know. We can all accept and understand the fabulous part we all play in this wonderful world by sharing the joy we see each day, by celebrating the simple gifts we are given, a kindness from a stranger, friendly dog that wants to say "Hi" in the park, a welcome surprise meeting with an old friend at the grocery store, the miracle of nature and of life itself. Even with all its heartaches, it really is a wonderful world.
"Heavenly Day" - Patty Griffin. The first time I heard this song I was getting on the parkway at the crack of dawn heading commuting to college.  I loved it from the very first phrase. Thank you 90.5 the Night.
Such a perfect love song. I love that it's speaking of the here and now, right precisely now. Just being with each other, and taking in the blue sky, the breeze, the trees swaying, the serenity, peace and love and comfort, not letting anyone or anything coming in and stealing the joy of the present.
Gives me goosebumps every time I hear it. My hope is that if I can get the right attitude about everything in my life I can proclaim each day a heavenly day, or at least 5 to ten minutes of it could be.
"People Have the Power" - Patti Smith. I think every human dreams of what Patti Smith is singing about here. People really do have the power to change the world. I believe love is the greatest most powerful energy in all the universe. Love changes hearts and minds. From there it can literally  change everything else.
Nothing happens without there first existing dreams and visions.  If we can amp up the positivity and diminish the negativity in ourselves that would be a start of a huge love revolution.  Love is the answer.
Kinda exactly what the planet and it's people need right about now.
---
Diego Allessandro: 5 Songs
"Jesus of Suburbia" – Green Day. While I've never been the type to do drugs the total disillusionment, dissatisfaction and utter contempt for the suburbia I grew up in completely resonates with me. Just look at the bio on my website "From the corporate strip mall wastelands of suburbia in central New Jersey…" Does that sound like someone in love with their hometown to you? 
Sadly though I never had the foresight to leave. I naively tried to build a life here, in "a town that don't exist." 
"Pictures of You" – The Cure. I'm such a huge fan of The Cure that I'm honestly surprised that more people don't site them as an influence when discussing my music. Songs like 'It Ain't Easy' and most of the album 'Eden Boulevard' are heavily influenced by The Cure. 
This song more than others maybe influenced me due to it's quiet intensity and hypnotic overture, both qualities I strive to bring out in my solo performances. 
Sometimes you can catch me bopping around the house to the rhythm of 'Just Like Heaven' as it's intro runs through my mind and I forget I'm not alone. 
"Express Yourself" – N.W,A . My love of synthesizers, anthemic pop/rock and girl pop are all over the majority of the music I've made, especially DiegoFM, but my love of authentic messages of liberation overrule all that. 
I heard this as a kid and couldn't deny the way it just made me feel. It's a call to arms to "speak your truth" as many today would put it, in your art regardless of criticism from those who seek to minimize your voice. There's a lot of NWA in Eden Boulevard though you might have to listen much closer to hear it under the surface. 
"Badlands" – Bruce Springsteen. "It ain't no sin to be glad you're alive..." sometimes we need to remind ourselves of that. 
As a teenager I heard this calling to me from a radio once and it ignited something in me. To be able in a dark moment, in a struggle, in the daily life you lament so much to proud that you somehow survive enough to be glad you did; I wanted to dance and scream in the face of everything I felt wrapped around my neck like noose. That's why so much of Eden Boulevard is something you can dance and\or sing to. I wanted a show of defiance, to scream, to sing, to dance, to play as loud and fast as I could in the face of what felt oppressive and just plain wrong. I wanted to invite you to do the same. I still feel the need to spit in the face of these Badlands…
"I Still Haven't Found What I'm Looking For "– U2. In the celestial maze of Edge's guitar and the heartbeat pulse provided by Larry Mullins and Adam Clayton comes this voice that just calls out into the beyond. Not in the anger, the defiance, the rebelliousness of Jesus of Suburbia or Badlands but calling out to something missing. From that moment I was hooked the first time I truly heard this song about a man searching for something he couldn't name. He seeks the comfort, the love, the redemption, the solace he is missing everywhere he can think. In the arms of a woman, in religion, in nature…but something is missing. It's easy to get swept up in the romanticism, exuberance and optimism of something like Born to Run "we're gonna get to that place we really wanna go and walk in the sun…" but some of us search high and low and everywhere in between wandering through life condemned to search. We are not losers, we are the lost…
---
Debra Devi: 5 Songs
"When You Were Mine" - Prince.  I heard "When You Were Mine" playing in a vintage clothing store in the East Village and was stopped in my tracks. I didn't know it was Prince; I thought it was a song from the early '60s perhaps. So simple, so soulful, so aching.
 I stood stock still with a dress in my hands for the entire song and then put the dress home and went straight home and listened to "When You Were Mine" a million times. Then I began having dreams about Prince in which he would show me guitar and piano chords. I would wake up and play them and write songs. 
"Suzie Q" - Creedence Clearwater Revival.  My brother played this for me when I was 7 years old. The feedback section was the spookiest thing I had ever heard. I made him play it over and over. 
As a guitarist, I love riding waves of feedback, and that definitely stems from this wild recording. I got such a thrill when I saw John Fogerty in concert and for his encore he rolled out the gigantic 100-watt Kustom 200 amplifier he used to get that eerie tone on "Suzie Q" and performed it. That haunting sound was unmistakable. Wow. 
"Back at the Funny Farm" - Motorhead - I moved into a dump in the East Village and soon discovered that the rough wooden floor was drenched in cat urine and that I'm severely allergic to cat urine. On Xmas Eve I wound up in Bellevue sucking on an adrenalin tube to open my lungs. The doctor told me I'd die if I went back to that apartment so I crashed at the apartment of my one friend who didn't have a cat. I was sleeping under the Christmas tree when he woke me up in the morning by handing me Motorhead's Another Perfect Day album. From the opening guitar riff on "Back at the Funny Farm" I was hooked on Brian Robertson's soaring, emotive soloing. A lot of Motorhead fans hated Brian for his melodicism--and his leg warmers! But no one plays better. 
"Filth Pig" - Ministry.  I love the entire Filth Pig album and have often played it on repeat for 8 hours as I worked on some writing or band business. I find the heavy distortion and slow tempos soothing. The song "Filth Pig" really speaks to me now as we watch Trump, his grifting family and his grabby cabinet members suck up as much money as they possibly can out of any government program meant to help the people, like the Payroll Protection Program loan. But the most fun thing I can say about this song is that I was hanging out backstage with Ministry singer Al Jourgensen's then-wife Angie in Philadelphia and I told her Filth Pig was my favorite Ministry album. She calls Al into the dressing room and says, "Honey, this is Debra, guess which Ministry album is her favorite?" And then Al in his gruffest heaviest baritone rumbles "FILTH PIG" at the same time that I chime in my girly voice "FILTH PIG!" We all busted out laughing! 
"Soulshine" - Gov't Mule. This song feels like a hug from your best friend on your darkest day. I love the live Gov't Mule versions the most, and have been diligently stealing all Warren Haynes's guitar licks from them, now that I perform this song with my band. 
Not everybody knows that Warren wrote this song, which is an American classic, just like he is. 
If you would like to be considered  for the series, please email us at:  info@newjerseystage.com