By Gary Wien
originally published: 08/23/2020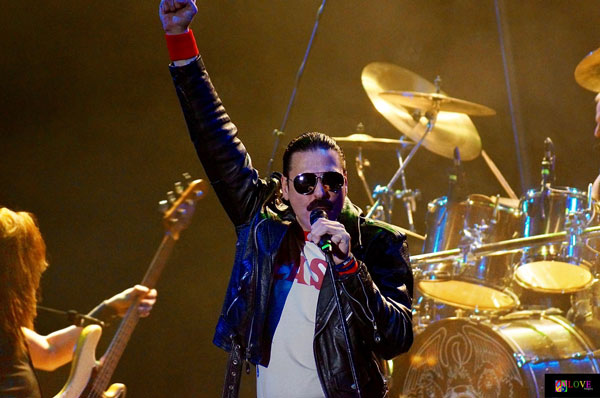 "The name of the band is a tip of the hat to them," explained Joseph Russo who portrays the legendary Freddie Mercury in the popular tribute band Almost Queen.  "I mean, nobody could ever be Queen.  We can almost get there, but nobody can get there."
Back when Almost Queen began (roughly 16 years ago), there were very few Queen tribute bands in America.  Today there are dozens, including the remaining members of Queen themselves who tour with Adam Lambert as lead singer.  Over the years, Almost Queen has built an impressive fanbase who packs clubs, casinos, and performing arts centers wherever they go.  And since late July, the list also includes parking lots for Drive-In concerts of which the band has played shows throughout the East Coast this summer.
Millions of music fans were reminded of just how many great songs are in Queen's catalog with the release of the film Bohemian Rhapsody. Seeing Almost Queen in concert brings back those memories as well.  Songs like "You're My Best Friend," "Somebody to Love," "We Are the Champions," "We Will Rock You," "Under Pressure," and "Radio Ga Ga" are still heard daily on radio stations across the globe and for good reason.  Almost Queen helps to keep these songs alive.
Russo grew up in Middletown, New Jersey; attending Thompson Junior High and graduating from Middletown North.  In addition to him, Steve Leonard who portrays guitarist Brian May is from Oakland, New Jersey.  Rounding out the band is a pair of guys from Long Island: John Cappadona as Roger Taylor and Randy Gregg as John Deacon.  They not only sound like Queen, they make every effort to look like the band as well.
That includes the mustache - Freddie's famous mustache. Russo admits he sometimes wishes that wasn't part of his look.
---
The article continues after this ad
---
---
"Yeah, I do have to keep the mustache," he said.  "I figured a fake one would just be one more thing to worry about and have to have on my face.  Imagine if it falls off in the middle of a song or is itchy.  It's so much easier to just have a real mustache.  I'll let it go for a week and the night before a show I'll trim it, shave it, and dye it so it looks just like his."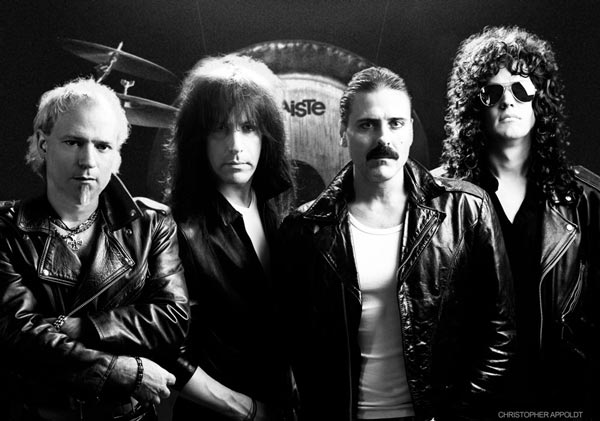 But the quest to be as close to Queen goes far beyond the look or the wardrobe, it involves making the band's music sound as close to the original as possible.  Part of the reason few cover bands play many Queen songs and why Russo's band was one of the only Queen tribute acts for a long time is because the music is very challenging to play. The songs involve one of the most iconic lead vocals as well as the work of one of rock and roll's greatest guitarists of all time.
"We pride ourselves on the fact that we don't change the keys to the songs," said Russo.  "I feel it doesn't sound right if you change the key.  Even a layman would be able to discern that.  They'll say, 'That sounds great, but there's something wrong about it.' After 16 years, my voice has never been better.  I've been in musical theatre almost my whole life since going back to high school and I've never sung better.  I smoked for 30 years and then quit which was a huge benefit to me.  I haven't had a cigarette in three years and I'll never touch that again.  It had such an impact on my singing.  I would never put that in jeopardy again."
Another aspect that led to Queen's unique sound was the work of guitarist Brian May and the sound that came from the guitar he built with his father in the sixties.  Russo says until effect pedals were introduced to simulate the sound of Brian's guitar, bands could not come close to duplicating the sound.
Almost Queen originally started out just for fun - an idea to play a few shows a month with songs that the band members all loved.  Russo had been doing musical theatre at the time, with a few tours in Europe, when the bass player in Unforgettable Fire (a U2 tribute band that features Russo's brother as Bono) left to form a new project. 
"I had nothing going on performance wise, so I said I'd give it a shot," recalled Russo.  "Met the other guys, it went well, we rehearsed for six months, and did some gigs.  It went from there.  It was right around when my son was born, which how I remember it was about 16 years ago.  We've since swapped out that bassist and the guitarist, but honestly it was started just for fun - just to get out a couple of nights a month.  We were successful before the movie, but since then it's snowballed.  We went from getting maybe one or two offers a week to getting 10 to 15.  Next year is almost filled up already."
Russo has seen Bohemian Rhapsody several times and thinks it's great, but has mixed feelings about the portrayal overall.  He was excited to learn about the film project when Sacha Baron Cohen was originally involved and it was supposed to tell a more gritty, realistic story.  He knows there is always the possibility of doing a grittier version down the road. He's torn between feeling the film glosses over parts of the history and thinking it might have been the right way to introduce people to the band. 
"There are eight-year-olds who are into Queen now," said Russo.  "Not just into it, but they're crazy about Queen because of that movie.  They know every line, every word to every song.  It's wonderful."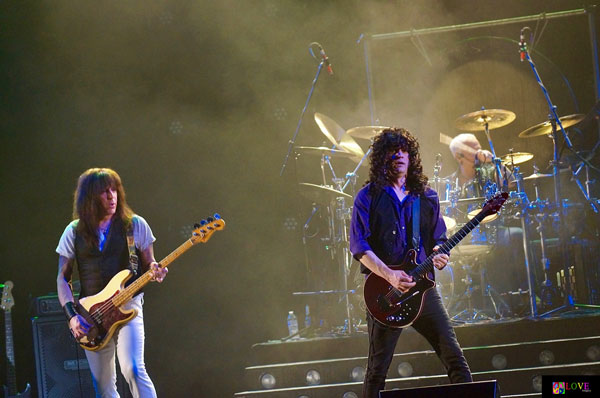 Growing up, Joseph Russo was crazy about Queen at that age too.  He recalls hearing the song "Bohemian Rhapsody" for the first time and not believing what he was hearing.  He got the 8-track of A Night at the Opera for Christmas and listened to it over and over until it eventually broke.  A year or two later, he won tickets on WABC radio to see Queen at the Nassau Coliseum and a copy of A Day At The Races.  He would see the band at Madison Square Garden in 1980 as well.  But he never would have imagined that Queen would play such a big role in his life.
"When I started playing in bands as a teenager, I had in the back of my mind that it would be so cool to do a Queen show, but I never thought it would come to fruition," continued Russo.  "While in bands, we used to cover Queen with 'Spread Your Wings' and 'Crazy Little Thing.'  It takes work; you can't just whip out a Queen song.  In most pop songs, the verse repeats after a chorus.  Queen repeats the verse, but they tweak it every time.  It's never the same.  In interviews they've said they didn't want to make formula songs.  They had a few, but the big hits - the ones you remember - do not repeat.  So you have to learn each verse and each chord separately.  I guess that's one thing that attracts me to the band as well - the complexity of the music as compared to other rock music."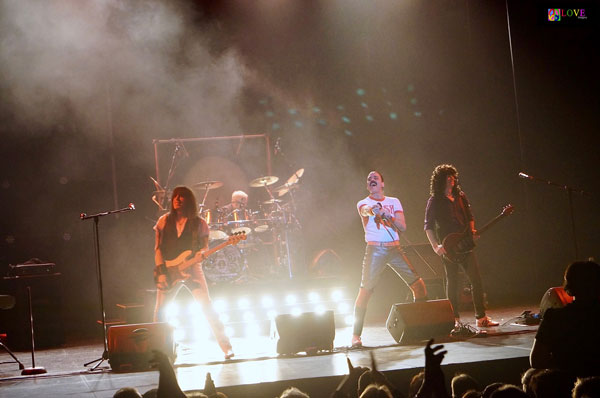 As far as singing like Mercury goes, Russo says it's not only his voice that's difficult to emulate.
"Honestly, there's no easy song to sing," he said. "I would say 'Don't Stop Me Now' is one of the most difficult songs to sing.  There are lines where you just don't get to breathe; where you have to sing the whole line and there's a higher octave between notes.  There's just no place to take a breath, so you have to learn where to breathe in the song.  That only comes after playing it a thousand times.  When you say I'm going to breathe on this space rather than that space it changes everything.  It changes how well I can sing the song.  'Don't Stop Me Now' is always one I've got to put in a place where it's right after a song where I have a half minute rest."
Locally, the band has played venues throughout the state from the Hard Rock Hotel & Casino in Atlantic City to The Newton Theatre in Sussex County.  They've been a regular at venues like the Starland Ballroom, Strand Center for the Arts, and BergenPAC.  Growing up in Monmouth County, one of Russo's favorite shows was playing the Stone Pony Summer Stage in 2019.
"We did the Stone Pony Summer Stage last summer and there were people I hadn't seen since high school who showed up in Asbury Park," noted Russo.  "I went to Rowan University (graduated in 1988) and even Rowan people and people from my past jobs were there.  Any show we do around here I'm bound to see somebody.  Sometimes it's a surprise.  Sometimes I'll get a call or an email a few days later with, 'I had no idea you were in this band.  My friend dragged me to the show and then all of a sudden you come out! I couldn't believe it. I hadn't seen you for 30 years.  What the hell are you doing?' I've had that happen a few times."
What Russo loves most about performing the songs of Queen is the message of love and good times that are found in the majority of the band's songs.  He notes that the band has only a couple of songs that could be considered political and most of the songs don't get too serious.  The band's catalog offers many great choices for Almost Queen to play and guarantees a fun night for those in the audience.
"It's just feel good music," said Russo.  "You can play for hours and people never sit down. You can play 30 songs and people will be standing the whole time." 
---
Gary Wien has been covering the arts since 2001 and has had work published with Jersey Arts, Elmore Magazine, Princeton Magazine, Backstreets and other publications. He is a three-time winner of the Asbury Music Award for Top Music Journalist and the author of Beyond the Palace (the first book on the history of rock and roll in Asbury Park) and Are You Listening? The Top 100 Albums of 2001-2010 by New Jersey Artists. In addition, he runs New Jersey Stage and the online radio station The Penguin Rocks. He can be contacted at gary@newjerseystage.com.
---