originally published: 08/19/2020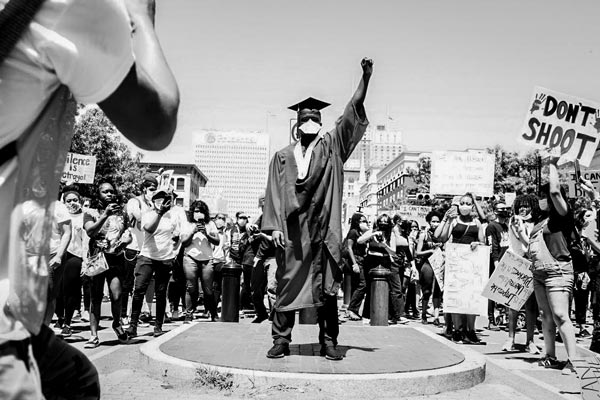 (NEWARK, NJ) -- ALL ARTS, the broadcast and digital platform created by The WNET Group, will be hosting virtual conversations with artists and arts leaders as part of its ALL ARTS Talks conversation series addressing current events and their impact on arts and culture.  ALL ARTS Talks: Symphony of Survival will stream live on Thursday, August 20 from 7:00pm-8:00pm on their Facebook and YouTube channels as well as at allarts.org. 
This conversation will discuss Blackness and art during the pandemic and this time of racial unrest with artists of the Symphony of Survival, a 2020 creative project by Embrace Newark, a Newark Symphony Hall initiative.
Moderated by editor and creative director of Symphony of Survival  and poet, visual artist & author of "Black Girl, Call Home" (Berkley Penguin Random 2021), Jasmine Mans, and featuring multidisciplinary artist, Jillian  M. Rock; American poet, writer, and creative artist, LaQuan Ford; Nigerian artist—poet, photojournalist, and scholar, Bimpé Fageyinbo; Brooklyn born Panamanian-American poet and author, K. Desireé Milwood; Newark native and fine art photographer, teaching artist, & filmmaker, Chrystofer Davis; Chair and Professor of Women's & Gender Studies at New Jersey City University, mixed media artist & poet, Dr. Antoinette Ellis-Williams; writer and public librarian, Maisy Card; arts administrator, curator & researcher, Kristen J. Owens; and Photo Artist, Documentarian, Journalist & Community Organizer, Joseph V. Moore Jr.
Born as the Salaam Temple in 1925, Newark Symphony Hall has been the home of almost a century of arts and culture in what is now New Jersey's oldest and largest arts and entertainment venue. Shortly after our introduction into Newark's cultural nightlife, the Salaam Temple – quickly nicknamed "The Mosque" by visitors who crossed our threshold – began to draw diverse audiences and became the epicenter of Brick City's live entertainment scene.
The invention of talking pictures, vaudeville acts and symphony orchestras made way to include a robust cinema where audiences could enjoy the grandeur of the latest film in style. During the Great Depression, we survived the hardship of the economic downturn with new management determined to see the Mosque bolster the city's spirit and embody her resilience. The Griffith Music Foundation, helmed by Lena Donaldson Griffith, owner of the Griffith Piano Company, recognized the power of the arts to foster our community and turned the Mosque into the powerhouse artists and entertainers of all backgrounds were eager to add to their tours.
---