originally published: 08/16/2020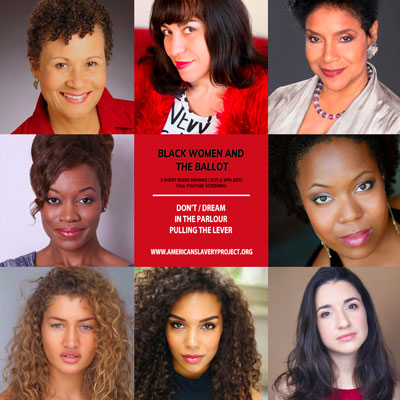 (NEW BRUNSWICK, NJ) -- From now through election day, Black Women and the Ballot: 3 Short Radio Dramas will be available online. The stories follow the heroines that made women's suffrage and the fight for equality possible.  They include the reimagined retelling of real-life African American suffragettes' journeys from the likes of Edna Brown Coleman, Mary Church Terrell, and Nellie May Quander. Tony and Emmy winner Phylicia Rashad stars in one of the plays.
The three radio drama performances include: In The Parlour (written by Judy K. Tate & dir. by Dianne Kirksey-Floyd), Don't / Dream (written by Saviana Stanescu & dir. by Judy K. Tate), and Pulling The Lever (written & dir. by Judy K. Tate). Also featuring a Q&A session moderated by Melissa Maxwell ft. Judy Tate, Messeret Stroman Wheeler, Lynnette Freeman, Celestine Rae, and Valencia Yearwood. 
The cast includes Phylicia Rashad, Messeret Stroman Wheeler, Lynnette R. Freeman, Gabrielle Camille Archer, Montana Lampert Hoover, and Celestine Rae. 
Rashad stars as The Ancestor in Judy Tate's Pulling the Lever, which follows three inter-generational women as they remember their most important experiences voting. Dianne Kirksey Floyd will helm Tate's second play featured, In the Parlour. The work returns to the eve of the historic 1913 Women's March for votes through the eyes of a young Howard University student. The third play is Saviana Stanescu's immigrant-focused Don't/Dream.
American Slavery Project, a theater company devoted to stories about slavery, the Civil War and Jim Crow by Black writers, is partnering with 11 additional theater companies for the special presentation. The theaters include New Brunswick's Crossroads Theatre Company, Civic Ensemble, Classical Theatre of Harlem, Conch Shell Productions, Ensemble Studio Theatre, Harlem Stage, HartBeat Ensemble, Liberation Theatre Company, Manhattan Theatre Club, The Sheen Center for Thought and Culture and Tony Howell Productions.
---