originally published: 07/29/2020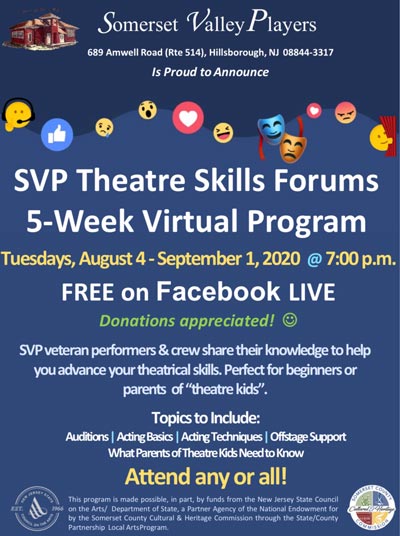 (HILLSBOROUGH, NJ) -- Hillsborough's nonprofit community theatre, the Somerset Valley Players, has been providing audiences with entertainment for over 50 years – until March of 2020 when, like many other businesses, the theatre was forced to cancel its season and go dark.
"It broke our hearts to have to end our season early, after only two shows," remembers Emily Windus, President of the theatre.  "But this pause has also given us an appreciation of the enormous pool of talent that works so hard to create theatre magic. We wanted to make their expertise available to the community as a way of giving thanks to Hillsborough and the surrounding area who support us."
As a result, beginning Tuesday, August 4, SVP will kick off a five-week series of virtual Theatre Skills Forums designed to give beginners and parents of kids who want to be active in theatre a base of knowledge about many aspects of what goes into putting on a show.  The forums will be a moderated discussion featuring SVP stage and crew veterans who will share their experiences.
The sessions will be held every Tuesday evening at 7:00pm from August 4 to September 1.  Each session will focus on one aspect of theatre skills, including auditions, acting basics, acting techniques, offstage support and what parents of theatre kids need to know.
The forums will be available free of charge and live streamed on the Somerset Valley Players Facebook page.  There is no registration required. Donations to the theatre will be gladly accepted.
---
The article continues after this ad
---
---
"Many other community theatres offer wonderful summer programs," states Roberta Steve, SVP's Vice President of Marketing and Sales. "Ours reflects SVP's emphasis on local talent. We wanted it to be accessible, and appeal to those who weren't looking to attend in person."
The Somerset Valley Players theater is located on 689 Amwell Road (Route 514) in Hillsborough. Due to COVID-19 restrictions, the theatre building is currently closed.