originally published: 07/24/2020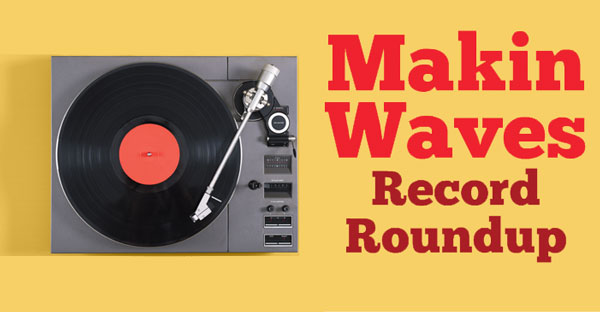 The eclectic Jersey Shore band 40 Pound Hound, featuring former members of Dirge, Black Nasa and The Atomic Bitchwax, flirt with stoner rock and grunge with a hefty helping of classic rock. Their four-song debut EP, "Ghost Ship," stylistically ranges from Peter Green's original version of Fleetwood Mac to Creedence Clearwater Revival to Three Dog Night and more. All four songs sport some of the best guitar chops within the New Jersey music scene, those of Duane Hutter, who spent a minute in TAB but is better known for the similar-sounding Black Nasa. Keeping a thunderous but tight beat is drummer Dan Gollin of the great JSHC band Dirge and bassist John Mathias, who also handles lead vocals and most lyric duties.
Produced with the help of Hot Blood bassist Charlie Schaffer and Duane's TAB pal Keith Ackerman, the EP kicks off with its most radio-friendly track, "Sing It to Me," a bluesedelic scorcher that recalls Blue Cheer and Moby Grape. On "Tell the Truth," the band then reinvent Creedence's "Feeling Blue" with new lyrics that give it a different meaning, while also referencing Three Dog Night and The Beatles. 
Next up is a cover of the original heavy, bluesy Fleetwood Mac's "Drifting" that makes a perfect showcase for Duane's stellar chops. "Ghost Ship" then closes with the epic title track, a psychedelic treatise on tense U.S. relations with North Korea that musically sounds like a cross between The Doors' "Riders on the Storm" and Iron Butterfly's "In-A-Gadda-Da-Vida," while lyrically translating the despotic dictatorship's national anthem. 
---
The article continues after this ad
---
---
No sooner had the talented trio released "Ghost Ship" when the world became haunted by the pandemic so they haven't gotten to play in support of the effort. But if you love great guitar work, you'll like the EP because of Duane's superior chops. 
Now that their home away from home, the Brighton Bar in Long Branch, is open for outdoor food and drinks, let's hope it won't be too long before the lads once again can take that stage, along with so many other acts who call the punk and indie haven home. 
---
Demos for a Difference is a massive digital project that features nearly 200 tracks that will benefit the NAACP Legal Defense and Educational Fund, which aims to fill the void of social justice within the Black community caused by racism, especially a racially biased criminal justice system. The collection exclusively is available on Bandcamp. 
The project was conceived in the wake of national protests sparked by the killing of George Floyd by Minneapolis police officers. Floyd is one of many unarmed Black people killed because of the excessive force of rogue, racist and/or poorly trained cops. A mix of dozens of unvarnished demos and related previously released tracks, the collection includes spoken-word, comedy, hip-hop, R&B, rock, folk, and a variety of other genres mainly from New Jersey but also from around the world.
"Demos for a Difference" was organized by Asbury Park singer-songwriter Brian Erickson of The Extensions and formerly The Paper Jets to "fight for true equality in the United States and around the world." To that end, Brian and The Extensions contribute "Typical Amerikan," a strong statement against racism.
Kicking off and closing the massive project, which at last count was at 185 tracks, is Jersey Shore singer-songwriter Marc Tappan. His harrowing but hopeful "Red Skies Until Tomorrow" opens the project, while a spoken-word take on his "If I Could Change This World" closes it. In between, he also offers the soulful "Take My Hand." 
It's been a while, but I am thrilled to hear my son Matthew's band, Experiment 34, with "Pocket Change," a stark look at poverty from the politically enraged Rage Against the Machine-like 2019 album, "What Dying Feels Like." Too bad more people didn't listen to E34 address and offer solutions to many of the ills plaguing us now. 
Other outstanding contributions include Bryan Hansen Band's earnest "Winds of Change"; the soul-jazz of Joshua Van Ness' "The Brightest Star," featuring Mike Sarge; Jersey Shore rapper Chill Smith's understandably angry "Hate Speech," Stella Mrowicki's powerful, prophetic "Election Day," and Blaise and David Ross Lawn's gorgeously heartbreaking "Touch." Quite impressive is a comedic turn by KL Martin, head of 3143 Artist Management, who represents Brian and The Extensions and whose acts The Clydes, The Furies, S.J. Dub, and The Viewers Like You also participated.   
Other Jersey participants include Apollo Sonders, Tony Appleseed & General Roshane, Hana Denson of Honey Wild, Levy & the Oaks, Matt Cook, Above the Moon, Blue Vervain, Martin Howth, Joe Galuppo, Bone and Marrow, Yawn Mower, Reese Van Riper, Natalie Farrell, Brian Rothenbeck, Foxanne, Tara Dente, Renee Maskin, Jesse Elliot, Rachel Ana Dobken, Dave & Tom, Jess Alaimo, Oh Elis, Dave Vargo, SonofDov, New Narratives, Joe Makoviecki of Jackson Pines, Jackie June, Amanda Rose Riley, Anna Oh, Rory D'Lasnow, The Brixton Riot, Morningside Lane, Jim Testa, Dentist, Ruby Bones, Julian Fulton, Lou Panico, Malibu, The Foes of Fern, The Well Wish, Dano, Jerzy Jung, Jeff Linden, Joe Ruff, April Centrone, Mike Chick, Bobby Mahoney, Patty C, Ser Xerri, Joshu Mark, Evangelia, Catch Me If You Can, Fairmont, Guilty Giraffe, Deirdre Forrest, Ellis Wilkinson, Tommy Strazza and Ferentz and the Felons. 
All 185 tracks are just $10 with the option to contribute more to help the NAACP right more than 500 years of wrongs. 
---
With their latest EP, "Return of the Lentils," Asbury Park two-piece Yawn Mower ditch Mike Chick's baritone guitar in place of synths, shakers, strings and bass. But longtime bandmate and co-vocalist Biff Swenson remains rock steady behind the drums, including a particularly inventive use of the bass variety. 
Recorded with Andy Bova at Simple Sounds Studios in Little Silver and Pat Noon at eightsixteen studios in Toms River over a longer period of time than either Yawn Mower or their many fans expected, "Return of the Lentils" offers three songs to the world via the North Jersey label, Mint 400 Records. The band's fifth outing on the prolific indie begins with "Earworm II: The Sequel," a catchy bit of mind candy that isn't a follow-up to anything previously released but does feature haunting guest vocals by Rachel Hook of Out Like Lambs that were captured within the fine acoustics of her laundry room. 
The standout "Ghostriding the Arc" is next featuring Dey Bishop of the Toms River rap trio Trapbang, whose contribution came while battling COVID. The song fuses energetic EDM, staccato spoken word, and fuzzy garage rock into a sonic ride that builds a shimmering vibe only to implode with Dey's venomous rap. In the immortal words of the Lucky Charms leprechaun, it's magically delicious!   
Closing the 12-minute mini collection is cover of The Rentals' "Friends of P," whose 1995 "Return of the Rentals" LP on Reprise Records inspired Yawn Mower's title.
Yawn Mower are looking to play some gigs. So if you need a rockin' two-piece who also may be able to serve as landscapers or lentils, hook them up!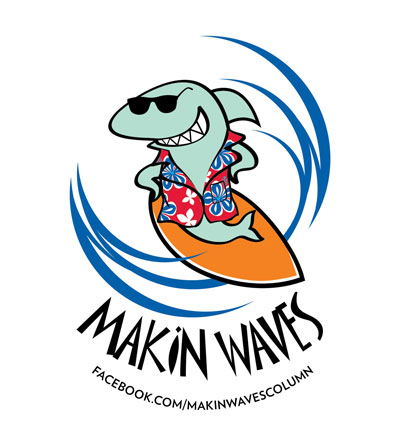 Bob Makin is a reporter for MyCentralJersey.com and the former managing editor of The Aquarian Weekly, which launched this column in 1988. Contact him via email and like Makin Waves on Facebook.