originally published: 07/24/2020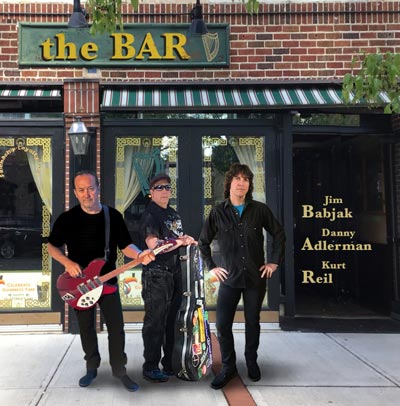 Garden State power-pop greats Jim Babjak of The Smithereens, left, and Kurt Reil of The Grip Weeds, right, formed a band with Metuchen-based singer-songwriter Danny Adlerman, center, called The BAR. "Katie's Shoes," the first single from a forthcoming self-titled album, is the Makin Waves Song of the Week. PHOTO BY KIM ADLERMAN
New Jersey's newest supergroup are The BAR, a fun blend of the names of the members: Jim Babjak, guitarist-vocalist of The Smithereens; singer-songwriter Danny Adlerman, and Kurt Reil, vocalist-drummer of The Grip Weeds. Best known for his children's music and books, Danny is sandwiched by two of the Garden State's greatest power-pop masters, so his collab with Jim, "Katie's Shoes," not surprisingly takes that direction as the band's first single from a forthcoming self-titled album the trio have been making on and off for 15 years, following several collabs on Danny's kid rock.
As the Makin Waves Song of the Week, "Katie's Shoes" can be heard 5 and 11 a.m., 5 p.m., and midnight through July 30 at ThePenguinRocks.com and 6:45 p.m. today and Monday on its "Radio Jersey" show, where the song made its radio debut on Wednesday. Here is the media premiere of the song's YouTube track: 
With their album cover by Danny's wife and children's music/book partner, Kim, featuring the trio outside the popular Irish night spot Hailey's Harp & Pub in Metuchen, The BAR were born while recording tracks for Danny's first collection of original material for grownups following three kids album and a '60s cover project. In the album's liner notes, Danny explained that the band came to fruition at "the most excellent and well-named House of Vibes," Kurt's studio in Highland Park, where he's recorded The Grip Weeds, The Smithereens, The Anderson Council, and many other power-pop outfits. 
"I brought in a bunch of songs," Danny said. "Some I had written solo, most with others. On a break one day, stepping outside with Jimmy, I thought, out loud, 'We ought to be a band.'"
Jim and Kurt already played together in a second band for each called Buzzed Meg, to which Danny contributed songs, but they agreed to form The BAR, and the result is 13 Adlerman compositions, six of which he wrote with Jim, three of which he wrote with Kurt, and four of which he either wrote himself or with others. Each of the main collaborators shares lead vocal duties, while Jim mainly handles lead guitar and bass; Danny, keyboards and acoustic guitar, and Kurt, drums. 
"Jimmy and I have been friends since we met one evening at a school appearance in celebration of Dr. Suess' birthday," Danny said. "We have been writing together since my first kids CD back in 2001. He wrote the music to 'How Much Wood Could a Woodchuck Chuck,' which eventually became a children's book as well. He had some co-writes on the second one as well, and we co-wrote music for a children's musical theater piece. And Kurt has appeared on almost every track I have ever released." 
While "Katie's Shoes" flexes The BAR's strong power-pop muscles, the forthcoming LP also features rock, ballads, and folk-pop, Danny said.
The single also is available at Danny's site, dannyandkim.com, and will be followed by other singles until the eventual album release. 
In the meantime, here's a gander at a couple of the album's Kurt contributions: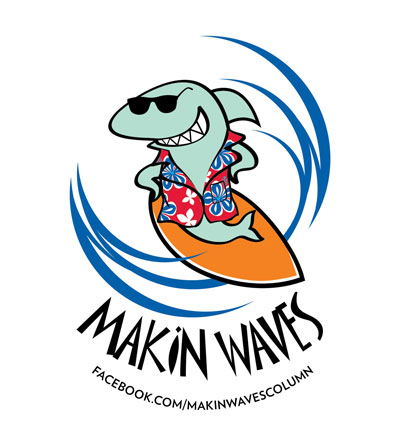 Bob Makin is a reporter for MyCentralJersey.com and the former managing editor of The Aquarian Weekly, which launched this column in 1988. Contact him via email and like Makin Waves on Facebook.