originally published: 07/24/2020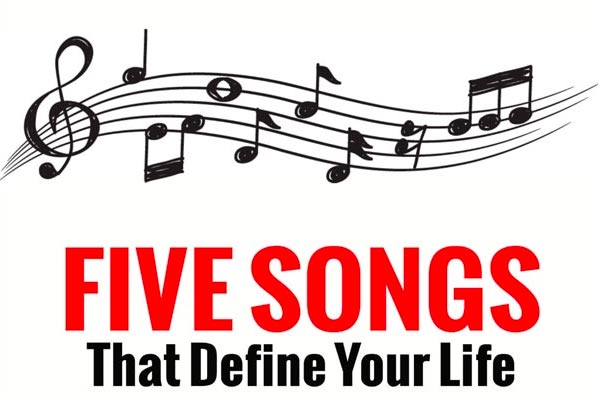 This is the first in a series at New Jersey Stage.  We reached out to people to find out what were the five songs that define their life.  
It's a different type of list than just your favorite songs.  We're looking for songs that are deeply personal to you, songs that motivate you, or songs that describe your life in some way.  They may wind up being your favorite songs, but the interesting part is trying to narrow your list down to just five.  It's harder to do than it sounds and it provides a good look into each person. If you would like to be considered for the series, please email us at: info@newjerseystage.com
---
Joe D'Urso: 5 Songs That Define My Life
"If I Could Dream" - Elvis Presley - the words still rings true, sadly, fifty years after he performed it on his NBC "comeback special". He was insistent that the song be included and that it ended the show. His voice is passionate, enraged and hopeful at the same time. I have always wanted to cover this song but I believe it would be too pale so  I have never attempted it but this unsettling times we are living in makes me rethink that from time to time.
"Blowing In The Wind" - Bob Dylan - the frustration of events that keep happening time and time again with the answer always right in front of us and very evident. We are trying to nail it down but it's like trying to catch the wind.The answer blow in to our rooms every night but only certain people choose to do something with that breeze…
---
The article continues after this ad
---
---
"Cats In The Cradle" - Harry Chapin - has there ever been a more "kick in the ass/make you feel guilty" song ever written? At least in the parenting department? I have been performing this song quite often over the last few years and I recorded a version of it for my latest record "Jersey Diner". I intro it by saying this used to be a father and son song based on the lyrics but as years have gone by, and there are more women heading up their households, it has become more of warning to all parents that time is fleeting. Singing this on the road with my kids back home is a kick in the stomach but i try my best to not have the message lost on me.
"The River" - Bruce Springsteen - without a doubt the song I have performed the most written by Bruce. I didn't work a job like my father, I never had a job in the construction field and I never had to get married because of a unwanted pregnancy. But, the closing words of "is a dream a lie if it don't come true or is it something worse" have scared the hell out of me for many years while chasing down my own dreams. Incredibly sobering to sing those words on a good show night and downright scary to sing them on a bad show night…
"Twist and Shout" - performed by the Beatles - There probably is not a song that has brought me more joy in performing over the years then this Isley Brothers classic. I've don't it solo acoustic and with a rock and roll band. I've done it in a house concert setting and I have sung it a packed music venue. I know many people think of it as a tired 'ol bar band song but there is a secret to this song, and I think it related to Johnny B. Goode as well. It's simple but you have to get it right: sing it and perform it like its the first time you are doing it and it will never let you down nor will you let your audience down. They both are perfect rock and roll trains and only a wayward conductor can ruin them but if you feed the coal and stoke the fire you will not go wrong!
---
Bruce Tunkel: 5 Songs That Define My Life
"Thunder Road" - Bruce Springsteen. Possibly the best song I've ever heard, with some great memories for me associated with it. To name just a couple: The first Springsteen show I ever saw, 12/8/1980 (the night John Lennon was shot), this song was a highlight as it closed the first set. It was such a powerful, life changing moment for me. I can remember it like it was yesterday. I also got to sing this with Springsteen (and many others) at one of the Light Of Day shows. Video is somewhere out there on youtube.
"I Still Believe" - Frank Turner. When I first heard Frank Turner in 2013, I was blown away by an artist for the first time in a long time. I was surprised I could still feel THAT passionate about someone. It was like he was somehow in my mind, singing my thoughts. Never more so than in "I Still Believe", a song about the power of music. I loved it so much that I tattooed it on my forearm.
"Wonderful Pain" - Neilson Hubbard. Just an achingly beautiful song, that makes my cry every time I hear it. The last vocal line is one of a small handful of perfect moments in recorded history.
"Mr. Tambourine Man" - Bob Dylan. An obviously brilliant song, with its perfectly woven tapestry of images and ideas, sung to a lovely melody. It's the song the got me really hooked on Dylan, in a dark dorm room, save for a single candle lit, and mind altered. One of the most memorable nights of my life.
"Sheraton Gibson" - Pete Townshend. I'm a huge Who fan. As in, I think the Who were the greatest British band ever, bar none. I love the anthemic Who sound, and the incredible artistry of Pete's writing. However, this beautiful  little gem eluded me for a long while. A small song. No bombast, nothing artsy. Just Pete, on the road, feeling lonely. And just saying so.
---
Gary Wien: 5 Songs That Define My Life
Since we didn't want to ask people to do something we wouldn't do ourselves, here is a list from the New Jersey Stage publisher. Look for more lists in each issue of the magazine.
"4th of July, Asbury Park (Sandy)" - Bruce Springsteen.  As a guy growing up ten miles inland, I spent much of my time in Asbury Park and Long Branch literally living the lyrics of this song.  It remains a beautiful ode to Shore life and the Asbury Park of my youth.  After so many years of ruin, it's great to see the town vibrant again.
"Help" - The Beatles. This is a song that always stuck with me and I never knew why.  It's always been one of my favorite tunes by The Beatles, but took on an entirely new life for me when I was diagnosed with Multiple Sclerosis.  Suddenly the lyrics reflected my new world in a way I never expected them to do.
"Behind Blue Eyes" - The Who.  This is one of those songs that seems to capture my life in a way that few can.  "No one knows what it's like to be the bad man, to be the sad man, behind blue eyes." The lyrics both connect and haunt me.  For years whenever I'd see Bob Burger perform and he saw me at the bar, he'd play this song for me.
"Walk Forever By My Side" - The Alarm.  Like hundreds of Alarm fans, this was my wedding song. Unlike many of the fans, it went on to have a far deeper meaning to my wife and me though.  Walking is the way I fight MS taking over my body.  Thankfully, after 26 years, my wife is still walking by my side.
"Maggie May" - Rod Stewart.  This is one of my five favorite songs of all time.  It's the kind of song that just brings me out of bad moods and makes me feel better.  I remember playing it on a jukebox each night at the pizza place I worked as a teenager. My boss was named Maggie, which is why she kept it in the jukebox. It's a song about hopes and dreams and things you never forget.
---
If you would like to be considered for the series, please email us at: info@newjerseystage.com
---