By Spotlight Central
originally published: 07/11/2020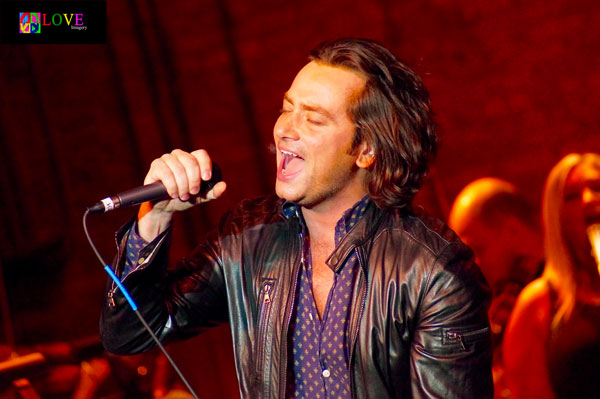 Cape May Stage presents Quarantine with Constantine, a virtual concert with Constantine Maroulis, as a part of the Cape May, NJ theater company's 2020 Virtual Broadway Series. The show will be available for ticket holders to view from July 13 until August 31, 2020.
Constantine Maroulis is a NJ-based singer/actor who has appeared on American Idol, earned a Tony nomination for his Broadway performance in Rock of Ages, and has been honored with a Drama League Award nomination for his NYC theater work in Jekyll and Hyde.
Spotlight Central recently had a chance to chat with Maroulis about a variety of subjects — his childhood growing up in the Garden State, his time on American Idol, his current projects as both a singer and actor, and his upcoming Cape May Stage virtual concert, Quarantine with Constantine.
Spotlight Central: You were born in Brooklyn and raised in Wyckoff, NJ. Did you grow up in a musical family?
Constantine Maroulis: Somewhat. I'm the youngest of three. My brother and sister are actually quite a bit older than me, but I just worshipped them growing up. My brother, Athan Maroulis, is a very accomplished artist; he's recorded hundreds of albums and has a prolific writing career, mainly as an underground independent artist. He's worked for various record labels and he is quite a performer, but we are very different as far as performing and singing are concerned. My sister, Anastasia — who is now a school principal in New Jersey — did shows in high school and also sang in choruses. Both she and my brother had great taste in music, and that really influenced me growing up. When my sister was a teenager, she was into new wave. My brother was into goth, but he also got me into classic rock and jazz. Also, my parents would listen to show tunes and big band era records, and we would all watch West Side Story together as a family. My brother is 11 years older than me, and my sister is just shy of that, so they were out of the house by the time I was really old enough to dig in to music on my own, but they were sort of like "mythical creatures" to me — this kid who grew up putting on shows in my room by myself.
---
The article continues after this ad
---
---
Spotlight Central: As a youngster, didn't you learn how to play the trumpet in school?
Constantine Maroulis: I did play the trumpet growing up in Wyckoff. I moved back here a few years ago to raise my daughter; it's a great community with a great school system. When I was in school, you had to choose an instrument, and my mother bought me a used Bundy trumpet that I used to bang away on. Interestingly enough, I find that the trumpet may be the closest to the singing instrument as playing it requires a lot of the same breath control — the few simple valves make the production of sound similar to vocally belting out B-flats and whatnot.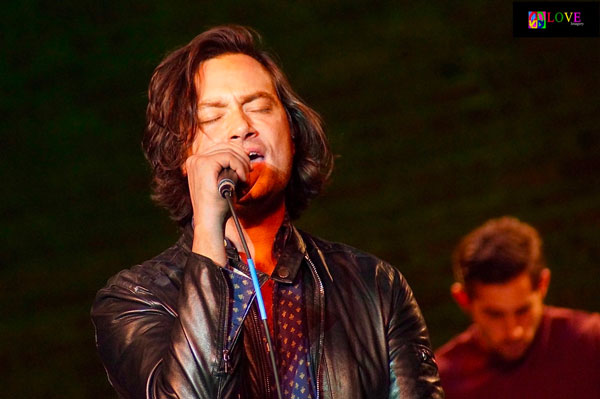 Spotlight Central: You graduated from Ramapo High School and, as a teen, sang in different garage bands, notably Lady Rain and Milkbone, right?
Constantine Maroulis: [Laughs] Yes, sir. My high school was very musical and super supportive of the performing arts across the board. I used to worship the upperclassmen. Early on, I'd be in the ensembles of shows and I'd watch the upperclassmen in awe. I'd learn from them, and by the time I was a junior or senior, I was getting a lot of the leads, as well.
There were a lot of talented kids — not only in the acting program, the drama clubs, the choruses, and the choirs — but a lot of rock and roll musicians, too. In the early '90s we grew up with an incredible soundtrack to our youth with the influx of grunge music, but we all loved classic rock and groups like the Grateful Dead. Our school — and this whole area of North Jersey, really — was big into The Grateful Dead, and then Phish, and that whole sort of traveling kind of family community scene.
Spotlight Central: After high school — in the early 2000s — you earned your B.F.A. in Music Theater from Boston Conservatory.
Constantine Maroulis: Yes, Boston Conservatory at Berklee College of Music — when I was there, they were two separate schools, but they recently merged. Going to Boston Conservatory was an incredible experience for me. I loved Boston. In fact, one of the songs on my new album was written as a dedication to my experiences there. It's called "All About You," and it's about everything that happened to me at age 22 and all the broken hearts experienced along the way.
And, yes, I loved my time there. It was a great program, and I'm happy to be a part of its legacy. When I was there, we were offered the opportunity to be a part of what is called the ProArts program, where Boston Conservatory students could take classes at Berklee. I probably spread myself out too thin, but I sucked up all the ensemble classes and jammed and networked with everybody I could over at Berklee, but I was in every show at "BoCo," which is the nickname we called Boston Conservatory. As a "leading man" type, I lucked out there, and got to be on stage a lot. I got to apply so much of what I learned in school on the stage, which was great. From being on the main stage, to black box theater, to student productions, to professional shows in Boston — again, I probably spread myself out too thin; I probably should have focused more on my academic classes — but certainly that experience in a great city was invaluable in my post-drama school life.
Growing up in and around New York City — and given my whole family is from the city — I knew it was gonna be a new experience for me to live in New York full time. So to have that experience in Boston — rather than some big campus somewhere in the middle of the country — enabled me to learn how to navigate my way around a big city and learn how to survive while having a big workload. And those kinds of survival tactics were key for me later on, for sure.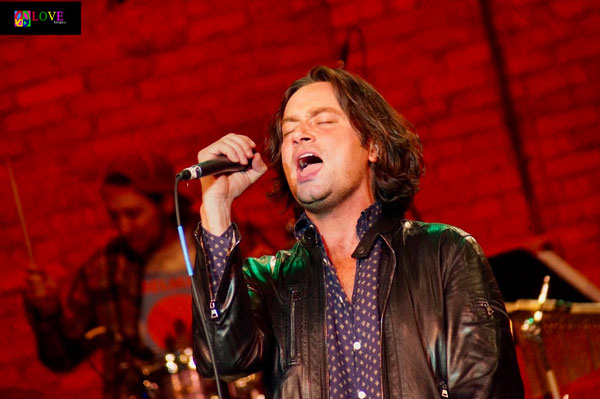 Spotlight Central: In 2004, you tried out for American Idol, a year in which we're told 100,000 people auditioned. In that season — where you competed with people like Bo Bice and Carrie Underwood — you were extremely popular. As a family, we used to watch the show and our daughter was such a big fan of that sort of trademark "smoldering" expression you had for the camera. How did the whole Idol experience come about for you?
Constantine Maroulis: [Laughs]. You know, I graduated the Conservatory. I didn't showcase that year. I had lost my cousin in 9/11 during my senior year in Boston. I was quite screwed up, to be honest — but I had a plan; I had a five-year plan. After every year I spent at the Conservatory, during each summer, I planned a professional experience for myself. First, I was at the Gloucester Stage Company. Then I was at Turtle Lane Playhouse. Then I was at the Sea Coast Repertory Theater. Finally, during the summer following my senior year, I locked in a coveted spot as an apprentice at the Williamstown Theatre Festival, which was a huge deal for me — just monumental. I didn't showcase there, but I met everybody, and I got to work with some of the best people in the world. Chris Pine was an apprentice with me, and some of the greatest actors and movie stars today were there with me that summer. Michael Greif, the director of Rent, was directing a big musical. I met him, and he cast me in Rent, which was part of my five-year plan. I did Rent for a couple of years on the road, I got an agent, and I had a band. And then came the call from Williamstown where it was like, "Great job, thank you. We're not bringing you back next year. We're bringing in a whole new group of young actors." And I was like, "What?"
So I just needed a job. I was gonna head back to New York because, basically, I had spent all my money. I was having a good time doing Rent for a couple of years on the road, but I was stupid — I should have been saving the whole time. But an old girlfriend convinced me to go on this audition for this big TV show. I had heard of American Idol; it was a big deal — but, remember, this was a long time ago — back then, we didn't use the internet as a sort of tool to view content. And that point, Idol only had three seasons — and I knew who Kelly Clarkson and Justin Guarini and Clay Aiken and Fantasia were; I'd heard of them — but I just needed a job.
So when this old girlfriend brought up the idea, I figured I had already gone through an open call experience with Rent — even though I wasn't cast that way — and I was like, "Cool! It's kind of like the Rent days. Let's go!" So I went.
So a couple of savvy New Yorkers and I went to D.C. We took the Chinatown bus — ten dollars — and there were maybe 25,000 or 30,000 people there just in D.C. alone, from what I was told. Carrie was there. And we got there. We cut the line. We were guaranteed an audition because we got a bracelet, and then we're like, "Yeah, we'll be right back!" but we went and partied in a hotel for a couple of days.
And whatever it was, as soon as I arrived, there were cameras sort of lurking through the crowd and they had a camera on me right away. They were like, "Who is this cat?" And I had my leather jacket, and my hair was kind of punk-rocked out — it was kinda long with chunky blond highlights from Rent still evident — and they just followed me around, and I was like, "What's up? I'm Constantine, and I was in Rent, and I'm in a band but my band doesn't know I'm here and if I make American Idol, I might have to quit my band." And that was the hook.
And, you know, you play the part, man — you just play the part. I knew what I was doing, and they knew what they were doing, so we all just kind of high-fived about it and, basically, before you knew it, I was sailing into the finalists weeks where the whole world was watching. It was an insane time — this was when the whole world was watching the show — so it was just a different time.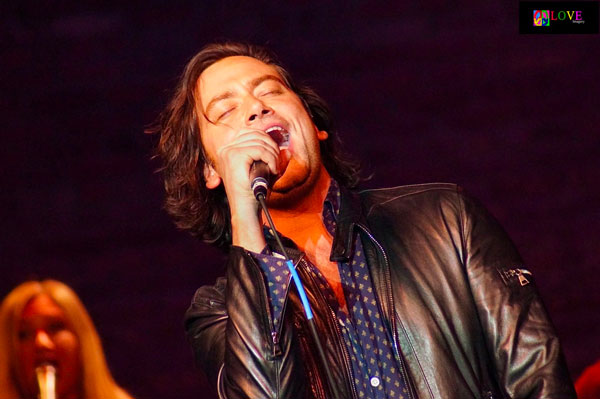 Spotlight Central: After Idol, in 2009, you appeared as Drew in Rock of Ages on Broadway, where you received excellent reviews, a Tony Award nomination, and earned broadway.com's Broadway Star of the Year. To this day, that show's original cast album is one of our all-time favorite Broadway recordings, largely due to your performance. What was it like for you getting to originate that role where you got to put your stamp on such great '80s songs?
Constantine Maroulis: It's every actor's dream, for sure. I had originally met some of the creators of Rock of Ages during my post-run on American Idol. There were big meetings at CAA — Creative Artists Agency, the biggest agency in the world — and I remember them coming in and basically plunking down a mix tape, saying, "This is it!" And I'm like "What? This is so weird," and they're like, "It's a mix tape musical, and we think you'd be awesome!"
I think, originally, they had the character of Stacee Jaxx in mind for me, but director Kristin Hanggi was like, "No, no, no no! Constantine's got to be the heart of this thing. It would be too obvious for him to play Stacee Jaxx. He's got to play this sort of 'vulnerable wannabe' and be the heart of this show," and of all the choices made for Rock of Ages, I will say that was one that was a huge, huge winning combination for all of us.
And, yes, as an actor to be given an opportunity to create in a room with so many amazing artists — a lot of whom you had not known before — and to have the creatives allow us the freedom to make choices? So many of the jokes, and so many riffs and scenes and suggestions that we came up with in the room, made it into the show. And not only to off-Broadway, but even more so when we went to Broadway, when we made changes in between. This wasn't a show that had zillions of dollars to preview out of town for months and months, or even to preview in New York for months and months. We only had a couple of weeks.
So I think all of this added to the allure. No one wanted us. No one wanted us off-Broadway. No one came and reviewed it until the word of mouth was just too great for them to deny us, and that was pretty cool. And then to be recognized by your community for your work. I mean, the whole show — five Tony nominations? — there should have been ten. And the original cast recording? Love it. It should have been Grammy-nominated.
We were always the underdog; we always had to push our way to the table. And the reviews were incredible — this was even more so on the road — and it was great getting to perform for a year with my dear friend, Nick Cordero, whom we just lost to Covid. His loss has just gutted our entire community and, personally, I've just been destroyed over the news of his passing. But I'll always have these memories, and Rock of Ages lives on all over the world, so in a way it's sort of my [laughs] "Jesus, Take the Wheel" moment.
Spotlight Central: After Rock of Ages, you starred in Jekyll and Hyde on Broadway, performed in the Rock of Ages band in NJ, and made TV appearances on shows like Madam Secretary and Mozart in the Jungle. But now you have a brand new album which, we understand, is coming out very soon.
Constantine Maroulis: I've been blessed. Before Rock of Ages, I got to perform in The Wedding Singer on Broadway — another New Jersey tale — which was actually my first Broadway experience. And, yeah, there's a ton of fun stuff out there. We have a couple of cool movies in the works. There's a movie coming out later this month that we shot in New Jersey called A Nice Girl Like You, with Lucy Hale, a huge television star. I did some scenes in that where I play a scumbag DJ in a strip club. The 5th Boro is another sort of regional fun, yet violent, Staten Island crime story. The 5th Boro is on-demand as we speak. And there's another New York movie coming out later this year, Either Side of Midnight, by Roger Spottiswoode, a great, great director of my youth. He did so many big movies — Turner and Hootch, 48 Hours, not to mention all the Pierce Brosnan James Bond stuff from the '90s — so, yeah, we're excited about that.
But, yes, my new album, Until I'm Wanted — my love letter to rock and roll after over ten years since my last solo record — is out everywhere today, wherever you can stream and download music. I'm so excited about it — and, yeah, maybe it's not an ideal time to put out a record, but maybe it's going to provide a nice distraction to people to just crank it up! It's got a modern but classic rock sort of sensibility to it, and I feel it displays a lot of my versatility as a singer and as a writer.
Spotlight Central: And the title song is pretty funky, too, isn't it?

Constantine Maroulis: Yeah, the title song is a funky sort of catchy ode to bands like Smash Mouth, singing [sings] "Hey now/You're an all star," and bands I grew up with in the '90s like Spin Doctors, another Jersey band [sings] "Princes, Princes who adore you/Just go ahead, now," with that kind of sensibility to it. So it's kind of a fun, sexy funky jam, and then there are some big power ballads. There are some real up-tempo rockers. There's also some moody kind of Brian Eno-type stuff I did on there. Like I said before, I probably spread myself a little thin with all these influences and all the voices I like to do — but that's what I do, baby!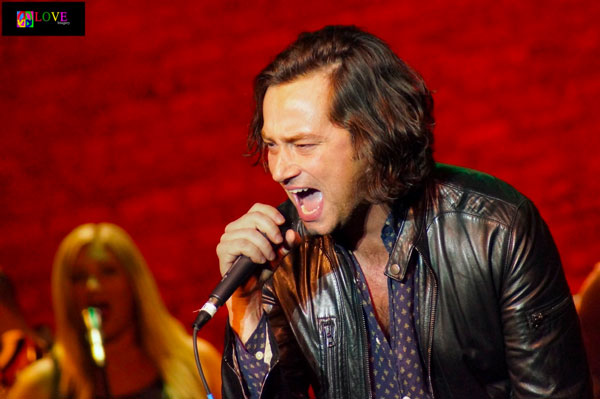 Spotlight Central: We can't wait to hear it! In the meantime, starting on Monday, July 13, you're going to be starring in Quarantine with Constantine, your own virtual concert for Cape May Stage. What can you tell us about that?
Constantine Maroulis: I love Cape May, NJ so much. It's so rich in history and charm — and the Cape May Stage has been good to me; I've had some good shows there with them — but I just love that city. You can stand in the middle of the main area of town and just envision what it was like 100 years ago, 150 years ago, and probably even 200 years ago. It's just of one of those special kinds of places and I just love it.
And, for me, the quarantine experience has been — I just try to make it fun. I try to take care of my daughter and keep her busy, and I tried to create some experiences for people with content that's fun and entertaining. I did a video of a Van Halen song with The Band Geeks on YouTube that took off. We did some versions of my friend, Nick Cordero's, songs — plus, we have a couple of other videos coming out.
So I tried to incorporate all these vibes into Monday's performance which is, basically, a preview of my album — all stripped down, just acoustic guitars and me. I'm still kind of editing it right now. It's become far more of a project than I had thought — [laughs] I probably should have just plugged in the freakin' phone live — but it's fun! You just get into it, and you want it to sound right and look right and all of that. So there's gonna be my special brand of cover songs from Leonard Bernstein to Leonard Cohen, plus my original songs and some fun banter and, of course, my wisecracks — and probably some "smoldering," as your daughter put it, for the camera. And along with the concert experience, I think we're gonna offer some bloopers and some behind-the-scenes rehearsal takes, as well.
So, yes, it starts on Monday evening, and I would encourage everyone to tune in and support the arts — not just me; of course, I appreciate everyone's support — but our industry is hurting really bad. In a way, this pandemic is a threat from which we might not ever bounce back the way we want to — or it might take years and years. I was involved in some shows this year, in addition to some shows that were moving forward for next season and going on tour — and I can tell you that people are hurting real bad and there are a lot of people who are out of work. I know so many different people are hurting these days, but I hope everyone is being safe, and being smart, and staying healthy. Let's all try to stay positive — and tune in because we're gonna have a great experience, for sure!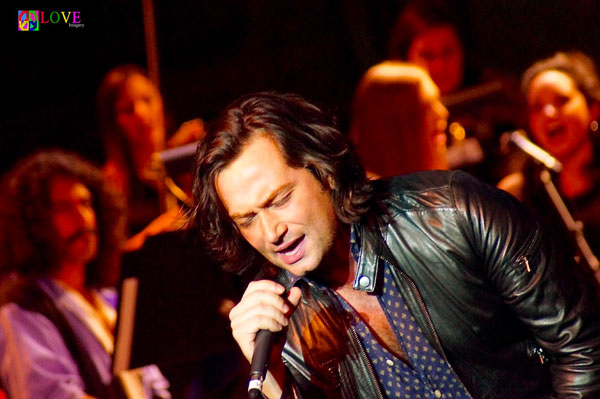 Constantine Maroulis's Virtual Broadway Series performance, Quarantine with Constantine, will be presented by Cape May Stage from Monday, July 13 to Monday, August 31, 2020. Tickets are $25. All ticket purchasers will receive an email with a link to stream the performance starting on July 13th and will have seven days to watch the performance as many times as they like. For further information and/or to purchase tickets, please go to capemaystage.showare.com.
Photos by Love Imagery
Spotlight Central. Your source for Jersey entertainment news and reviews
Love Imagery Fine Art Photography. all you need. peace/love/flower/power