originally published: 07/04/2020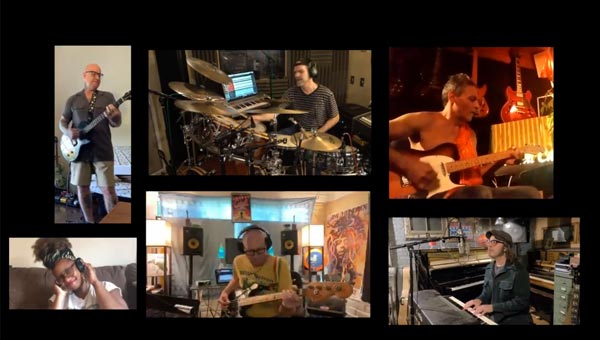 25 years ago Natural Causes was part of a musical revolution in Miami Beach, Florida. The band was formed by Arlan Feiles and Joel Schantz who met at The Berklee School of Music in Boston in 1989. Natural Causes recorded a few major label demo deals with Hall of Fame producer Tom Dowd. However, the deals failed to launch and Natural Causes, after a great deal of frustration, called it quits. Arlan ended up signing a solo deal with Island Records and his path was set before him, ultimately finding his way to Asbury Park to join another vibrant music community. A community he now calls home for the last 15 years. 
With the backdrop of a Covid-19 lockdown, new music still finds a way. Arlan Feiles released, with no intended irony, his latest album "What Kind Of World?" just as the world shut down. The album would have to wait for its moment, but in the meantime Arlan kept busy. He has spent the greater time of this crisis co-creating Ellen Berman's Corona Classic Concert series, which is going on hiatus for the summer after 4 straight months of  live streams 7 days a week. The series raised 30,000 dollars and 150 independent artists from around the world received a part of that donation. "The series really helped me stay connected with my musical community as well as grow a new community around the globe," said Feiles. "I think It helped me as much as the artists we put it together for. It kept my mind on the positive in this mess."
Arlan also found a way to reconnect with his musical past. When a resident of Miami Beach, Florida in the early 90s Arlan formed Natural Causes with guitarist friend Joel Schantz. Arlan and Joel along with drummer Jim Wall, guitarist Sean Edelson and later on Bassist Sean "Birdman" Gould ( the "Causes" ) participated in an extremely vibrant music scene that gave rise to bands like The Mavericks, Mary Carlzen and Nil Lara.
Now, all these years later, Arlan virtually reunited with his old band mates to release their first single in 25 years. Appropriately titled, for a 4th of July release, "Waitin On A Revolution". This track has a classic Natural Causes sound. Featuring their signature keyboards, and dueling guitars arrangements. Arlan also invited local Asbury Park artist Deseree Spinks to add some soulful backups. Arlan says "it was like no time had passed. The production was so much fun and easy and the players all may be better than ever." The guys assembled a video of each player performing the song in each of their studios as has become a Covid lockdown tradition. Pure social distancing. 
Arlan has plans to relaunch his latest album in the near future and hopes to give it a life in a post covid world, but in the meantime: Ladies and gentlemen... Natural Causes. 
---