By Spotlight Central
originally published: 07/04/2020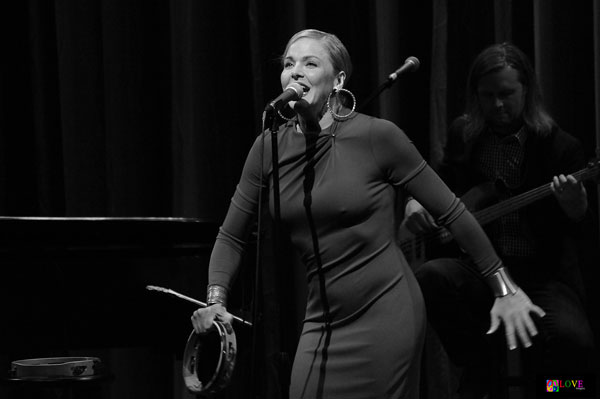 Cape May Stage presents Storm Large as a part of the Cape May, NJ theater company's 2020 Virtual Broadway Series. The show will be available for ticket holders to view from Monday, July 6 until Monday, August 31.
Musician/actor/playwright/author Storm Large rocketed to international fame in 2006 as a finalist on the CBS television show Rock Star: Supernova where she built a fan base that continues to follow her around the globe.
In 2011, Large was invited by the Portland-based ensemble Pink Martini to take over for lead vocalist China Forbes, selling out a series of concerts with the National Symphony Orchestra at Washington DC's Kennedy Center. She's also performed with Grammy winner k.d. lang, pianist Kirill Gerstein, bandleader/record producer George Clinton, and singer Rufus Wainwright.
Large made her Carnegie Hall debut in 2011 singing Kurt Weill's Seven Deadly Sins with the Detroit Symphony, a performance the New York Times referred to as "sensational."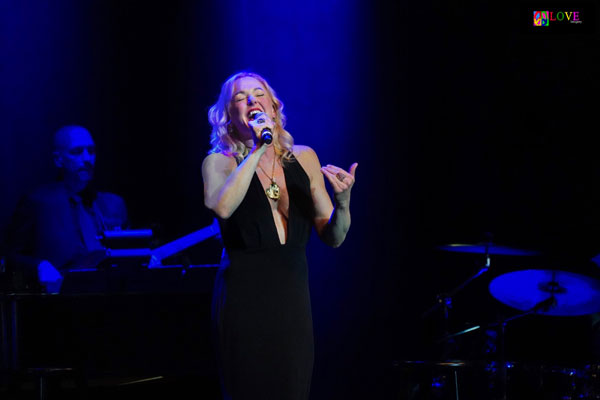 In 2014, Large released her latest recording Le Bonheur, where she provides her own unique interpretations of classic tunes from the Great American Songbook including "I've Got You Under My Skin" and "The Lady is a Tramp," in addition to pop standards such as "Unchained Melody" and several original compositions.
---
The article continues after this ad
---
---
More recently, Large has continued to perform with symphony orchestras, toured concert halls with her own band, and appeared as a special guest with singer/pianist Michael Feinstein on his Shaken & Stirred tour.
Spotlight Central recently had a chance to chat with Large about a variety of topics including her Massachusetts upbringing, her work with Pink Martini, and her upcoming Cape May Stage virtual concert.
Spotlight Central: You were born and raised in Southborough, Massachusetts and wrote your first song when you were only five or six years old — a jingle for Snickers candy bars. Do you still remember that song, and have you considered sharing it with the world?
Storm Large: [Sings] "It fills you up when you're feelin' down/It's a Snickers bar, Snickers bar, Snickers bar…" I wrote it because my best friend and I were both eating Snickers bars and we were going on and on about how Snickers was literally the perfect food, like kids do. I said, "They need a song," and she said, "Oh my God, you're right," so I worked it out and sang it, and my friend said, "Oh my God, it's brilliant!"
Spotlight Central: Growing up, you've said your first favorite record was The Beatles' Abbey Road. What was it about that album that appealed to you?
Storm Large: Every song was a story — in my little kid brain, every song was like a teeny tiny little movie that just lit up in my head — so in a way, I wasn't like, "Wow, music is wild!" it was more like, "Wow, I listened to this record and I'm not here anymore — I'm somewhere else — it's transporting me. Every song is a story."
And then I started listening to Pink Floyd where the whole album was a story and each song was a chapter — but with Abbey Road, yeah, it just kind of transported me. And I would get lost inside the story whether that story was or was not intended — the story playing in my head was probably 1000 miles away from what they were actually saying, because I was still a child.
But, over time, I did start to teach myself harmonies by singing along with each harmony line and then with the guitars, and I would sort of make the sounds myself so I could be inside the music, even further detached from reality and deeper inside of each song. At the time, I didn't realize I was teaching myself to sing, but I think that's how I developed my ear.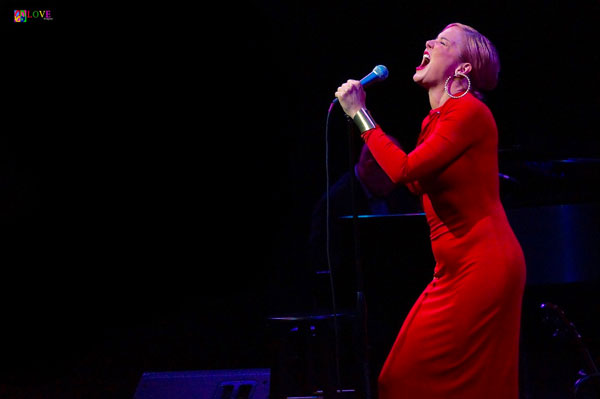 Spotlight Central: Speaking of singing, after high school, you went to New York City to study acting, but after realizing you were more of a musician, you went to California where you successfully performed in San Francisco clubs. Weren't you primarily a rocker at that point — and wasn't there a theatricality to the kind of performances you were presenting?
Storm Large: There's theatricality to mostly everything I do — cooking, going to the bathroom, taking a shower, getting dressed. I've always been a super hammy performative person — very emotional and sort of shameless — because I was always told to shut up. New England girls are supposed to be skinny and small, pretty and quiet, and named Sara or Tiffany or Bitsy or Mitsy or some f*cking thing. I was a giant boob-less loudmouth with a crazy name and a big loud voice and I just wanted to be heard — I wasn't ever really heard nor seen, but when I finally was heard or seen, I was in trouble. So instead of receding and trying to curate my behavior, as it were, to be more appealing to the masses, I got away. I went to New York and I thought acting would be my thing, but literally within 48 hours I said, "No, I'm not an actor. This is terrible. I can't do this. They're looking for tiny, beautiful women who know what to do — and I just don't."
So when I went to California and I started a band, it wasn't planned theatrics. It was just the histrionics and incendiary behavior of someone who had a f*cking microphone and people in front of her and getting paid to do all the things she was told not to do. So I was like [screams], "WOOOAAAAHHHHH!" and I was getting beer, and laid, and pizza, and places to stay, and I was like, "This is all I'll ever want to do for the rest of my life," and "I'll never make a real dime — I'll be in debt forever — but this is who I am and this is who I've always been and, yeah, thank you, world!"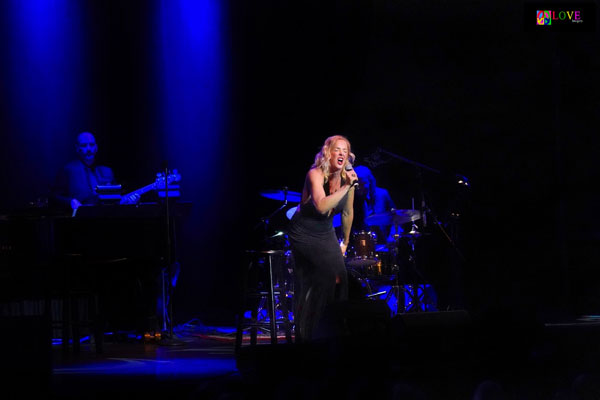 Spotlight Central: Following 9/11, you moved to Portland to become a chef, and then you appeared on the national TV show Rock Star: Supernova with Tommy Lee. There, you performed a variety of songs from The Who's "Pinball Wizard" to "We Are the Champions" by Queen and David Bowie's "Suffragette City" to "I Will Survive" by Gloria Gaynor. Do you feel that a performer can put her/his stamp on almost anything and make it her/his own, or do you think there has to be something special about a particular song for a performer to be able to turn it into something unique that will appeal to listeners?
Storm Large: I would say both are true. There are people who are just vocalists, and they're pure and they're perfect and you can recognize their voices, but they are mainly illustrators of what the original composer envisioned; they're sentinels — sort of guardians — of that style and that approach and that art form. But I would say that for most singers, you kind of have your own blood and bones and vibratory mechanisms and machinations inside your skull — and articulators in your tongue and in the meat of your throat and your phalanx — so that you can't avoid putting a personal stamp on a song.
And then there are people like me. There are songs I won't sing because they've already been done perfectly. Take Nina Simone. I'm very very hesitant to do any Nina Simone songs because she is a singular — and Billie Holiday, too — they are singular voices. They're the whole package in terms of their interpretation and their approach and, in my mind, their performances are sort of crystalline and perfect, like they've been preserved in perfect amber.
But I would say that in every singer's catalog, there's always a stand-out — there's always one song where people are like, "Oh my God, the way she did that one!" or "Wait, he did such-and-such!" — and it's like their signature, which may have been intended or unintended. It could have just been the timing of the thing, or it could have been just the way it was received by the collective culture, but it's sort of — no pun intended — that perfect storm of timing, message, and performance.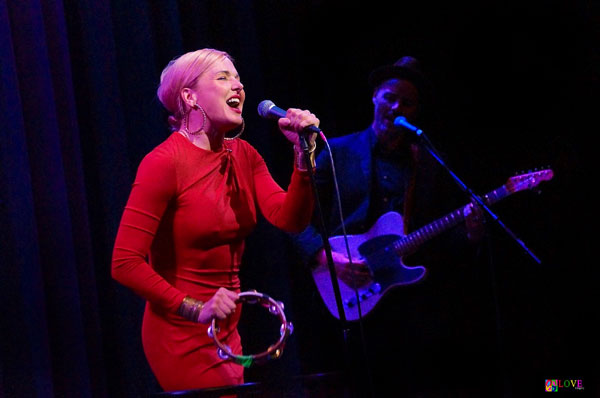 Take Whitney Houston, for example. I don't remember what was going on — and I think it was in the '80s — but when she sang the national anthem, she became the standard bearer for that song.
Spotlight Central: When she sang it at the Super Bowl during the Gulf War?
Storm Large: That's right! She was the f*cking standard bearer! When she sang it just so beautifully — and it didn't look like it was a lot of work for her — it was so f*cking moving.
Spotlight Central: And that arrangement's never been topped, either.
Storm Large: Never — not a single time. I mean, I listen to young girls doing auditions and things, and after they sing Whitney Houston's version of "The Star-Spangled Banner," I'm like, "How does that make you feel inside? Just capture that feeling. Make yourself feel like that. Don't hide behind this titan — no one can sound like Whitney Houston. No one."
I mean, it's possible someone might be able to sound like her, and that's great, but in a way, that's also a hindrance because if you're forever compared, you'll never measure up — you'll just never be her.
So I'm like, "Find the fire that she had — because everybody can access that. Think about when you hear a song and it literally lifts you and the hair stands up on your arms like you're about to get struck by lightning and you're trembling — find that in you. Find that for yourself!"
It's not jacking off. What I always say is, "If I'm getting myself off performing a song, there are going to be people in the audience who are absolutely 1000% in line with me, and I am shaking their bones and they are getting it whether they like me or not" — so then I've got them, and there's magic in that.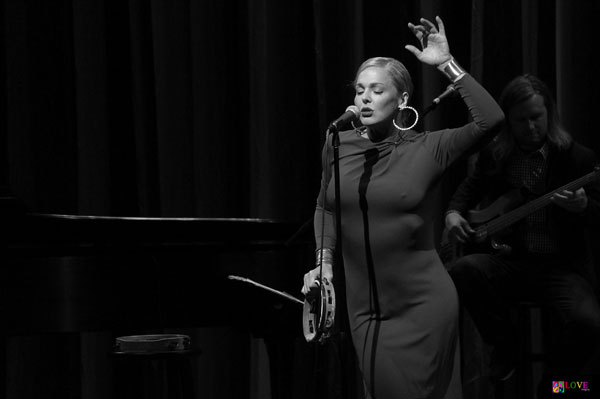 Spotlight Central: You've been featured as the lead singer of Pink Martini, an ensemble that's known for performing all sorts of musical styles including classical, pop, Latin, jazz, and more. How has appearing with that group informed your work as a solo artist?
Storm Large: I love Pink Martini, and I'm so grateful to have performed with them. I was friends with Thomas Lauderdale and China Forbes for a decade before I joined the group. Thomas and I did a lot of political stuff together, and China and I had sung together, so I was their first choice to take China's place when she had to take a leave from the band — they already had a relationship with me, and I'm so grateful I said yes. It took Thomas around ten phone calls to get me to say yes, and China even wrote me an email, because I was so scared.
Pink Martini is a well-established group, and when a band is well-established with a female singer, that singer is the de facto star. So I was extremely hesitant to sing with them because I'm thinking, "I'm gonna walk out on stage in Paris, France where China is a legit f*cking star and they're gonna be like [in French accent] "Pink Martini! Pink Martini!' BOO! Who is this hooker? Who is this hooker?"
If you've never seen Pink Martini, China and I are very different. She is this stylish, groomed, perfect-throated, very graceful woman who knows how to wear high heel shoes and knows how to do her makeup, and she has this beautiful dark hair — and then here comes me — this gigantic blonde "boobzilla." I knew a lot of people would see how I look and how I present myself on stage, and they'd assume, "She's a slut! She's trying to steal the band! She's replacing China!" Well, no one can replace China.
So, every night, Thomas would have to get on stage and say, "China Forbes is recovering back in Portland, but our dear friend, Storm, is here to fill in, and she's amazing, and bla bla bla." And then, a bunch of times on stage, I would always make sure to say, "I talked to China today. She's doing a lot better," just to make sure everybody knew that I was not replacing anybody — that was never my intention — but there were still people who refused to even look at me in the autograph line.
But thanks to Pink Martini, my stagecraft has improved — it's matured, I think, because the music is so much more involved, and there's a lot more gravity to that older, more orchestrated music they play. And when I perform with them, I don't consider myself a lead singer — I'm more of a soloist in a band full of soloists — which is kind of a relief. I get to be like a decoration to this already beautiful meal, and it's just improved my approach to stagecraft, I think.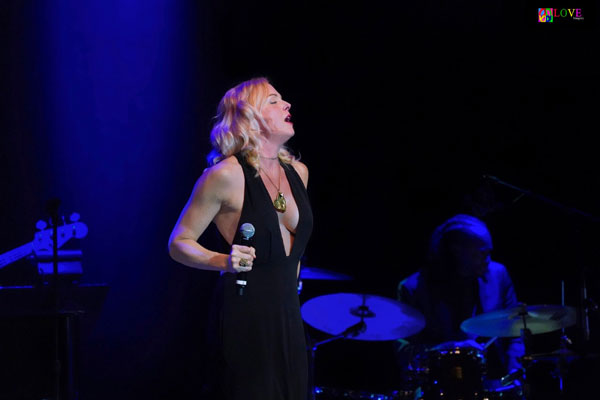 Spotlight Central: We're fans of your latest album, Le Bonheur, which features a number of familiar selections — in addition to some originals — all presented with unique and innovative arrangements, not to mention your novel take on the material. What gave you the idea to make this kind of album, and do you have a personal favorite cut from it?
Storm Large: One of my favorite songs that I've been listening to lately is the duet I did with Puddles Pity Party on Tom Waits' song, "Saving All My Love for You." That song just tells a story in my head — I mean, that beautiful sort of drunk lamentation of a love gone wrong performed as a split-screen duet between a seven-foot clown and a dirty showgirl just painted a beautiful picture in my head.
The reason I did the album is: I hadn't done a record for a long time and I had to do a record. I was performing with Pink Martini and people kept asking me if I had an album available, and I wasn't gonna offer them my rock album, Ladylike Side One, so I decided to put out a new record that was more in line with who I was and where I was going.
And a lot of the jazz numbers on the album were old punk rock songs and old metal songs I loved that I just sort of reimagined — and that's exactly what I did when I first moved to Portland to make money to go to school. My first band in Oregon was called The Balls and we would take punk rock and heavy metal songs and turn them into these sort of jazz rave-ups — it was just really fun, stompy good times doing songs by Black Sabbath and Bad Brains and Sex Pistols and Def Leppard, but making them sound like ballads.
So, yeah, Le Bonheur is an album of all my favorite music, just about — at least, all of the songs I could get permission to record and interpret.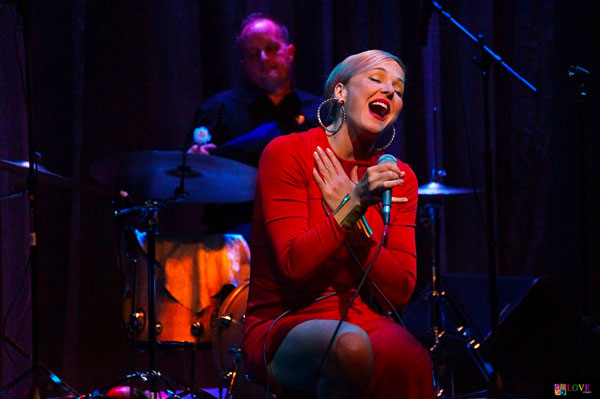 Spotlight Central: With everything that's been going on the world these days, you just recently released a new song, "Crazy Weather," with its timely "Stay alive/Stay inside" and "We are all in this together" messages. Did you write the song, and what inspired you to record it?
Storm Large: I did write the song. I was doing a radio interview with my friend Teddy Abrams, who's the conductor and artistic director of the Louisville Symphony Orchestra, and so I started working on the song. My little sister is a nurse out here in Portland and she was talking about how there's not enough personal protective equipment — this was early on, like in March or April — and I was playing guitar, and I just tried to make a little joke single for the radio station. It didn't really catch on because I recorded it really quickly, but, yeah, I wrote it because, "Yeah, everyone hates this pandemic — everyone hates this, dude!" It's not like when everyone says, "It's a Batman party and everyone's dressing up like Batman at the party" and then you show up and you're the only one at the party dressed like Batman cuz they were trying to f*ck with you. Literally, everyone has to wear a mask because it's gonna keep your dirty spit from getting on other people! It's just what we've all gotta do, and it really sucks, but it's not just you! It's just courtesy — and it's medicine, you know?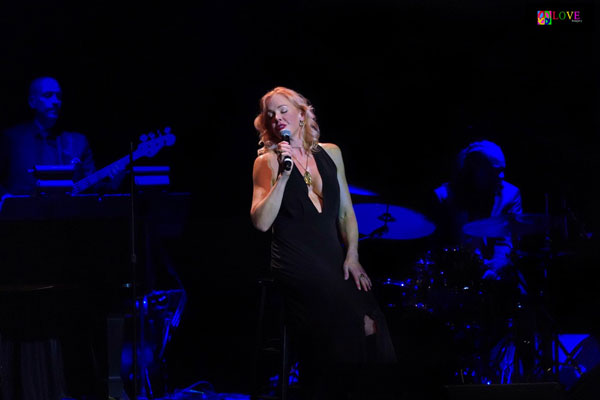 Spotlight Central: Is there anything you can reveal to us about your upcoming Virtual Broadway Series concert for Cape May Stage?
Storm Large: I can tell you that I'm going to try to inject a little bit of, I guess, comfort into the show. Since it's virtual, I can't be all up in people's faces like I am in real life — and I won't be able to do goofy selfies like I love to do with audience members after the show — but there'll be some comforting music and some goofiness, too. Also, I think Cape May may have some tolerance for some swear words, so we'll see if that's true.
Spotlight Central: Is there anything else you'd like to add?
Storm Large: Just that I hope everyone stays safe and has a great summer. I know this whole thing sucks right now, but we have a lot to look forward to if we just hang in there.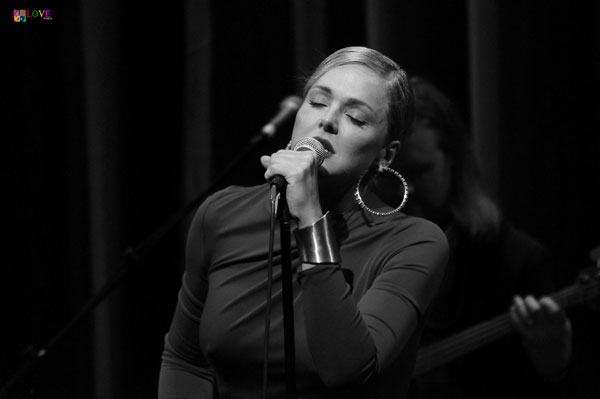 Storm Large's Virtual Broadway Series performance will be presented by Cape May Stage from Monday, July 6 to Monday, August 31. Tickets are $25. All ticket purchasers will have seven days to watch the performance as many times as they like. For further information and/or to purchase tickets, please go to vimeo.com/ondemand/stormlargeinconcert.
Photos by Love Imagery
Spotlight Central. Your source for Jersey entertainment news and reviews
Love Imagery Fine Art Photography. all you need. peace/love/flower/power