originally published: 07/02/2020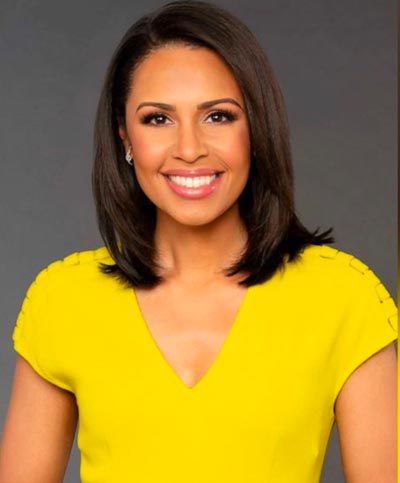 (TRENTON, NJ) -- The James R. Halsey Foundation of the Arts presents 'The Summer Expert Education Series,' where top media industry experts share their time and expertise with the JRH 'Let's Film students' via online learning sessions. The film and arts students have an opportunity to learn about the expert's background, their career and also engage in a question and answer dialogue.  Educator and JRH Founder, Joseph A. Halsey teaches each weekly summer long learning session; Halsey says, 'This is such an amazing educational opportunity for the students to learn more about the media industry, and have high level access to top media professionals.
Some of those amazing pros include: ABC's Good Morning America's anchor Adrienne Bankert. Adrienne is an Emmy winning, New York based correspondent covering stories around the country for ABC News.  She regularly reports for World News Tonight with David Muir, and anchors on World News Now & America This Morning. Adrienne recently authored her first book, "Your Hidden Superpower: The Kindness That Makes You Unbeatable at Work and Connects You with Anyone."   Adrienne was also the on camera moderator for the first episode of the Seven13 Films produced docuseries 'Generation Change,' filmed in Trenton.
Not only are we lucky to have TV and Film experts, we are also welcoming digital influencers like Raymond Strazdas. Ray is an award-winning filmmaker, video producer and digital media personality and influencer with over 55,000+ Youtube fans worldwide and thousands more across all his social media channels. With a passion for entertainment, through producing consistent, broadcast level content and working with countless top brands, Raymond has established a name for himself in the digital, multi-media and online brand worlds. 
Other amazing experts include Kimberly Butler-Gilkeson a motion picture costumer and supervisor, she worked for productions such as Cabaret, The Addams Family and The Nance. After a seminar at her union office about working on daytime soaps, Kimberly was fortunate enough to start working at As The World Turns, Guiding Light and One Life to Live. When daytime episodics left New York, she took her skills and moved on to Primetime television. Kimberly has worked on CBS "Person of Interest," TBS "The Last OG" and HBO "The Deuce" & "The Plot Against America." When Kimberly is not working, she is co-hosting and producing a podcast called, "How Did I Miss This?" Prior to the pandemic "pause," Kimberly was working on Showtime's "Billions."
To keep true to our local roots, our very own Trenton native: Gayle Holsman Seay joins us, she's Co-Owner/ Casting Director of Wojcik/ Seay Casting in New York City. Gayle was an actor for TV & film prior to her career in casting and performing on Broadway (for shows like: Jesus Christ Superstar, Something Rotten!, RENT, Kinky Boots, Rock of Ages, Motown, Jekyll & Hyde, West Side Story-Tokyo, Nice Work, Flash dance, Joseph Dream coat, and A Chorus Line.
---
The article continues after this ad
---
---
Other experts scheduled for the rest of the summer, include a development executive from MTV, and an affiliate relations director from the Rachael Ray Show. Stay tuned as we reveal our latest experts throughout the summer.
**If any student is interested in learning more or joining this course, please email the foundation direct at info@jrhfoundation.org  
The James R. Halsey Foundation of the Arts, in partnership with the community and corporate support, enriches the quality of life for youths (ages 14 to 20) by providing a safe and educational environment where participants in our programs are inspired and encouraged toward a better future. This initiative is accomplished by promoting and guiding participants/students through the creative processes involved in the art of filmmaking, and by providing life-skills training in business and the arts.