originally published: 07/01/2020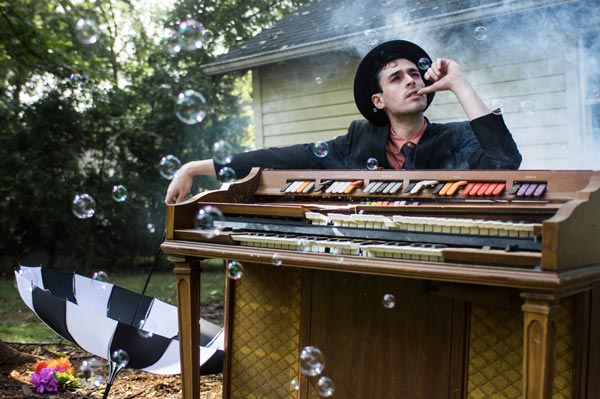 New Jersey avant-pop singer/songwriter, Will Wood, recently released his new single and innovative music video for "...well, better than the alternative." He created the music video with long-time collaborator Chris Dunne and artist Sorin Michaels using EBsynth-a cutting-edge digital animation program that applies handmade paintings onto live footage, thereby turning that footage into a moving painting.
Wood elaborates, "Sorin Michaels, a top member of my Patreon, began posting fascinating animated edits of an early music video of mine in the Patreon discord server, and I was immediately hooked and asked for his help in creating a music video using his unique set of skills with this brand new technology... The work was meticulous, but it paid off in full, by creating a music video unlike any other, using brand new technology in a wholly unique way."
"...well, better than the alternative." is the third single, following the American Songwriter-featured "Love, Me Normally" and Glide Magazine-featured "Laplace's Angel (Hurt People? Hurt People!)" from Wood's LP, The Normal Album, due out on July 10 via Say-10 Records.
Produced by Jonathan Maisto (Dillinger Escape Plan, Foxy Shazam) with a guest appearance from multi-platinum producer Matt Squire (Panic! At The Disco, Ariana Grande, One Direction), The Normal Album is an enthralling, 10-track statement on normality and conformity. The album was successfully funded on Indiegogo within a day of its launch, and went on to raise nearly $28,000, with hundreds of passionate fans pledging up to thousands of dollars each.
In support of the album, Wood will be hosting a virtual release show via Crowdcast on July 11 at 7:00pm. Wood is returning to PonderRosa Studios in Lafayette, New Jersey to perform the album front to back on grand piano.
---
The article continues after this ad
---
---
The Normal Album is Will Wood's third studio album, a loose concept record about what normal means, where it comes from, and the relationships between the individual and the collective. Produced by Jonathon Maisto with guest producer Matt Squire.
The recording features performances by Will Wood (vocals, piano, mallets, ukulele) and The Tapeworms Matt Berger (alto sax, clarinet, flute, bass vocals), Vater Boris (bass), Mike Bottiglieri (guitar), Mario Conte, (drums/percussion). 
It also feaures Richard Cush (trombone), Seamus Ronan (baritone sax), Robert Schaefer (trumpet), Victoria Goettel (viola), and vocal appearances by fans who contributed to the crowdfunding campaign on Indiegogo and support Will Wood on Patreon.
Will Wood has been said to have appeared out of nowhere, stumbling out of a hallucinogenic haze in 2015. He immediately began attracting attention and controversy with his eccentric and difficult-to-pin-down public persona and provocative performance art. Joined by his band, The Tapeworms (Matt Berger, Vater Boris, Mike Bottiglieri, Mario Conte), Wood confused and excited audiences and press alike with his constantly shifting, genre-defying musical style and over-the-top performances, which often featured light shows, acrobatics, standup comedy, and other theatrical elements that challenged the status quo of the local scene.
Shortly after entering recovery at the beginning of his career, Wood was diagnosed with Bipolar Disorder and began treatment. He has since begun to take a new direction with his work, dedicated to giving back to the world in the form of charity funded by merch, tickets and music sales, and using his music to try and inspire others with their own struggles. He now leads a reclusive life in rural New Jersey, having turned his back on social media, with the exception of his Patreon account, where he publishes most of his work as one of the top 1% of creators.