originally published: 06/30/2020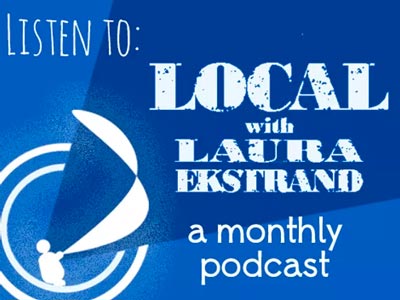 (SUMMIT, NJ) -- Laura Ekstrand, Artistic Director of Dreamcatcher Rep in Summit, New Jersey, explores what it means to make art and culture in New Jersey. Join her for smart, thoughtful conversations with local actors, playwrights, directors, and arts professionals in each podcast.
In the final episode of season 2, Laura is joined via Zoom by George Marriner Maull, Artistic Director of the Discovery Orchestra. Maestro Maull is a conductor, violist, television host, and music educator.
Laura and Maestro Maull have an illuminating conversation on a range of topics, including how he founded the Discovery Orchestra and why the orchestra is so committed to teaching audiences the listening skills to viscerally connect to classical music. They touch on the history of recorded music, the current state of live performance, and their hopes for the future. Music by Jeff Ertz & John Todd. Click here to listen to previous podcasts from the first two years.
---
The article continues after this ad
---
---
George Marriner Maull, Artistic Director of The Discovery Orchestra and three-time Emmy-nominated public television personality, has helped millions of individuals nationwide become more perceptive listeners and to heighten their classical music listening pleasure!
Whether on the podium or in lecture settings, his enthusiasm for classical music is contagious. His blog posts and thought leadership pieces on listening have been featured by The Geraldine R. Dodge Foundation and worldwide by Minnesota Public Radio, London-based Bachtrack, The Violin Channel, Pick the Brain, and Arianna Huffington's new site Thrive Global. His tweets and YouTube Discovery Orchestra Chats continue to attract followers on six continents, and public radio stations WBJC-FM in Baltimore, WWFM in New Jersey and NPR-KJZZ in Phoenix have featured interviews with Maestro Maull.
As host of the New Jersey Performing Arts Center's Classical Overtures for over a decade, Maestro Maull has presented pre-performance chats before world-renowned ensembles and artists such as the London Symphony Orchestra, Salzburg Mozarteum, Philadelphia Orchestra, Munich Philharmonic, Yo-Yo Ma, Yuja Wang, Itzhak Perlman and Renée Fleming. Now in its second season, Maestro Maull's radio program Inside Music on WWFM The Classical Network is broadcast on the second and fourth Saturdays of each month at 7:30 pm.
Maestro Maull is featured as conductor and host of three Emmy-nominated Discovery Concerts©, all previously distributed nationally by American Public Television: Bach to the Future©, Discover Beethoven's 5th© and Discover Vivaldi's Four Seasons©. All are available to viewers online at Amazon.com, as well as his 8 part signature series, Fall in Love with Music©.
Dreamcatcher was founded in 1994, and is a non-profit professional ensemble of actors who build community with the audience by sharing contemporary, life-affirming stories that challenge, energize and entertain. Our work has at its heart a belief in the essential goodness of people and the power of live performance to connect people through our shared humanity. We expose theatregoers to ideas and lives like and unlike their own with the intention of awakening their imaginations and creating empathy for others. We deepen the experience of all our patrons with personal contact through receptions, talkbacks, and interactive programs. The company's activities include mainstage productions, improvisational comedy and cabarets, new play readings and a variety of educational and senior outreach programs.
Dreamcatcher's programs are funded by the New Jersey State Council on the Arts/Department of State, a Partner Agency of the National Endowment for the Arts, the Geraldine R. Dodge Foundation and many other corporations, foundations and individuals. Dreamcatcher Repertory Theatre is an Equity Producing member of the New Jersey Theatre Alliance.