originally published: 06/19/2020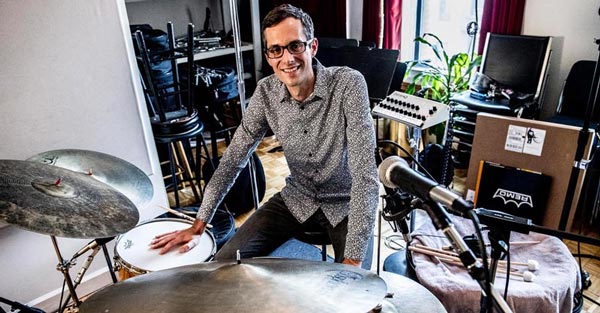 Matt Slocum always knew he wanted to live close to New York City someday. The Wisconsin native grew up seeing his jazz idols all spend time living and performing in the city, and as he built up his professional resume, he knew fate would lead him there as well. After graduating from the University of Southern California and spending a few more years in California, he moved to the East Coast. He settled in Essex County where he teaches drummers and percussionists at Newark Academy and works with the jazz program at New Jersey Youth Symphony.
Slocum received a 2020 Artist Fellowship Award from New Jersey State Council on the Arts for his last album, "Sanctuary," which was released just over a year ago. It was an album that had him thinking back about the places he's lived that provided a sense of home and creative refuge. He also took a different path in composing the songs.
"When I do a recording, I'll be thinking of the group I want to write specifically for," explained Slocum. "I'll know each musician on each instrument and how the instrumentation is going to be and try to tailor it exactly for that. I can write in a way that is very specific to their musical personalities. With this one, I just wanted to write a bunch of tunes and see what comes out."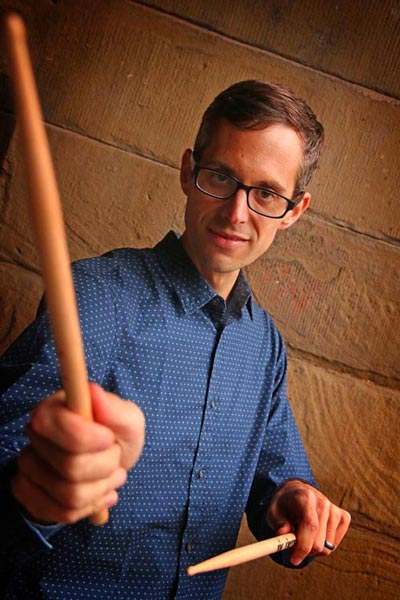 "Sanctuary" features Gerald Clayton on piano (a friend and musical partner of Slocum's for nearly two decades) and Larry Grenadier on bass. The latter is best known for a 25 year association with the Brad Mehldau Trio and playing with artists like Pat Metheny, Paul Motian, Charles Lloyd, Joshua Redman, and Mark Turner.
"Looking at the tunes afterward is when I realized that a lot of them had to do with where I grew up in Wisconsin and where I lived in California and the people I associated with," he continued. "There was just a sense of creative home - even here I feel that. So that's what I was thinking as far as calling it 'Sanctuary'."
Slocum says he benefited from good music programs in the schools he attended in Wisconsin. Growing up near the Twin Cities, his family would go there to see shows when jazz artists from New York were in town.
"I feel lucky that we were within a striking distance of an area where there was some jazz happening, because across most of the United States that is not always the case," said Slocum.
Students were required to have a couple of years of piano training before they could enter the percussion program. While he does not consider himself a great pianist, the training provided him with a good background for dealing with melody and harmony. This helps him as a professional musician when time is limited before a gig and he's given a lead sheet to work through during the sound check. Slocum believes that it helps to be able to sit down and work through the chords and melodies. He also composes his own songs on the piano.
In the industry, he's been referred to as a "musical drummer" - code for someone who won't overplay. Drummers often have a reputation for overplaying or being "drumistic," but Slocum believes that drummers should be like everyone else in the band: listening, completely tuned in with the group with the goal being to just serve the music. It's a trait that has led him to tour throughout North America, Europe, and Asia; performing and/or recording with artists such as Steve Cardenas, Gerald Clayton, Taylor Eigsti, Aaron Goldberg, Larry Grenadier, Jon Irabagon, Lage Lund, Linda Oh, Jerome Sabbagh, Jaleel Shaw, Walter Smith III, Dayna Stephens, Anthony Wilson, Ben Wendel, Sam Yahel, and the Dallas Symphony Orchestra.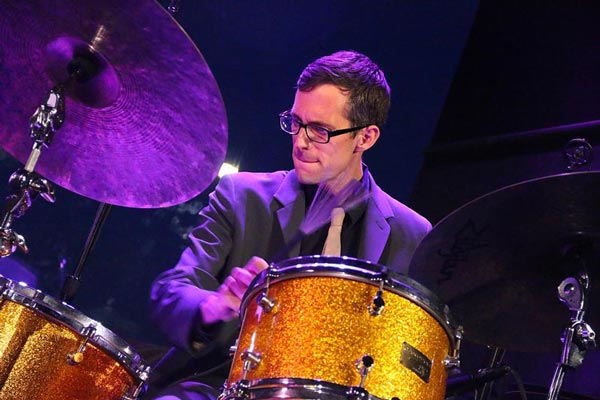 The way he teaches drums or percussion depends on the student. "If I'm working with an adult student and it's somebody in their 50s or 60s who just wants to play for fun and learn some jazz solos, then I am more lenient as far as setting up technical habits that I'd like to see for them at the drums," said Slocum. "But with students who are younger, I feel a responsibility to get them started so they're playing in a natural, relaxed way - holding the sticks properly so they're not hurting themselves playing the drums."
He likens proper approach in drumming to his other obsession in life - running.
"If you look at a runner, as they get faster, any imbalance in the stride or anything like that comes under the microscope as you're trying to increase the pace," he explained. "It's the same thing with drumming. If they don't have good habits early on."
Slocum isn't just a casual runner, he was a member of the 1999 New Richmond High School (Wisconsin) cross country team that placed third at state. In recent years, he has run everything from 5K races to full marathons. One of his highlights is a top 100 finish in last year's Chicago Marathon, out of more than 40,000 runners.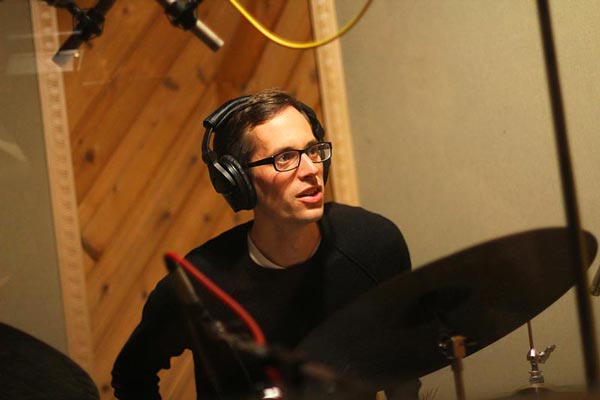 Making a living as a musician is difficult enough, but making a living as a jazz musician long after the genre's heyday is even harder. Success is less determined by financial gain as it is with overall happiness.
"It's funny, because even with the small niche of jazz musicians, there are different versions of what success is," noted Slocum. "I have friends who have always wanted to be side men and just play. They'd love to tour and play 200 shows a year - that's their version of success. For me, it's more about where I'm at right now. I'm interested in both playing and composing and documenting through recordings. Hopefully I can continue to record every couple of years.
"The Arts Council grant really helps with that. I've been moving closer to developing a voice where my influences aren't conspicuous. 'Sanctuary' was definitely the most personal recording I've done thus far."
Cover photo by Richard Conde; all other photos by Chris Drukker