originally published: 06/08/2020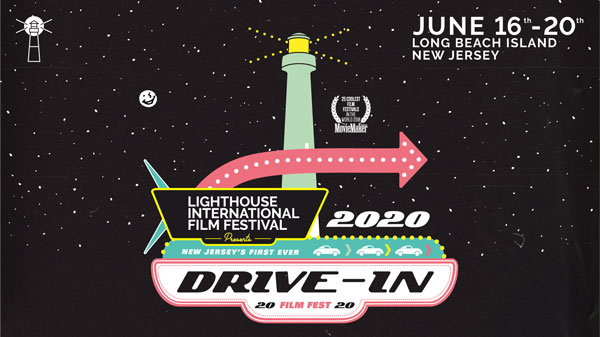 (LONG BEACH ISLAND, NJ) -- This year's twelfth edition of The Lighthouse International Film Festival, which will be held in a drive-in format, hasnnounced its Centerpiece films, Spotlight films, Special Presentations, and Closing Film. This year's unprecedented event will run from Tuesday, June 16th through Saturday, June 20th, at a variety of locations around Long Beach Island, ensuring a secure environment for watching new, exciting cinema on a big screen from the safety of one's own car.
The fest, which has risen to acclaim with its innovative, exciting programming, is the first film festival in the world to segue into a fully drive-in format, allowing its programming to be watched as it was always meant – on the big screen – while keeping the health and safety of its attendees its top priority.
In addition to their drive-in screenings, the 2020 Lighthouse International Film Festival is also offering virtual cinema screenings. Buy a Virtual Cinema Premium Pass and you can enjoy over 80 shorts, surf films, episodics, and features in your home. (Movies shown at our drive-in screenings are not included in the Virtual Cinema Premium Pass.) Their Virtual Cinema is a rich, exciting program of films from around the world, including shorts by Oscar winner Rayka Zahbatchy and by Oscar nominee Daphne Matziaraki. The festival includes the documentary short produced by James Cameron for National Geographic, Akashinga. You can also see another great short, The Debater, the story of the first-ever debating duel between an artificial intelligence computer and a human.
---
Centerpiece Films
9to5 - d. Julia Reichert and Steve Bognar, 89, USA. Oscar winners Julia Reichert and Steve Bognar (for American Factory, LIFF 2019 closing film) return to LBI with their new project: In the 1970s, America's secretaries took to the streets, fed up with on-the-job abuse. They created a movement called 9to5, which later inspired Jane Fonda to make a movie and Dolly Parton to write a song. This is the untold story of their fight (original selection of SXSW 2020).
---
The article continues after this ad
---
---
Shithouse - d. Cooper Raiff, 99 minutes, USA (World Premiere). Lonely college freshman Alex (played by writer/director Cooper Raiff) has closed himself off from his peers, who all appear to have this whole "college thing" figured out. Alex's family is 1500 miles away and all he can think about is getting back to them. Everything changes one night, when Alex takes a leap and attends a party at Shithouse, where he forges a strong connection with Maggie (Dylan Gelula). When she ignores him the next day and seems to have forgotten about their amazing night, Alex feels desperate for things to go back to how they were before (original selection of SXSW 2020, and its jury award winner for best narrative feature).
Shiva Baby - d. Emma Seligman, 71 minutes, USA. A story of a young Jewish woman who gets in hot water when she attends a shiva and one of her "sugar daddies" shows up. Starring Rachel Sennott, Polly Draper, Dianna Agron, Molly Gordon, and Fred Melamed (original selection of SXSW 2020).
Summerland - d. Jessica Swale, 99 minutes, UK. Alice is a reclusive writer, resigned to a solitary life on the seaside cliffs of Southern England, while World War II rages across the Channel. When she opens her front door one day to find she's to adopt a young London evacuee named Frank, she's resistant. It's not long, however, before the two realize they have more in common in their pasts than Alice had assumed. Gemma Arterton, Gugu Mbatha-Raw and Tom Courtenay star in this intensely emotional story of love's endurance in trying times.
Why Is We Americans? - d. Udi Aloni and Ayana Stafford-Morris, 100 minutes, USA (Special Advance Screening). With the guidance of the legendary Ms. Lauryn Hill, this powerful documentary follows the legacy of the black thinker Amiri Baraka and his family. The film explores how the Baraka genealogy merged into the DNA of Newark - its history, politics, culture, and struggles - the biggest city in New Jersey.
---
Spotlight Films

American Trial: The Eric Garner Story - d. Roee Messinger, 100, USA. What would have happened if NYPD officer Daniel Pantaleo had faced a grand jury for the killing of Eric Garner in 2014? An unscripted courtroom drama about the trial that never happened following the death of Eric Garner at the hands of the police, using real lawyers and the actual witnesses who would have testified had the case been tried.
Dinner In America - d. Adam Rehmeier, 106, USA. In a dreary Midwestern suburb, aggro punk rocker Simon (Kyle Gallner) finds himself on the run again after a bout of arson and a close call with the police. A chance encounter with the eccentric Patty (Emily Skeggs) provides him a place to hide, though she fails to realize that her new friend is the anonymous lead singer of her favorite band. As the two embark on a series of misadventures, they realize they have a lot more in common than they first expected.
The Evening Hour - d. Braden King, 114, USA. Dove Creek, West Virginia, was once a flourishing American mining town. Now, this post-industrial community is in decline. Cole Freeman (Philip Ettinger) works as a nursing home aide looking after the elderly, but he can hardly make ends meet even by dealing in illegal painkillers on the side. Like many of his generation, he is looking for a way out, but opportunities are few in this rapidly changing landscape. Cole belongs to a generation who feel trapped by a toxic combination of existential fear, lack of opportunity and powerlessness. Adapted from Carter Sickels' novel of the same name.
Save Yourselves! - d. Alex Fischer and Eleanor Wilson, 93 min, USA. Jack (John Reynolds) and Su (Sunita Mani) are a hip Brooklyn couple who, like many of their friends, find themselves dependent on technology and unable to put down their phones. Fearing their mindless scrolling may impact their connection with each other, they seize the chance to head to an isolated cabin in the woods, vowing to unplug from the outside world for a week. Sheltered from texts and push notifications, they are blissfully unaware that the planet is under attack. As strange events unfold, the couple must figure out a way back to civilization - or what's left of it.
Tesla - d. Michael Almereyda, 96, USA. Brilliant, visionary Nikola Tesla (Ethan Hawke) fights an uphill battle to bring his revolutionary electrical system to fruition, then faces thornier challenges with his new system for worldwide wireless energy. The film tracks Tesla's uneasy interactions with his fellow inventor Thomas Edison (Kyle MacLachlan) and his patron George Westinghouse (Jim Gaffigan). Another thread traces Tesla's sidewinding courtship of financial titan J.P. Morgan (Donnie Keshawarz), whose daughter Anne (Eve Hewson) takes a more than casual interest in the inventor. Anne analyzes and presents the story as it unfolds, offering a distinctly modern voice to this scientific period drama which, like its subject, defies convention.
The Truth - d. Hirokazu Kore-eda, 106, France/Japan/USA. A portrait of family dynamics by Japanese Cannes-winning filmmaker Hirokazu Kore-eda (Shoplifters). Fabienne (Catherine Deneuve) is an aging French movie star who, despite her momentary lapses in memory, remains a venerable force to be reckoned with. Upon the publication of her memoirs, her daughter Lumir (Juliette Binoche) returns to Paris from New York with her husband (Ethan Hawke) and their young daughter to commemorate its release. A sharp and funny battle of wits ensues between the mother-daughter duo. Charming, bold, and imbued with endless emotional insight.
---
Special Presentations

The Pine Barrens - d. David Kessler, 106, USA (Special Screening). A place of wonder and lore filled with contradiction exists in America, where fire reigns and dark tales are passed along by generations living where isolation is celebrated. 1.1 million acres of otherworldly land in the heart of the most densely populated state, New Jersey. This epic tone-poem spans over six years of growth and loss as a community resists pressures from the megalopolis that surrounds it. The Pine Barrens is now presented in its final iteration, a tone poem of an unknowable place and the characters who are indelibly connected to it, their passions, and their defiance. As unfixed and uncertain as the experience of such a place could be, so is the Pine Barrens' future as it continues to resist the pressures from the megalopolis that surrounds it.
John Bronco - d. Jake Szymanski, 37, USA (First Showing). Some have said that if you were famous before the internet, you might as well never have existed. Such is the case for John Bronco, the greatest pitchman who ever lived. In 1966, Ford tapped him to race their new prototype SUV in Baja, Mexico and named the new car "Bronco" after him, made him the face of their campaign and skyrocketed him to stardom. John was the very embodiment of the American dream, that is, until it all came crashing down. Starring Walton Goggins, Tim Meadows, Bo Derek, Kareem Abdul-Jabbar and narrated by Dennis Quaid (original selection of Tribeca Film Festival 2020).
I've Got Issues - d. Steve Collins, 92 minutes, USA. A dreamy, absurdist meditation on daily despair, intertwining stories of characters swallowed in darkness, yet still finding light. With: Jim Gaffigan, Macon Blain, Maria Thayer, John Merriman, and Courtney Davis.
---
Closing Film

The Last Shift - d. Andrew Kohn, 90, USA. Stanley (Richard Jenkins), an aging fast-food worker, plans to call it quits after 38 years on the graveyard shift at Oscar's Chicken and Fish. His last weekend takes a turn while training his replacement, Jevon (Shane Paul McGhie), a talented but stalled young writer whose provocative politics keep landing him in trouble. The men are worlds apart. A high school dropout who has watched life pass by his drive-through window, Stanley proudly details the nuances of the job. Jevon, a columnist who's too smart to be flipping patties, contends their labor is being exploited. But a flicker of trust sparks during the long overnight hours in a quiet kitchen.
*All Drive- In attendees must agree to the Covid Safety Rules which are on the LIFF website. Participants must remain in their cars at all times, social distancing will be mandatory. We are asking everyone's help and assistance to provide a much needed safe night out at the movies. We are also seeking volunteers to lend a hand. Tickets must be purchased ahead of time. The cost per film, per car is $45.00. The venues are Veteran's Park (Beach Haven) . Long Beach Island Foundation of the Arts and Sciences (Loveladies ) Stafford Township Arts Center (Stafford)
The Virtual Cinema Premium Pass also includes feature films! Don't miss When All That's Left Is Love by Eric Gordon, an intimate, beautiful documentary; Into The Light by Kate Li, a new, old-style feminine film-noir. Virtual Cinema Premium Pass patrons will have free access to all our shorts, features, surf films, and more. In addition to films, Virtual Cinema Premium Pass holders also will have access to all the filmmaker Q&As and panels with filmmakers from this year's Festival - - all from the comfort of their couch. Virtual Cinema –Premium Pass is $49.00.
Please note: Movies shown at our drive-in screenings are not included in the Virtual Cinema Premium Pass.