originally published: 05/28/2020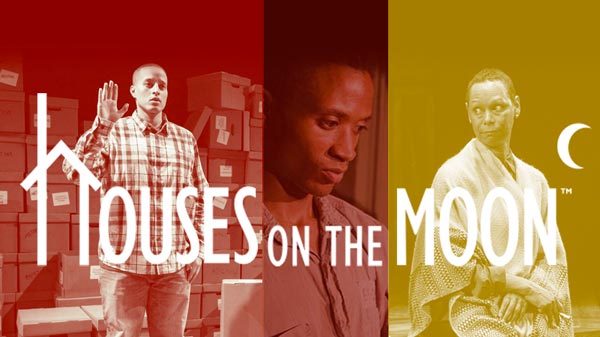 (NEW YORK, NY) -- Houses on the Moon Theater Company, the New York based not-for-profit theatre company with a mission to "dispel ignorance and isolation through the theatrical amplification of unheard voices," is pleased to announce the formation of a new Advisory Board and fundraiser Tales From the Moon celebrating Houses on the Moon's Education Program set for Thursday, June 25, 2020 at 6:00pm.
Members of the newly created Advisory Board include prominent theater professionals and community partners, including Broadway producers Hal Luftig, Jamie deRoy, Nelle Nugent, Cheryl Wiesenfeld, writer/director/choreographer Warren Adams, Dorset Theatre Festival artistic director Dina Janis, director Lisa Rothe, Fortune Society founder David Rothenberg, and Executive Director of PFLAG/NYC Drew Tagliabue.
"We're thrilled this group of distinguished members of theater and community organizations has joined us to supplement our resources and enhance the work that we do," says Houses on the Moon Board Co-President and Broadway producer Jane Dubin. "We create and produce theater that's inspired by a social need. Our advisory board members join us in this mission to create engagement with our audiences and our community."
The objective of this new board will be to support the company in its mission of telling untold stories, rooted in a project begun in 1998 by co-founders Weiner and Jeffrey Solomon, articulated by Weiner:
Jeffrey Solomon and I met in 1998 as teaching artist partners working at a school in Queens with a group of developmentally delayed teenagers. We were saddened by the amount of homophobia we were witnessing in the school environment and wanted to create a piece of theater that spoke to the isolation of LGBTQ+ students and educators. We set off on a creative development journey that included interviews with young people and educators around the country and beyond. As part of our research we interviewed a lesbian teenager in New Haven and asked her about her role models. Having never had an adult gay role model, she talked about the impossibility of envisioning her own future life as an adult.
---
The article continues after this ad
---
---
The young woman stated:
It's like trying to imagine your future taking place on the Moon. How can I picture what my house would look like on the Moon? I've never been to the Moon. Nobody's ever tried to build a house at such a low gravity. How do I know whether to picture it on the surface, or floating? Trees and grass, or just rocks?
This young woman so clearly articulated the need for our play and the space it should fill. She provided us with a title for our pilot theater piece, Building Houses On The Moon, which led us to the name of our theater company in its founding year of 2001, and captured the essence of our mission in a metaphor. By telling previously marginalized stories, we were 'building a house on the moon.' We were creating a safe place for new stories to be told and heard in previously alien, uncharted or even hostile terrain.
This work with students continues. Celebrating Houses' Education Program, the company will present Tales From the Moon, a virtual reading of work created during our residency with students at Hostos/Lincoln Academy of Science in the Bronx. Weiner and Houses' company member Camilo Almonacid have worked with the students for the last 4 years. "The work Houses on the Moon has done with our students is invaluable. Our students are so excited to be able to have their work presented in a professional environment." says Hostos-Lincoln Assistant Principal Vincent Marano. Free and open to the public, the presentation is set for Thursday, June 25, 2020 at 6:00pm. Donations will be accepted during the reading with proceeds going toward the Education Program. To reserve tickets visit www.housesonthemoon.org
The Houses on the Moon Board of Directors is R. Erin Craig, Jane Dubin (Board co-President), Rashad Chambers, Amy Gottleib, Jeremy Handelman, Jennifer Isaacson, Jenny Paredes, Jeffrey Rosenstock (Board co-President), Jeffrey Solomon, Melissa Springs, and Emily Joy Weiner.
Houses on the Moon Theater Company, whose work has been hailed as "potent" and "powerful" (The New York Times), was founded in 2001. Through creative workshops, original performances, and post-show discussions, Houses on the Moon helps communities come together by making meaningful connections through the public sharing of their untold stories. All Houses projects are created through an extensive developmental and research process in collaboration with its community partners, which have included Amnesty International, the AFSC Immigrant Rights Program, Human Rights First, PFLAG, the Fortune Society and many others. At the core of the developmental process are interviews with real people about their lives, and a creative search for those human stories that yearn for a much wider hearing.
Houses on the Moon believes in the power of theater to transform lives and instill empathy. Experiencing other people's emotional lives and journeys through the lens of a character allows the company to connect in a "safe" way and to learn about ourselves and those around us. Through creative workshops, original performances, and post-show discussions, Houses on the Moon helps communities come together by making meaningful connections through the public sharing of their untold stories.
Currently in development is Shared Sentences, which explores the impact of incarceration on family members/loved ones. It is set to premiere off-Broadway in 2021.
Most recently, the company presented The Santa Closet in December 2019 which was heralded as "Thought-provoking and funny...Hilarious and good-spirited" (BroadwayWorld).
In the Spring of 2017, Houses on the Moon presented two world premiere productions in repertory at the A.R.T./NY Theaters: The Assignment and gUN COUNTRY. Both pieces were developed through workshops with people whose lives have been touched by guns. DC Metro Theatre called The Assignment, "Socially relevant and thought-provoking, profoundly heartrending and funny."
In December 2017, Houses on the Moon presented a revival of its documentary theater piece De Novo through Next Door at NYTW. De Novo tells the story of an undocumented immigrant teenager fleeing gang life. The play had its Off-Broadway premiere in 2010 at 59E59 Theaters Americas Off-Broadway Festival. In 2011, the company mounted an all-Spanish version of the play in El Salvador with a special focus on reaching impoverished young people most at risk for migration. Houses on the Moon was honored to remount this acclaimed piece in partnership with New York Theatre Workshop.
Additional original company works include Tara's Crossing, one of the first plays ever to deal with political asylum for refugees fleeing persecution based on their sexual orientation or gender identity. The play had its World Premiere in 2005 at the L.E.S. Tenement Theatre and is still presented widely in theaters and as a training tool on gender identity and legal issues. TRANSformation is a storytelling performance piece about gender identity and family, with the aim of educating the public and empowering these families in their struggle for inclusion. It was most recently presented in partnership with the NYC Council Speaker's Office.