originally published: 05/22/2020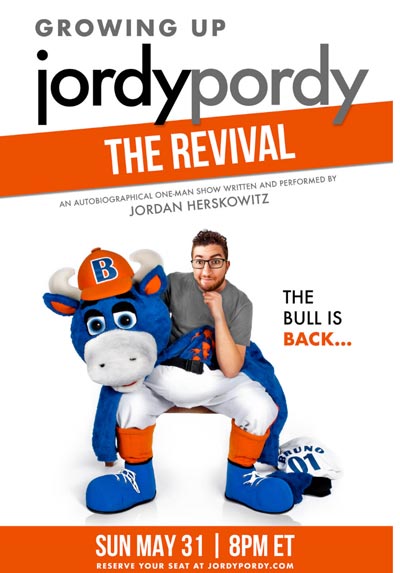 Growing Up Jordy Pordy is Jordan Herskowitz's hilarious and heartwarming autobiographical one man play about life as a professional mascot. But once his furry gloves come off, Herskowitz narrates a powerful story about growing up Jewish in Texas, being the forgotten middle child with his two brothers suffering from Cystic Fibrosis, and his family's journey with organ donation. Growing Up Jordy Pordy explores the themes of self-identity, family, religion, and the overall strength of the human spirit.
Eleven years after debuting in Tulsa, Oklahoma, Jordan Herskowitz's award-winning one man play is back - from the comfort of your home - on Sunday, May 31, 2020 at 8:00pm. 
James Snyder, currently starring as Harry Potter in Harry Potter and the Cursed Child on Broadway, will moderate a talkback immediately following the performance.
Critics rave about Growing Up Jordy Pordy, including Time Out London who called it "A story worth sharing," Camden New Journal, which wrote "Engaging from beginning to end," and the News Line, UK, which names the show "A performance masterpiece."
After performing Growing Up Jordy Pordy over 350 times in 40 cities across three continents, Herskowitz was inspired to continue spreading awareness about the power of organ donation. He founded Richie's Spirit Foundation in honor of his brother, Richie, who received a double lung transplant at six years old. Richie's Spirit Foundation's mission is to promote organ donation through education awareness programs, grants, and inspiring others to live life with a positive spirit. To date, Richie's Spirit Foundation has awarded over $50,000 to transplant recipient families, and college-bound high school seniors. 
Herskowitz is now the Principal of Golda Och Academy in West Orange, New Jersey. He shares, "I was inspired to revive this performance because it speaks to the resilience we are witnessing today."
Tune in on Sunday, May 31 for a revival performance of the show that has touched the lives of so many! Reserve your FREE Virtual Seat at JordyPordy.com
---