originally published: 05/22/2020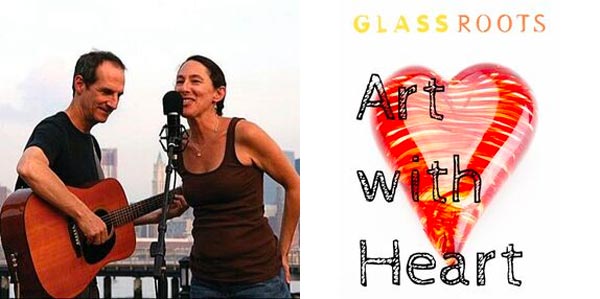 Deena & Jon from The Cucumbers and The Campfire Flies will perform online for HOTSHOTS @ home, a (FUN)draiser with Friends to benefit GlassRoots on Thursday, May 28th at 8:00pm.  The concert can be seen live on Facebook, Instagram or YouTube. 
Deena started out banging her head against her crib and by the time she was six was belting out songs at the piano. She studied a bit of violin, lots of classical piano, played percussion in the junior high school show tune pit band, and studied various forms of ethnic music (Balinese gamelon, Ghanain drumming), along with classical piano at college.
Jon grew up around music. His father, a Julliard-trained oboist, wrote music for movies and television (scores to the early movies of Stanley Kubrick, background music for Star Trek and Gilligan's Island episodes, the score to Roots); his mother sang (with his father) in folk ensembles. His brother Joshua is an avante garde composer in Brooklyn. With a cherry red no-name bass, and a vox amp (with wheels) Jon played in a Monkees cover band with neighborhood kids at age 10. He later played in folk-rock duo in high school with another singer-songwriter friend, Mike Sternberg. He studied some jazz guitar in college.
Jon and Deena met in their freshman dorm at Brown Univeristy, and first performed on campus, doing folk and jazz standards acoustically, two voices accompanied by Jon on guitar.
---
The article continues after this ad
---
---
Their latest band is The Campfire Flies which also includes John Baumgartner, Toni Baumgartner, Matthew Davis, and Ed Seifert. The band's debut album Sparks Like Little Stars was released on March 22, 2019 by OverPop Music.
About GlassRoots - The mission of GlassRoots is to ignite and build the creative and economic vitality of greater Newark, with a focus on under-served youth and young adults, through the transformative power of the glass art experience. Since its founding in 2001, GlassRoots has engaged tens of thousands Greater Newark-area youth with its services, including its core Youth Entrepreneurship programs, student field trips and "art-for-art's sake" classes for the public. 
​We harness the fire and danger of glassmaking to engage area youth. Our students develop patience, teamwork, creative problem-solving, plus the discipline and resilience they need to safely work with 2200 degree fire and molten glass. They gain hands-on experience in chemistry, physics, and math. They become young entrepreneurs as they develop and market their products. ​They join a vibrant community in which all learn from each other. Our young artists grow stronger each time they forge glass, and experience the power of their own creativity.