originally published: 05/14/2020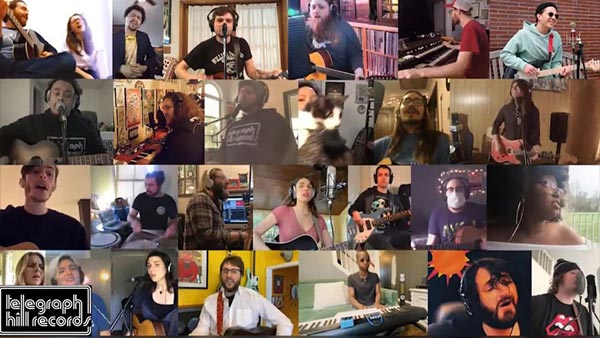 Telegraph Hill Records has released an Asbury all-star video and single of "Waitin' on a Sunny Day" for which Bruce Springsteen Tweeted thanks, describing it as "lovely." PHOTO COURTESY OF TELEGRAPH HILL
This week also features Ellen Berman's Corona Classic Concert Series, Jammin' for Jaclyn, Jersey Rock Home Showcase, Rock for the Nurses, Tom Costello, Christian Beach, Steven Wright-Mark, Amanda Rose Riley, Jackson Pines, Wayne Olivieri, Wyldlife, Roulette, Traffic on Washington, The Grip Weeds, Roadside Graves, Reality Suite, Makin Waves Song of the Week and Makin Waves Fest
Have you seen Playing for Change's spine-rattling, global-trekking all-star covers of The Band's "The Weight," The Dead's "Ripple," The Doobies' "Listen to the Music," and Bill Withers' "Lean on Me"? Well, Asbury Park has its own variation with Telegraph Hill Records' rising star-studded version of Bruce Sprinsteen's "Waitin' on a Sunny Day." The fundraiser for Asbury Park Music Foundation features performances by Patty C, Jarod Clemons, Matt Cook, Tara Dente, Rachel Ana Dobken, Luke Dowler, Kevin Duggan, Brian Erickson, Natalie Farrell, Matt Fernicola, Owen Flanagan, Ryan Gregg, Zach Kornhauser, Ray Laux, Bobby Mahoney, Mark Masefield, Jessie McCormick, Ashley McKinley, Chad Morales, Lou Panico, Avery Rose, Nick Ryan, Zack Sandler, Dillon Schindler, Deseree Spinks, Mike Squillace, Marc Tappan, Taylor Tote, Max Viner and Telegraph Hill head Joe Pomarico. 
If you didn't check out the stream above, I highly recommend you do. So does Bruce who Tweeted, "Thanks to the local musicians of Asbury Park for their lovely version of 'Waitin' on a Sunny Day.' God bless everyone and stay safe." The video and single, as well as an immediately preceding virtual Telegraph Hill concert, have raised more than $1,000 for AMPF, which provides music education to underserved youth while preserving and promoting Asbury Park's rich music history and scene. 
A few of the "Sunny Day" folks will play Highlands Parkfest, an annual event in several public parks throughout Highlands organized by Telegraph Hill, their pal Cranston Dean, and the Borough of Highlands, but like most things in life these days, it will have to be virtual. "Sunny Day" contributors Patty C, Jarod Clemons, Avery Rose and Taylor Tote will be joined by Ser Xerri & Ian Gray, Mr. Tickle Hands, Dave and Tom, Conor Quigley, Alix Gagliastro, Deirdre Forrest, Ross Owen, Boots, Quinton Smith, Martin Howth, Clutch Cabin, and the Heartstrings Students of Jersey Shore legend Jody Joseph Bongiovi, cousin to Jon Bon. A music education nonprofit dedicated to underserved children, Heartstrings will benefit from Highlands Parkfest, along with United Way of Monmouth and Ocean Counties. Funds will help Heartstrings provide virtual music education this summer. Check out Parkfest at 10 a.m. on May 16 at facebook.com/events/276388313348837/.  
The pandemic forced the annual Hub City Music Fest benefit for the New Brunswick-based Elijah's Promise food justice and empowerment program to be postponed until September, but festival founder Michael Steinbreck picked up the torch and ran with it by producing the month-long virtual Iguana Music Concert Series to benefit EP at facebook.com/groups/IguanaMusicConcerts/. The upcoming performance schedule will continue at 7 p.m. May 14 with Adam Bernstein; May 15, Rebecca Turner; May 16, Sharief in Burgandy; May 17, Ray Anderson; May 18, Eric Squindo; May 19, Laurence Hart; May 20, Deena Shoskes; May 21, Silent Knight; May 22, Greg DiGesu & Dave Dreiwitz; May 23, Sandy Bell; May 24, Tommy Strazza; May 25, Brian Curry; May 26, Brenyama; May 27, Kevin Hill; May 28, Julia Mark; May 29, Danielle Illario; May 30, Chris Harford, and from noon to 8 p.m. on May 31, an all-star finale. Previously, the concert series featured Naughty Clouds, Collin Rocker, Matt Witte, Arne Wendt, Sonofdov, Arlan Feiles, Barbecue Bob, Renee Maskin, Peter Horvath, Mike Montrey & Jen Augustine, Mike Noordzy, Natural Harmonix Duo, and Robin Renee.
Speaking of Arlan Feiles, the Jersey Shore soul-folk singer-songwriter has been the hero of virtual music during the pandemic performing every night, mostly at Ellen Berman's Corona Classic Concert Series at facebook.com/groups/CoronaClassicConcerts/. A beautifully stirring mix between the protest music of 1960s soul and folk, the earnest, passionate lyrical multi-instrumentation of Jackson Browne, and the homegrown grit of Bruce Springsteen, Arlan was to continue touring the world in support of his latest LP, "What Kind of World?," the Staple Singers-meets-Marvin Gaye-like title track of which was one of the best songs of 2019. Rather than let the pandemic ground him, he's taken to FB nightly with a batch of his mighty originals, as well as an arsenal of spirited covers. Your soul will thank you if you check him out.  
Meanwhile, Ellen Berman's impressive Corona Classic Concert Series, which is just $3,000 shy of its goal to raise $25,000 for the pandemic-devastated music community, will continue nightly. Upcoming performances include Ari Hest, 9 p.m. May 14; James Dalton, 5 p.m., and Suzanna Choffel, 9 p.m. May 15; Petty Chavez, 5 p.m., and Jay Thomas, 9 p.m. May 16; Lance Scott Greene, 5 p.m., and Grey Revell, 9 p.m. May 17; Jack Grace, 9 p.m. May 19; Alec Gross, 9 p.m., May 20; Michael Falzarano, 9 p.m. May 21; Glenn & Oria Alexander, 9 p.m. May 22; Bobby Mahoney, 9 p.m. May 23; Reverend Freakchild, 9 p.m. May 24; Louise Griffin, 9 p.m. May 30, and Arlan, 3 p.m. May 31. All donations go to the performers.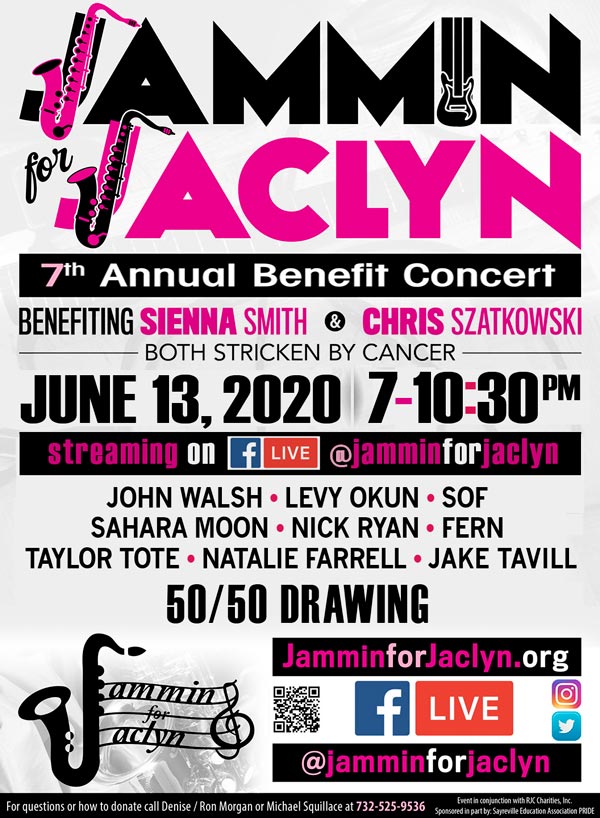 Jammin' for Jaclyn is another annual fundraiser that has been forced to go virtual. Organized by sought-after saxophonist Michael Squillance in memory of his sister, Jammin' for Jaclyn once again will support two cancer patients in meeting their needs. This year, that will be Sienna Smith and Chris Szatkowski. Performing on their behalf from 7:30 to 10 p.m. on June 13 on Facebook Live will be John Walsh, Levy Okun, SOF, Sahara Moon, Nick Ryan, Fern, Taylor Tote, Natalie Farrell and Jake Tavill. Festivities will include a virtual 50/50.
Jersey Rock Home Showcase brings a virtual version of 95.9 The Rat's celebration of the local scene to facebook.com/959therat/. Performing at 9 p.m. will be Matt O'Ree & Eryn, May 14; Nick Ryan and the Mess, May 21; Joe P of Deal Casino, May 28; Kodiak, June 4, and John Easdale of Dramarama, June 11. Tune into "Jersey Rock" with Tom Hanley at 11:30 p.m. Tuesdays through Thursdays on the Rat for chats with the performers and much more. 
To celebrate its Rock for the Nurses 10-Year Anniversary Fundraiser, Barbara Forfar Nursing Scholarship Fund welcomes veteran Jersey bands Kinderhook and Trigger on Aug. 30 at River Rock Restaurant & Marina Bar in Brick. Commencing 10 a.m., the eight-hour fundraiser also will feature Ned Ryerson Band, Matt Noffsinger, Joe Faronea, Jimi DeLucci, 3 Daze 'Til Sunday, Ronnie Brooks and special guests. The fundraiser will include an all-you can-eat buffet, cash bar, games, prizes, giveaways and more for the entire family. Breakfast also will be available for purchase until noon. Attendees will receive a $5 breakfast coupon at check-in with paid admission. Tickets are $25, free for kids 12 and younger.
Just as Jersey Shore singer-songwriter Tom Costello was about to turn the world onto his sophomore EP, "The Road," COVID-19 was turned onto the world. The six-song collection follows a five-song 2018 debut, "Long Time Coming," which also was recorded, mixed and mastered by Joe Dell'Aquilla at his Exeter Recording Studio in Freehold. I like the Paul Simon/James Taylor vibe of the title track, the soulful opener "At Peace," and the rootsy edge of the standout "Fighting in Philly." Look for Tom to conquer the world once the pandemic is over.
Veteran Jersey Shore singer-songwriter Christian Beach has a new EP, "DoubleLife." In support of it, he's released two singles, the rootsy "Food on the Table" and the dreamy "Highway Sun," both of which have videos. The latter is the latest clip, which was shot on an iPhone by Christian at home during the state lockdown, while the other is a lyric video. Before going solo, the troubadour played in such local bands as Slave of Id, Artists That Kill and Ton of Bricks.
Jersey City alt-popster Steven Wright-Mark has released an EP, "Wake Up!," that follows three previous solo outings, one of which was helmed by Posies producer Don Fleming. In between, he played in country rocker Jessica Lynn's band, appearing in her two PBS specials and on her five world tours, including spots opening for ZZ Top, Keith Urban and Brad Paisley. Having once been named No. 1 New York City artist by ReverbNation, Steven got the itch to fly solo again. While that flight has been grounded by the pandemic, he hopes to take off again soon with his sweet but edgy four-song outing. 
Singer-songwriter Amanda Rose Riley has dropped her latest EP, the seven-song "Better," her fifth release since 2016. She's now on a mission to make the world a better place from her bedroom by going on a virtual tour with geographically focused sets that will span her blossoming career, offer choice covers, while promoting her latest work and second studio effort. The title track and first single is a message for the times, Amanda said. 
"We can always be better as people, as a society, and at whatever it is that we do," she said. 
Jersey Shore roots duo Jackson Pines often perform Woody Guthrie and other historic folk songs in Mid-Atlantic schools, teaching about the great roots of American music, much of which has been featured on Smithsonian Folkways Records. So it's very fitting that their latest single, "Half Light," is included on the Folkadelphia Co-mission Compilation, an artist relief project founded by Folkways' Fred Knettel, also a DJ on Philly's WXPN 88.5. The sweet but somber "Half Light" is the band's first release since early 2019. The new project also features singer-songwriters Mike Frazier and Sam Amidon, among many other participants. Find out more about the project at https://www.folkadelphia.com/.
Band mates on and off since their high school days, scene veterans Wayne Olivieri and Gar Francis of The New Bardots, Oliver Wylde and Rockids have teamed up once again to pen the pandemic anthem "We're in this Together," which is available for free from Gar's Bongo Boy Records. The feel-good song is dedicated to those on the front lines of the war against COVID-19. Joined by bassist Dan Skye and recorded at his SkyLab Studios in Princeton, "Together" will make for some fist-pumping fun at Wayne's home-away-from-home, the Stone Pony, when it reopens. 
Jersey City punks WYLDLIFE have a new album, "Year of the Snake," out on Steven Van Zandt's Wicked Cool Records. The 11-song collection is the band's fourth LP since their 2011 self-titled debut. The latest video for "Kiss and Tell" was lensed by Randy Slavin (Foo Fighters, Alabama Shakes). With guitarist Sam Allen, the album was co-produced by Geoff Sanoff (Bruce Springsteen, Fountains of Wayne, Dashboard Confessional) at Steven's Renegade Studios in New York City. If it doesn't get canceled, WYLDLIFE hopefully will play Aug. 21 at Elsewhere in Brooklyn. 
Hard rockers Roulette recently dropped a single and video for the Paramour-like "Cataclysm" from their forthcoming LP, "The Void." The clip was shot at April Centrone's fantastic artspace 10PRL in Long Branch. More singles are on the way until the culmination of the LP, the band says. In the meantime, enjoy the soaring power of "Cataclysm." 
Sayreville War Memorial High School has a really cool music industry and technology class whose students also make up the band Traffic on Washington, a nod to the road on which the school is located. The band will drop their debut single, a cover of The Alternate Routes' "Nothing More," on May 15, while readying an EPK for future classes. Alum Jon Bon Jovi, whose "Who Says You Can't Go Home" is in TOW's repertoire, would be proud! 
Psyche-pop perennials The Grip Weeds come together with their live stay-at-home version of The Monkees' classic "For Pete's Sake." The Highland Park-based foursome build on the original with their brand of melody and power, giving the song a relevancy underscored by a lyrical message of peace and love, such as the line "we will make the world shine," offered now by The Grip Weeds at a time when the world needs it most.
"We're all going through a very weird time," guitarist Kristin Pinell Reil said. "The Grip Weeds are in the middle of recording an album, we had to cancel shows and haven't seen each other in weeks. It was fun for us to jam together this way and do a song for our fans that captures the underlying sentiment of how much we all care about and need each other."
The socially distanced video recorded in three different home studios is really entertaining, making use of the Monkees-beloved split screen film technique in the same fun way that they did. The track will be included on the aforementioned album, which will be released in the near future on Jem Records, also the home of fellow great Highland Park-based act The Anderson Council, as well as Jersey Shore faves The Weeklings. Until then, The Grip Weeds suggest "wash your hands, wear a mask, and for pete's sake, stay at home!"
Veteran alt-roots rockers Roadside Graves have dropped their second single, "I Cried," from their long-awaited next album, "That's Why We're Running Away," which drops May 22 on New Brunswick-originated Don Giovanni Records, also the home of fellow Jersey acts Screaming Females and Mikey Erg. The tasty Roy Oribsonesque track follows an achingly edgy tune entitled "Sit So Close" and precedes "I Wasted My Life," which will coincide with the release of the album. Together 20 years, Roadside Graves pursue a song cycle with "That's Why" about the struggle to accept defeat and loss honestly, peacefully and comfortably within the tiny space between "I want to leave" and "I want to believe." 
Reality Suite will release the energetic 12-track "Live at Alpha Wave Studios" LP on May 19. Inspired by such great live '70s albums as "Kiss Alive," "Frampton Comes Alive" and "Cheap Trick at Budokan," the North Haledon-based female-fronted hard-rock band hosted an intimate listening party at Alpha Wave Studios in East Hanover in which they performed their "Awaken (Deluxe)" and "Skinn" LPs during an eight-camera show how that was webcast around the world. A thrill for the 60 assembled and those who watched online, the energy was so great, the band opted to release the evening as a live LP while on hiatus during the pandemic. 
Makin Waves Fest 2020 is canceled, but I hope you will support the intended beneficiaries -- Asbury Park Music Foundation, Food for Thought and Jersey Shore Food Not Bombs -- and check out all the artists who were scheduled to perform because many of them are doing so online. They included Abbey Road All Stars, The Clydes, DJ Ronny Raze, VSSLS, Tight Lipped, 19DRT, The Black Clouds, Sandy Mack & Friends, Cold Weather Company, The Extensions and Daughter Vision. 
This will be the last-ever Scene Report, which will be replaced next week with an expansion of the Makin Waves Song of the Week. ThePenguinRocks.com and its "Radio Jersey" show will continue to spin the Song of the Week, including an artist feature on Radio Jersey's "Makin Waves Report," but starting next week with Jersey City rapper Murdock, it also will be a more extensive weekly feature here on NewJerseyStage.com. Artists can submit coverage requests to makinwaves64@yahoo.com one month in advance for the Song of the Week, which will aim to premiere weekly a single or video on the day of release. If booked, artists will need to send by the Sunday before release: an MP3, unlisted YouTube link, unlisted music stream if possible, preferred artist hyperlink, hi-res jpegs of the artist and project with hyperlinked photo credits, and details about the single, video, and a related EP or LP, including plans and credits for them. 
Makin Waves will continue to feature a Record of the Week, which will be expanded with coverage on ThePenguinRocks.com, as well as a monthly Record Roundup and interview in New Jersey Stage digital magazine. That interview also will be featured at the beginning of the month at NewJerseyStage.com, TheAquarian.com, and hopefully again soon in The Aquarian Weekly when it returns to print. While the Song of the Week will coincide with a single or video release date, the rest of Makin Waves on NewJerseyStage.com will move to Fridays from Thursdays. The Record of the Week books up about two months' in advance, but you can be considered by submitting a request with enough notice to makinwaves64@yahoo.com. If accepted, requirements then will be provided. Be Well, Stay Safe & Screw Trump!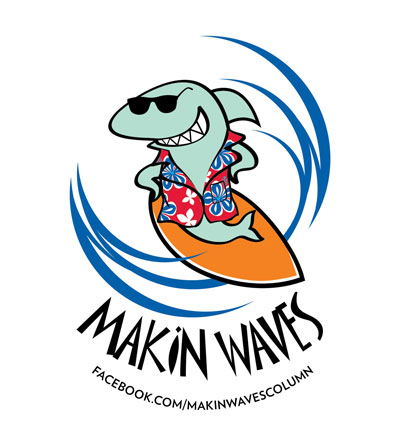 Bob Makin is a reporter for MyCentralJersey.com and the former managing editor of The Aquarian Weekly, which launched this column in 1988. Contact him via email and like Makin Waves on Facebook.