By Spotlight Central
originally published: 05/08/2020
Keith Paluso is a Southern soul, folk, and Americana singer/songwriter from the Memphis, Tennessee area who, after appearing on NBC-TV's The Voice, became the lead singer of the legendary jazz-rock group, Blood, Sweat and Tears.
Spotlight Central recently caught up with Paluso in order to find out more about his background, his days on The Voice, his work with Blood, Sweat and Tears, and what he's been up to during the current suspension of live concerts.
Spotlight Central: Do you come from a musical family?
Keith Paluso: Well, sort of. My brother, Keegan, and I grew up playing music together, but nobody else in our family really did. He and I started playing music together in middle school. While we were growing up, he was in the marching band, so there were kids over at our house all the time. We always had a huge jam going on almost every night at our place, which was super fun.
---
The article continues after this ad
---
---
Spotlight Central: Growing up, what kind of music did you guys listen to?
Keith Paluso: A little bit of everything. When we started doing music, my brother played the drums and I played the guitar and sang. We started off listening to rock music, but as this revolving door of music started coming into our house, we began to listen to jazz and funk, and even ended up playing a lot of Southern rock and funk together.
Spotlight Central: Is it true you were a fan of artists like Otis Redding and Aretha Franklin?
Keith Paluso: Absolutely. As far as singers go, I think all musicians tend to pick a few people they want to emulate. I never had any kind of vocal lessons or anything like that, so I guess I learned what little I know from listening to the people I liked and trying to sound like them.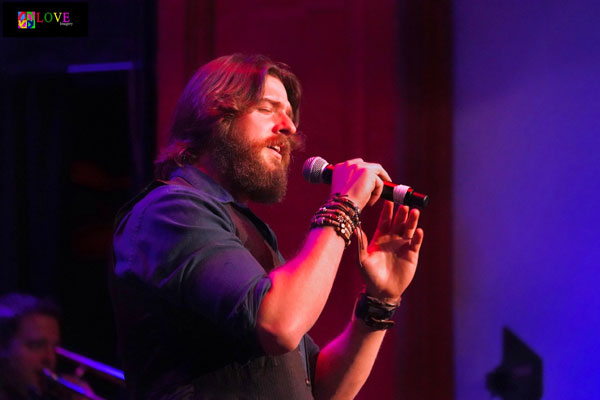 Spotlight Central: When did you first start playing the guitar?
Keith Paluso: I was probably about twelve. I picked the guitar by default, actually. Our family lived in a rural area north of Memphis. My brother really wanted a drum kit for Christmas, so we had a situation where, "Ok, we're gonna get a drum kit, but we have this old guitar…" My brother got the drum kit, and even though I probably wanted to play something weird, I got the guitar, so that's what I stuck with.
Spotlight Central: After high school, you went to the University of Tennessee where you earned a degree in biology and chemistry. Then you became a Tennessee park ranger and, as we're told, even lived inside a state park?
Keith Paluso: I lived inside several parks! I wasn't planning to become a park ranger until about a month before I graduated college. I was doing a lot of research at a park called Reelfoot Lake — it's a 30,000 acre swamp in Northwest Tennessee — and I was doing a study there on snakes. Since I worked in the park, I was allowed to live on site.
Spotlight Central: We understand that, in addition to working and living in the park, you and your wife also rehabilitated animals, and that you ended up living with an opossum that slept on your couch for two years.
Keith Paluso: That's correct. We got involved in wildlife rehabilitation at Reelfoot Lake, mostly with large birds of prey; if they were injured, we'd nurse them back to health and release them. But we took care of various non-releasable animals, as well; we would travel around with some of them and show them to school children. And when I was stationed at David Crockett State Park, we were raising an opossum that was unreleasable — his name was Tim — he slept on our couch, and we'd use him for school programs.
Spotlight Central: That's pretty cool! We read that you said you "put music on the back burner" while you were a park ranger, but after your son was born, you were quoted as saying, "If you like something, life's too short not to go for it." Was the birth of your son, in some way, a motivating factor for you to try out for TV's The Voice?
Keith Paluso: It was a huge part of it. A lot of things were happening for me at around the same time. While we were expecting our son, I was stationed at David Crockett State Park — a park that gets about 750,000 visitors a year — where I managed about 25 people in the park, in addition to being the main first responder — the main police, fire, and medical responder. I was also on our statewide critical incident team, so if there was ever a critical event in the park, I would be the one who was called out to handle it. As you can imagine, I was extremely busy, and getting extremely burned out.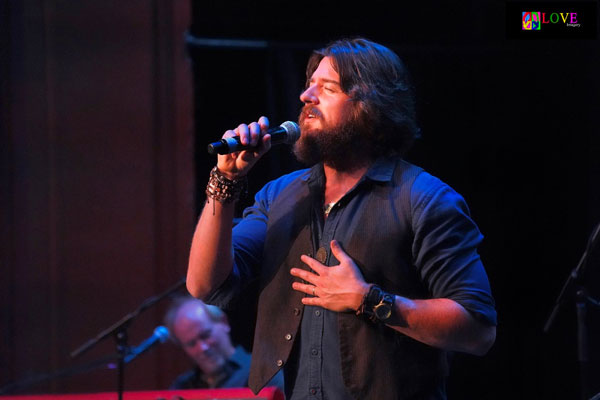 So we were expecting our little boy and I felt like I was working my life away and I wasn't going to be able to spend enough time with my family. It was at that point my wife said, "You haven't played guitar in ten years. You should start by making some cover song videos to give yourself a creative outlet to your job."
I got ideas to do about twenty cover songs, which I recorded in my bedroom — singing and playing them on an acoustic guitar — and I posted them on YouTube. Not long after that, I got an email from somebody who followed my YouTube channel saying "Hey, man, I think you should audition for The Voice," and I said, "I guess I'll go try out — it couldn't hurt," and that's when I tried out for the show.
Spotlight Central: Do you have any special memories of your time on The Voice?
Keith Paluso: That whole experience was amazing for me! If you want to follow music — or anything else you want to do — there's not just one step that's involved that you have to work on. Take playing guitar, for example. When people say to me, "Oh, I want to learn guitar," that's something you never stop — you start now, and then you just keep doing it for the rest of your life. So when I showed up at The Voice, I was excited that that was how I was gonna start.
And it turned out to be a great opportunity for me to learn from other people. Beyond everything you get from the coaches, you also learn from your fellow contestants. You're stuck in a hotel — you can't go anywhere; you can't tell anybody where you are — and you're sequestered with all of these other contestants for months. There's nothing to do but get to know each other and learn. Most of the people on the show — except for me — were full-time musicians; they had been playing for years — but for someone who had just been singing in a truck and who was just getting started in the music business, it was a great eye-opener.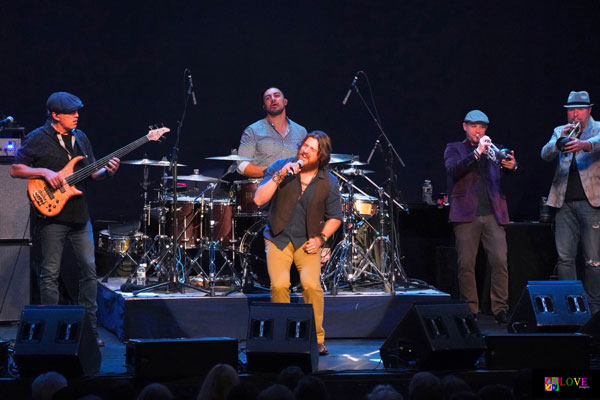 Spotlight Central: What was it like working with people like Kelly Clarkson, Blake Shelton, and Adam Levine on The Voice?
Keith Peluso: I started out with Blake, worked with Adam briefly, and then had Kelly as a coach, and everybody was great. But I would say that with a situation like The Voice, the vast majority of your work is going to be done by you and your fellow contestants. For example, if you watch an episode that I was on, Dave Fenley and I — we're really good friends now and play shows together all the time — put together the entire arrangement of George Jones' "One Woman Man" in a Staples parking lot.
Spotlight Central: Seriously?
Keith Paluso: We kept getting thrown out of our hotel for noise complaints! And it was so gracious on Dave's part, because I'm a big guy with a Southern accent and a beard, so everybody thought I was going to be a country artist, but I wasn't especially interested in doing country music. Dave is a strong country artist and he knew that if we did George Jones' version of that song, it would be great for him, but not good at all for me. So, together, we arranged the song so that it would be good for both of us. And even though that's a show where they can try to make it look like the contestants are at each other's throats, most of us really just wanted to see each other succeed.
Spotlight Central: And speaking of succeeding, you're currently the lead singer of one of our all-time favorite bands, Blood, Sweat and Tears. What was it like getting that job?
Keith Paluso: Ah, surreal! I mean, I think about it in the same way as The Voice, because that's the second time in my short musical career where I've gotten a phone call that I thought was totally gonna be a scam but turned out to be legit!
One day, I just got a call from Larry Dorr — Blood, Sweat and Tears' manager — and he said, "I saw you on The Voice. Would you be interested in singing for Blood, Sweat and Tears?" and I said, "Yeah, I guess we can try it out" — but it started out being incredibly difficult.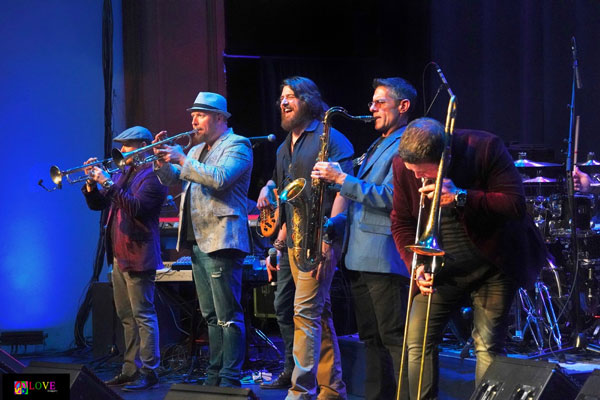 First of all, the guys in the band are just monsters — they're amazing. Secondly, there are no rehearsals whatsoever. My first show was scheduled for May 24 of last year in Fort Lauderdale at the Great American Beach Party in front of about 8,000 people. I showed up that morning with all the other guys in the band, did the sound check, and played my first show. And, really, the entire first month was extremely challenging — getting to know what to do. Even now, I'm still learning — as a singer, you're always learning what you can and can't do with the material.
Spotlight Central: Blood, Sweat and Tears has such a great catalog of songs including "You've Made Me So Very Happy," "Spinning Wheel," and so many more. Do you have a favorite that you enjoy performing?
Keith Paluso: I really like "I Love You More than You'll Ever Know." Everyone I've ever heard do that song has put his or her own spin on it. I'm kind of partial to Donny Hathaway's version; I just love it — but Amy Winehouse did an incredible version, too.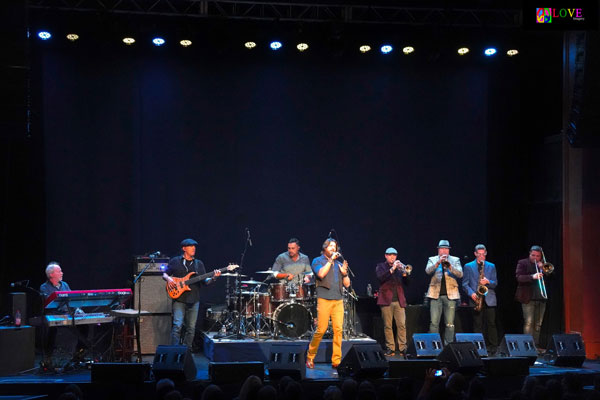 Spotlight Central: Since there aren't any BS&T concerts going on right now, what have you been up to musically?
Keith Paluso: Lately, I've been spending a lot of my time recording, but when I was on The Voice, I met a guy named Brent Morgan. He's a musician who appears on a live-streaming service called YouNow — and there's a really interesting community of musicians on there. So during the time I've been off from Blood, Sweat and Tears, in addition to recording a solo album, I also started a songwriting group on YouNow.
Spotlight Central: Can people who would like to experience this do so by going to younow.com?
Keith Paluso: Sure — anyone can watch the live stream. And for a musician, it's an interesting shift of gears when you're used to playing live shows because, really, you're just sitting there performing in front of a webcam.
Spotlight Central: With everything that's going on in the world today, is there anything you'd like to comment on?
Keith Paluso: I feel that, more than ever before, these days we're constantly being pushed to consume things — to buy things. But I think this could be a time where it would be better for people to begin to create their own things. So if there's something people want to learn how to do, or anything that they want to make, they ought to do that instead. In other words, they should just go out and learn something new.
Spotlight Central: Are you feeling optimistic about the future?
Keith Peluso: Oh, yeah, I'm totally optimistic! Things might be rough right now — in fact, they may be dire for some people — but I feel the situation we're in is already revealing to most of us the things in life that truly matter.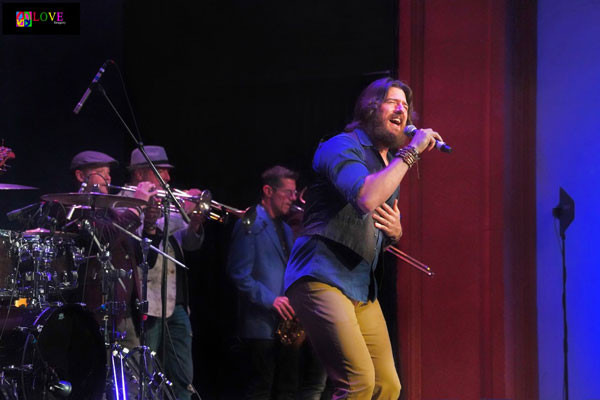 To learn more about Keith Paluso, please go to keithpaluso.com. For more information on Blood, Sweat and Tears, please click on bloodsweatandtears.com.