originally published: 05/07/2020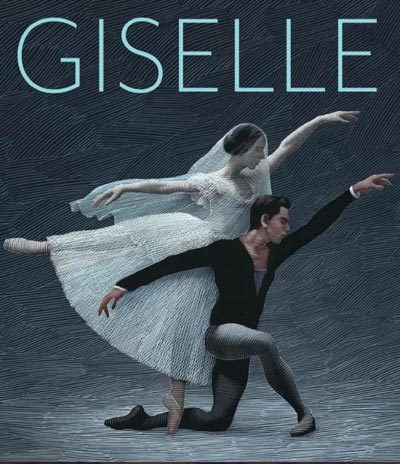 American Repertory Ballet has put an excerpt from the company's performance of Giselle online.  First presented in France, 1841, this ballet in two acts remains a beloved classic due to its exquisite beauty and transcendent themes of love and forgiveness. 
The company's full-length production of Giselle, which premiered February 14, 2020, is a unique collaboration between renowned designers and an artistic team of Cuban and American stagers, including Ana Novoa, Aydmara Cabrera, José Manuel Carreño, and Ian Hussey. Every detail – from tulle skirts to thatched roofs and nuanced pantomime – has been developed from the vision and heritage these artists possess. Each moment is steeped in legacy while giving dancers the knowledge and freedom to make it their own. 
"Being able to work with José Manuel Carreño was a childhood dream come true. I grew up watching his videos and I identified with him (a Latino male ballet dancer). He was the main driving force as to why I decided to pursue a career in ballet," said Ruben Rascon, ARB Dancer.
"This was one of the most incredible experiences of my life," added Aldeir Monteiro, ARB Dancer.
Due to the COVID-19 pandemic, ARB has been unable to present Giselle at McCarter Theatre as planned. But the company hopes that you enjoy these excerpts, a montage of footage that were captured on February 16th at the New Brunswick Performing Arts Center, and consider making a donation in support of their artists. ARB is committed to paying their salaries during this time of crisis, even though they are unable to perform for you in-person.
---
The article continues after this ad
---
---
American Repertory Ballet's mission is to bring the joy, beauty, artistry and discipline of classical and contemporary dance to New Jersey and nationwide audiences and to dance students through artistic and educational programs. The organization comprises: the preeminent professional classical and contemporary ballet company in the state; Princeton Ballet School, one of the largest and most respected non-profit dance schools in the nation; and ARB's Access & Enrichment initiatives, including the acclaimed DANCE POWER program, the longest continuously running community and arts partnership in New Jersey. The performing company is a classical and contemporary ballet company committed to presenting ballets from the 19th and 20th centuries alongside new and existing works by choreographers from today. Founded in 1963, ARB's rich history of repertory includes established masterpieces by distinguished American choreographers such as George Balanchine, Gerald Arpino, Alvin Ailey, Paul Taylor and Twyla Tharp; cutting edge works by choreographers such as Val Caniparoli, Kirk Peterson, Dominique Dumais, Harrison McEldowney, Amy Seiwert, Susan Shields, Melissa Barak, Patrick Corbin, Trinette Singleton and ARB Resident Choreographer Mary Barton; and former Artistic Directors Dermot Burke, Marjorie Mussman, Septime Webre and Graham Lustig. ARB has been designated a "Major Arts Institution" by the New Jersey State Council on the Arts consistently for the past two decades, and has repeatedly been awarded a Citation of Excellence by the Council. ARB was voted the Jersey Arts People's Choice for "Favorite Dance Company" in 2008, 2011, 2012, and 2015-2018.