originally published: 05/06/2020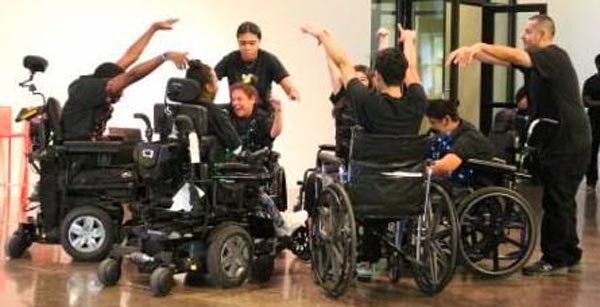 (FORT LEE NJ) --  The Nai-Ni Chen Dance Company has announced a first-time, long-distance collaboration with Dancing Wheels, our nation's first professional dance company led by wheelchair dance master, Mary Verdi Fletcher, to serve students with multiple disabilities at the A Harry Moore Laboratory School. The A Harry Moore School is one of a few public schools in New Jersey serving mostly low-income students with multiple disabilities who are difficult to be placed in a normal school environment.  
The Nai-Ni Chen Dance Company, in residence at the New Jersey City University, has been working with the students at A Harry Moore School for over 4 years. The program has won the 2018 Innovator Award from the NJ Arts Access Task Force. As the crisis hit and the school closed, New Jersey City University provided Zoom accounts to all the teachers, enabling many students to continue their lessons online. The Nai-Ni Chen Dance Company program, funded by the NJ State Council on the Arts, also migrated online. 
After several weeks of teaching students online, the Company realized that in cyberspace, distance is no longer a problem, and more teachers will bring multiple perspectives to the students. Nai-Ni Chen worked with Mary Verdi Fletcher at Dancing Wheels several years ago. She has choreographed a dance for Dancing Wheel's professional company, and knows that Dancing Wheels has a nationally renowned program for students on wheelchairs. Ms. Chen reached out to Mary and the two began a collaboration to bring the experience of Dancing Wheel to Jersey City through Zoom. The two companies will not only work on educational projects, but they are also exploring artistic collaboration to bring stronger awareness of the need for dance for people with disabilities.
Click here to support the Disability Dance Program.
About the Nai-Ni Chen Dance Company - Bridging the grace of Asian elegance and American dynamism, the Nai-Ni Chen Dance Company is a premier provider of innovative cultural experiences that reflect the inspiring hope and energy of the immigrant's journey. An Asian American company that celebrates the cross-cultural experience, the Company's productions naturally bring forth issues of identity, authenticity, and equality. 
---
The article continues after this ad
---
---
Choreographer/Dancer, Nai-Ni Chen is a unique choreographer whose work crosses many cultural boundaries. Each of her dances reflects her personal vision as an American artist with deep roots in the Asian culture, working on new dances influenced by cultures around the world, reaching beyond the perceived limitations of time, distance, and traditions.  
The company's accomplishments are evident in its extensive performance schedule and its powerful and elegant productions which have been presented at some of the most prestigious concert halls including the Joyce Theater in New York, the Kennedy Center, Lincoln Center, the. Kravis Center in Florida, and the New Jersey Performing Arts Center. The Company has been featured in a number of television specials on PBS/NJN, ABC, WNYC and others as well as eight international tours spanning the globe.
Commissioned dances from the company include Peach Flower Landscape for the Lincoln Center Institute, Qian Kun for the Joyce Theater Foundation, Unfolding for Dancing in the Streets, The Three Riddles of Turandot for New Jersey Ballet, Unconquered Warriors for Dancing Wheels, and Water and Tiger Lily for Ballet Met, The Way of Five – Fire for Townson University; Dragons on the Wall, a collaboration with Nobel Literature nominee Bei Dao and internationally acclaimed composer Joan La Barbara for the Alternate Roots Festival curated by Baraka Sele of New Jersey Performing Arts Center.
Advancing Dance Education, the Nai-Ni Chen Dance Company is currently in residence in New Jersey City University creating a new dance program for the university in collaboration with the Joffrey Ballet School as well as pioneering a program with the University's A Harry Moore Laboratory School on teaching dance to children with multiple disabilities. In addition the company has an award-winning Arts in Education residency programs in several urban school districts to bring culture and arts into educational settings Nai-Ni Chen's assembly and residency program, the Art of Chinese Dance for Chinese American heritage education has been selected by the Chinese Language Teachers Association for Primary and Secondary Schools as a new model for collaborative language and arts education.
All Nai-Ni Chen Dance Company programs are conducted in wheelchair accessible spaces and will provide assistive services such as sign language interpreting, audio description, and open captioning upon request*. An assistive listening system and large print programs are available at all times. Also, upon request, this publication can be made available in alternative formats such as Braille, Large Print, audiotape and/or computer disc. *Please give at least 10 business days notice.
---
About Dancing Wheels  - IF DANCE IS AN EXPRESSION OF THE HUMAN SPIRIT, then it is best expressed by people of all abilities. That is the fundamental belief behind the Dancing Wheels Company & School. Considered one of the premier arts and disabilities organizations in the U.S., Dancing Wheels is a professional, physically integrated dance company uniting the talents of dancers both with and without disabilities.
Mary Verdi-Fletcher, the first professional wheelchair dancer in the U.S., founded the Dancing Wheels Company in Cleveland in 1980. Born with spina bifida, Mary wanted to offer others with disabilities full and equal access into the world of dance. An almost unimaginable concept at the time, Mary's vision and passion have since helped to revolutionize our very notion of dance – as well as what defines a dancer.
Furthering the mission of inclusive arts and recreation opportunities for all, the School of Dancing Wheels proudly opened its doors in 1990. Its state-of-the-art studios were soon regarded as a world-class training center for dancers, choreographers and educators. That same year, a partnership with the Cleveland Ballet created the ground-breaking Cleveland Ballet Dancing Wheels which went on to delight audiences for nearly a decade.
To date, the Dancing Wheels Company's inspirational mission has touched over 5 million people through performances, school assemblies, residencies and workshops. Millions more have enjoyed their artistry via appearances on CNN, Good Morning America, and the TV special "Christopher Reeve: A Celebration of Hope."
Now part of Professional Flair, Inc., a 501(c) arts and disabilities organization, Dancing Wheels continues to travel the globe advocating disability awareness and entertaining 30,000-50,000 people each year. With a repertory of over 40 works from nationally-esteemed choreographers and a message of inclusion and accessibility, the Company continually expands the reach of artistic possibilities while celebrating the universal spirit of dance.