originally published: 04/25/2020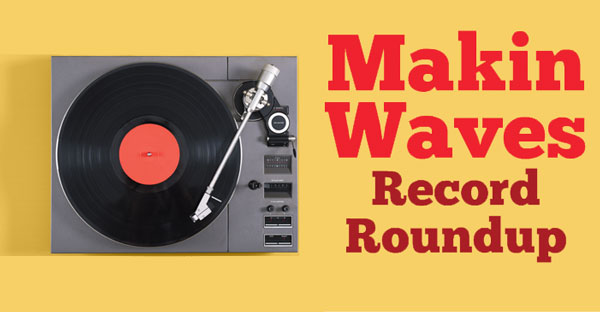 Following several solo releases, Dave Mooney's first EP with his relatively new band, Viewers Like You, also is a debut for North Jersey-based Mint 400 Records, home to their pals in The Extensions, The Clydes and the recently signed Fake Pockets. The six-song "Press Start," features a 1980s video game image on its cover, also pays homage to that decade with a variety of quirky sounds from former Paper Jets keyboards Kristen Leu. There are also brushes with The Beatles and Bruce Springsteen in Mooney's songwriting, as well as the playing of bassist Justin Franco and drummer Anthony Flora.
The collection opens with an eerie-sounding introduction on "Hereafter," a metaphysical debate that features one of my favorite percussive instruments, the vibraslap, put to well-timed, unnerving use throughout. The tune is about a sycophant who thrives on other people's talents and dreams. I love the line in the chorus, "I know you believe in a hereafter. I know that you're after something else," which is followed by a quirky Kristen keyboard part that sounds like the score to a Brat Pack movie.
Next up is "Beating My Ghost," a Beatlesque tune that surprisingly is even more so in the acoustic version featured in the band's latest video. In the clip, Dave and Justin play the tale of regret and self-doubt as an acoustic duo whose guitar interplay also is reminiscent of another childhood favorite of mine: singer-songwriter Jim Croce and his guitarist Maury Muehleisen. 
"Beating My Ghost" is the musical version of one of those moments in life when you wish you for a do-over, a fresh start, which perhaps inspired the EP's title. In both versions, a great high harmony is offered by Justin, who takes lead vocal duties on the EP's first single, "Back of the Line." That tasty track was made into a hysterical video that features the band's mammoth-sized manager, K.L. Martin of 3143 Artist Management, as a bouncer who won't let Dave into his gig. Since he's no David to K.L.'s Goliath, he has to trick his way in, just in time to play his guitar solo. Lensed by frequent Mooney videographer Jacob Paul, the well-paced antics of the clip are so much fun, making for the best vid yet by a Jersey band this year. 
The Mamas & the Papas-meet-The Loving Spoonful-like folk-pop of "Someone Holds Your Heart" is a treat, especially Dave's clever internal rhyme schemes about selling your soul to the devil. Unfortunately, the song peters out inconclusively, which doesn't do the rest of the impressive songwriting justice. 
More quirky '80s-like keyboards kick off "The Way Out," which is about emotional and relational escapism. The EP then closes with the acoustic folk-pop of "Can't Get Much Closer," a fresh-faced finale for the six-song effort that also showcases Dave's lyrical acumen. 
Like everyone in this age of infection, Dave Mooney and Viewers Like You don't have any live gigs on the horizon, but Dave frequently plays solo acoustic on Instagram @dmviewerslikeyou. Hopefully, he'll also get to play again as part of Abbey Road All Stars' 50th anniversary tribute to The Beatles' "Let It Be" LP on May 22 on The Asbury Rooftop.
Just as Deal Casino once again were out on the road, this time in support of their new EP, "Woof.," COVID-19 forced a tour cancellation, as was the case with many other bands around the world. But sly rock 'n' roll devils that they are, the Asbury Park-based outfit found a work around with their Quarantour, a series of live events streamed online.
Deal Casino and guest bands take merch orders, which have an option to donate to Feeding America for anyone who is struggling in this difficult time. 
Throughout Quarantour, as well as what hopefully will be a bevy of late summer and fall dates, Deal Casino pepper their sets of many live favorites with the five new "Woof." tracks. Helmed by the band and Makin Waves Producer of the Year Erik Kase Romero, "Woof." includes the tasty singles, "Chicken Head," another inventive mix of the band's patented avant pop in the spirit of Pink Floyd and Radiohead, and an expressive cover of the classic "My Way." I know that Frank Sinatra would have hated Deal Casino's version of "My Way" because he never would have been able to relate to what would have been to him odd sounds and time signatures, but I can't help thinking that Elvis, as well as the classic's composer, Paul Anka, would have loved it because it has so much soul. Not a James Brown or Aretha Franklin kind of gospel-inspired soul, but the kind that moves you to feel and makes you feel like you should move. Their version also makes you think because of the way those edgy, experimental sounds and staggered rhythms wrap themselves around Joe P.'s emotional yet mellow vocal. His is the most vulnerable-sounding expression of those cocky lyrics. 
The EP also features two fantastically odd tracks, "Just a Cow" and "Love Leech," as well as "Best Year," a brooding account of uncertainty. I love the opening lines, "I live a block from the ocean, but I never call it the beach … She'll never who she is, but everyone else knows her name." The song is one of the best of the year so far, and the EP holds up nicely among Deal Casino's strong and ever-growing catalog.
Fans of My Chemical Romance will enjoy the artsy emotionalism of prolific, prophetic North Jersey rocker Chucky Hugh, whose latest EP, "There's Nothing In This World Under Control," is an aptly titled release in the midst of a global pandemic. Unfortunately, the damn virus caused the cancellation of Chucky's record release party this weekend, but with two other EPs and an LP under his creative belt, this guy's a pro and will make it up to his large fan base.
The EP opens with a quasi-title track actually entitled "Undead" (just a slight mutation, and we're dealing with zombies here, folks). He belts the line that alludes to the LP with a combination of the sadness and rage that the world feels right now. It will be great to hear this opener live when Chucky's show opening for Michale Graves of The Misfits at Stanhope House is rescheduled.
Next up on the five-song EP is the single, "Sinner," a strong statement against organized religion, particularly its hypocrisy. A prettier but equally emotional acoustic version of "Sinner" closes the EP, which also features the dream-adelic breakup ballad "Above the Clouds" and a synth-ergetic cover of Billy Idol's "Rebel Yell." 
Except for drums, Chucky performs all of "Control" himself, even did the artwork for the EP, and once again worked with Montville-based producer-engineer Mike Lisa. I expect this EP to grow Chucky's fan base even larger and look forward to when he (and everyone else) can play out again. Hopefully his gig Aug. 14 at Midtown Arts Center in Harrisburg with Escape the Fate will remain intact.