originally published: 04/17/2020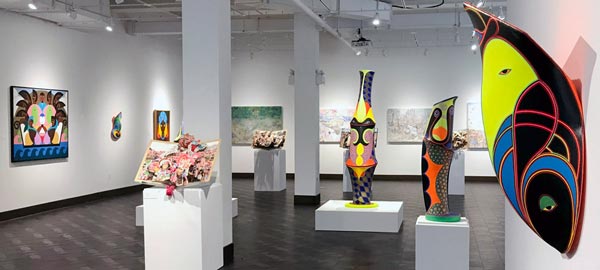 Long before we were all instructed to stay home, art curators everywhere had in place their exhibition schedules for the foreseeable future. And while the shutdown prevented galleries and museums from publicly presenting, in many cases, it didn't keep artists and curators from installing shows. But the complications were clear – opening receptions, where art lovers see the works and meet the creators, and the bricks-and-mortar exhibitions – were put on hold or canceled. 
But art presenters are a resourceful bunch, and people like Mary Salvante, Curator and Gallery and Exhibitions Program Director at Rowan University Art Gallery, have found ways to adapt. "Tracing Origins," Rowan's current exhibition, is fully installed at the Gallery and you can access wide-ranging exhibition information and images online. 
"Closing right before the exhibition was about to open was a crisis," Salvante said. But Rowan implemented other ways to present the works in the show and the artists who made them.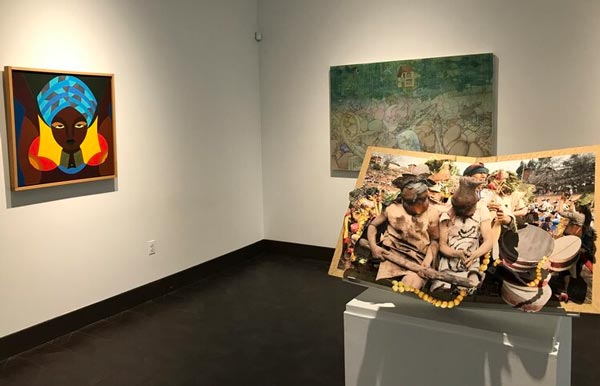 "Fortunately, we had time to put together a video and an exhibition guide with information about the individual artists," Salvante said. "Both pieces are now on our website."
Salvante believes that she and her team – Assistant Director Jillian Schley and Rowan students Nate Whyte, who created the soundtrack for the video, and LeAnn Carlson, who assembled the slideshow – tackled the situation well. 
But, she admits, it was a challenge. "This is a whole new world," she said. "We had to move quickly and there was a lot of uncertainty."
"My main concern about closing when we did is the impact on the artists."
Exhibiting work is a critical part of an artist's professional practice, Salvante pointed out. In addition to providing exposure to potential followers and collectors, exhibitions can also generate revenue for the artists, through selling work or professional services such as workshops and lectures. 
Another concern, Salvante told me, is about having to delay the start of a new Arts in Education initiative developed by Schley. "We partnered with a local high school to put a teaching artist – in this case, Claes Gabriel, one of the exhibition artists – in the classroom with the students and school art teacher," Salvante said.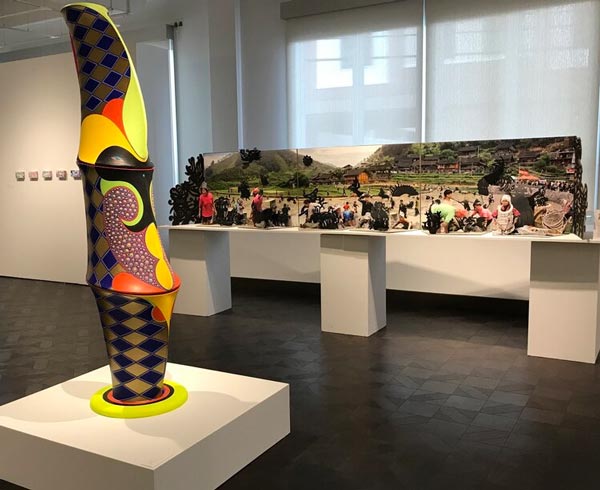 "Claes has experience working with students and he came up with a great project to teach them to build mask-like sculptures," she said. "We created schedules and identified a group of arts education students from Rowan to help facilitate the high school workshops.
"Plans were also in place for Colette and Hiro, the two other exhibition artists, to work in the classroom with the students. We were ready to go."
That has now been moved to the back burner.
"We hope to revisit the initiative when we get back into the Gallery," said Salvante.
A project like this has many benefits. Not only does it bring college-level programs to high school and upper-middle school students, but it creates an important connection outside the university. "And it's not only for art students," Salvante said, "it's for the broader community."
"We try to be pro-active with our outreach, and now we're doing that through our website and social media."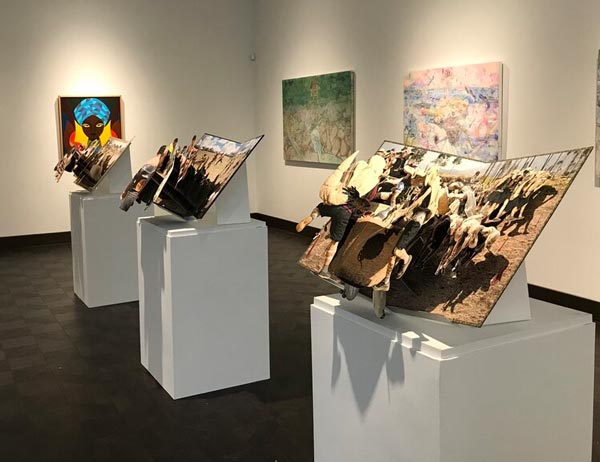 One of the next steps will be to offer virtual studio visits and chats with the three artists in the exhibition. "We already have interest from Rowan faculty about setting these up for their remote classes," she said.
This idea makes perfect sense with an exhibition like "Tracing Origins," which brings together three Philadelphia-based artists who create very different types of art – photography and paper engineering, painting, and sculpture – but are all inspired by their ancestral homelands and native cultures. 
Salvante explained the evolution of this exhibition. "The concept was as part of a series around autobiographically-driven artwork. In the fall, I curated two exhibitions where the artists used portraiture to shape the stories."
"With 'Tracing Origins', we took a broader direction," she continued. "It is autobiographical work based on ancestry and cultural narratives. And we were excited to feature these three artists. They are all local, but their stories have a global view.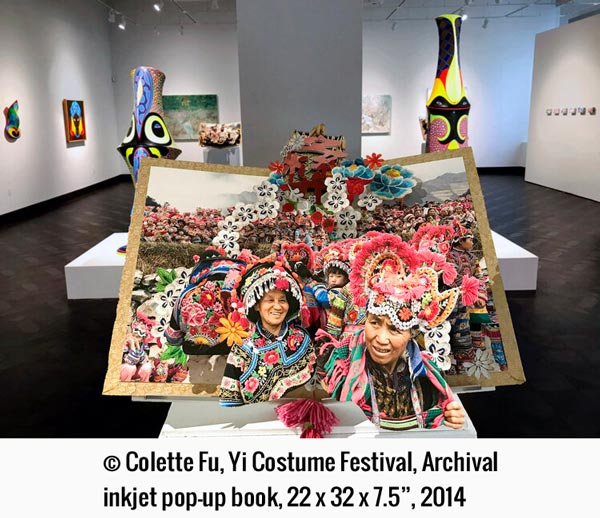 Colette Fu creates elaborate pop-up books that combine her own photography with complex paper engineering. Her work in the exhibition came from her photographic exploration of minority populations in the region of her mother's birthplace, China's Yunnan Province, as well as Xinjiang Province and the independent areas of Inner Mongolia and Guangxi.
Fu first traveled to China in the 1990s to teach English and stayed in Yunnan for three years. While there, she became interested in finding out more about China's minority groups and began to create art influenced by what she was learning. In 2008, Fu returned to Yunnan specifically to take photographs for a pop-up book based on the 25 ethnic minority groups there. Three of these books are in the exhibition.
"At first, this was a personal exploration," said Fu. But the more she discovered, the more she wanted to more widely share her new-found knowledge. As she states in her bio, "Many people inside China – and most people outside of the country – are unaware of this cultural richness."
The books are engaging, and I asked Fu if there is a story behind each one. "They tell multiple stories," she said. "Some are folktales, some are factual, but all come from the information I gathered. I just put them in my own perspective."
"My pop-up books are my way of depicting what I observe," she said, "and creating a greater awareness of the great diversity within China."
Fu has subsequently returned to China to extend her exploration outside of the Yunnan Province. Inspiration from recent trips to India, Morocco, and Kyrgyzstan has inspired her newer work.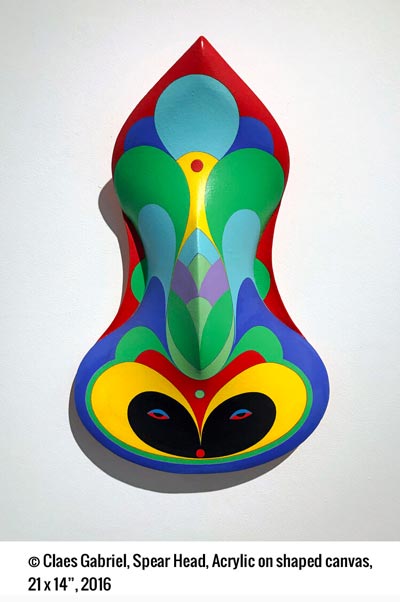 Claes Gabriel is originally from Port-au-Prince, Haiti, and came to the United States in 1989 following the death of his father Jacques Gabriel, who was a classically trained painter.
Gabriel cites his father as his first influence. "When you grow up watching someone enjoy something, you want that pleasure." 
Even now, Gabriel will sometimes redo one of his father's pieces. "It is a way of connecting with him," he said.
Gabriel's work blends Haitian cultural imagery with a contemporary style, citing modernists like Frank Stella and Sam Gilliam as influences and emphasizing the significance of the building component in his pieces. 
"My sculptures are half construction and half painting," he said. "I learned from my father that the making of a stretcher is as exciting as making the painting."
Some of Gabriel's pieces tell a story – something iconic or native to Haitian culture – while others result from experimentation.
"I love playing with things," he said. "I often turn a design into a human, which may go back to my love for African sculpture. As I'm working, I almost see the face popping out." 
At its heart, though, his work is strongly linked to his heritage. 
"Haiti is the art-maker," Gabriel said. "Imagination is alive there. Art is involved in everything."
"It has maintained much of its African culture, and is shrouded in mysticism, and ghosts, and voodoo. There is a sign at the airport that says, 'Welcome to Haiti: 70% Catholic, 30% Protestant, 100% Voodoo," he said.
"It makes my day every time I see it."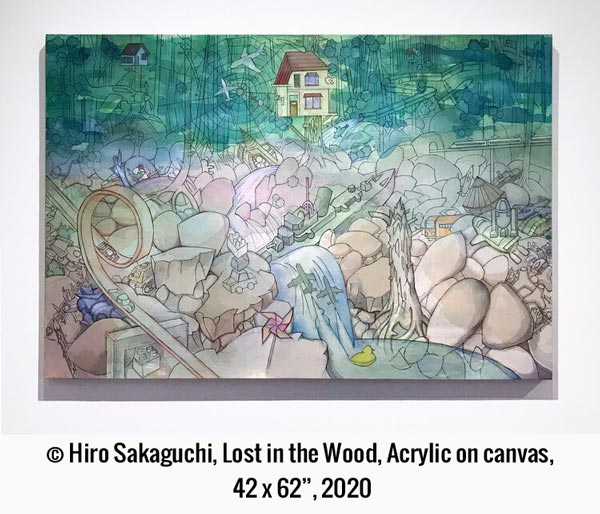 Hiro Sakaguchi was born in Nagano, Japan, and lived in Chiba City, near Tokyo, until he moved to the United States when he was 21. 
Sakaguchi's bio states that his artworks "reflect issues of environment, ecology, science, world history, peace and conflict, and popular culture." And while paintings and three-dimensional works reveal those themes, images from childhood and teenage recollections are also apparent, making his work somewhat autobiographical. 
"My work is based on memories of my early life," he said, "which are often triggered by things that happen in my current, everyday life."
His interest in art began at a young age.
"When I was 11 years old, I saw a Yuko Saeki retrospective at the Tokyo Modern Museum," said Sakaguchi, "and I was moved and very impressed by his art." 
That experience stayed with him and when the time came to select a course of study for high school, Sakaguchi chose painting. It was leaving Japan, though, that was his artistic turning point.
"I came to the United States as a young adult," he said, "My work has changed quite a bit since that time."
Years ago, I lived in Tokyo and observed that the culture there seems to equally embrace the old and the new – an ancient building sandwiched between a noodle shop and an electronics store, for example, or group of Japanese women in traditional clothing on the street beside a gaggle of teenage girls dressed as Disney princesses – and I asked Sakaguchi if he alludes to this in his work.
"When I am making a painting, that is not necessarily my intention," he said, "Japanese culture influences my work, but I draw more on my instincts."
Toys, games, and other objects from childhood find their way into Sakaguchi's work. "Building model kits was something I liked to do before I was started making art," he said. 
"And toys are interesting. They affect our society in a simple way."
Sakaguchi's works have a lot going on – realism and fantasy, symbolism, and meticulous detail – and I asked him if he has a vision of how a painting will look when he begins. 
"I don't envision a completed work when I start," he said. "I have a vague idea, and then I develop my thinking and make decisions as I go."
"It is only after I spend more and more time with a piece that my vision becomes clear."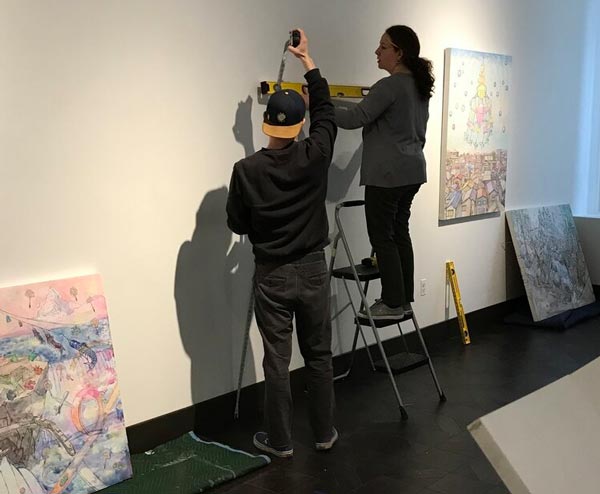 I know this is something of a bait-and-switch – hearing about these artists and their work while the exhibition remains closed. But, as I said, the Rowan University Art Gallery website is filled with rich content that allows for a deep exploration from the comfort of your own home.
Whether your art appreciation experience is live and in-person or virtual, it may still be just what you need right now. 
I think the curator said it best: "Right now, people are turning to the arts to help them navigate a very difficult time," said Salvante. 
"The arts are more than a distraction," she said, "they are enriching experiences that can be uplifting and renewing."
And maybe that will help to carry us through until the outside world reopens.