originally published: 03/31/2020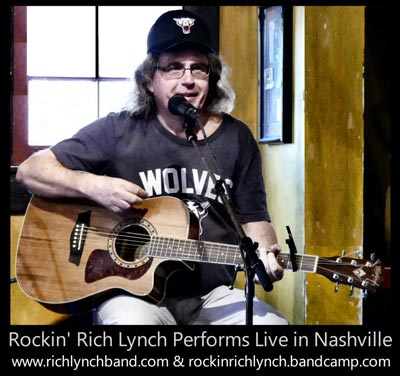 (NASHVILLE, TN) - While the world is literally shutting down all around him, Rockin' Rich Lynch, a New Jersey native who moved to Nashville, is discovering one small ray of hope during these troubling and confusing times - more listeners are discovering his songs.
"I guess with people having more time at home in front of their computers there's a greater chance of them finding me," Lynch said about the recent increase in sales of his music.
Lynch reports that sales are up over 500% on his retail sites in the last month compared to this time last year.
"My BandCamp site is doing particularly well," stated the Nashville based singer-songwriter. "I really love their interface because they provide a built in ability for fans to throw in a little more to show love and support to their favorite artists."
Why the sudden interest?
---
The article continues after this ad
---
---
"In addition to the nationwide quarantine I think my time has finally come. I've written some fairly strange and bizarre songs going back to when I first put pen to paper in the early 1980's," Lynch continued. "I think my take on things and my personal world view is now resonating with the masses like never before."
Take for example his 2015 track called "All Rights Reversed" produced in Ringwood, New Jersey by rock legend Steve Brown. The incendiary song predicted a time when much of our liberty would seemingly disappear - and shockingly - an unseen virus has severely limited this nation's freedom of movement and choice.
His 2017 alien-themed "Take Me To Your Liter" describes in sci-fi detail the many dark moods that come from complete isolation and alienation from everything you might love in the world.
Lynch's most recent single was the late fall 2019 release of "Wake Up" which demanded change to our political process calling for more access and openness when voting season rolls around.
"I certainly hope everything returns to normal and we can make it to the polls this November," Lynch continued. "When we do - I still want a receipt when I vote!"
Rich Lynch is a singer/songwriter who began his professional recording career in 2014 with "I Want to Live in a Dome". He has now released 20 critically acclaimed digital singles to the online marketplace and he is currently hard at work in Nashville on several new tracks that will see the light of day in 2020.