originally published: 03/30/2020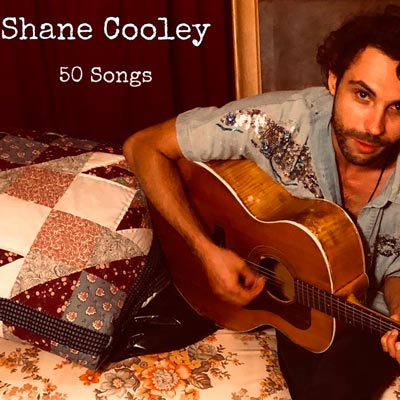 The pandemic pandemonium of 2020 has created an online yearning for musical healing, and Virginia-based singer/songwriter Shane Cooley has no shortage of it. In response to the COVID-19 quarantine, he will be trickle-releasing downloadable tracks from his new collection of solo material, titled 50 Songs.  Starting April 1, Cooley will be dropping new songs each week for download on his Bandcamp page.  With the weekly releases, he will also live-stream from his Facebook page on Wednesdays and Fridays at 8:00pm EST. The live-streams will feature a live performance of the 5 songs released that day, and the stories behind them.  
Shane Cooley's nuanced lyrics dance at the forefront of his eccentric spin on Americana/psychedlic/folk music.  "He is one hit away from radio stardom," wrote music critic Jeff Miller (Billboard Magazine).  Cooley has been writing, recording and performing his own music for nearly two decades, but most of the tunes on 50 Songs were penned in the past few years.  Hailing from rural Virginia, Cooley stays busy in the Austin, TX music scene, as well as on the road touring, both solo and with his band, Shane Cooley & the Midnight Girls. He has received accolades from Billboard, The Austin Chronicle, Americana Highways, and many more.  His songs have found their ways to the airwaves on TV shows such as NBC's "The Mysteries of Laura," and IFC's "The Minor Accomplishments of Jackie Woodman.".
Shane recently appeared on the TV show Songwriters Across Texas , and is currently being filmed for their upcoming documentary series.  He also recently published his first book of poetry, titled Porch Lion. 
"Even if it is finite, these are introspective times," said Cooley.  "I sincerely hope this music can provide some sort of comfort as we ride this out."  After the release of 50 Songs, Cooley's sights are set on his nex album, which he just finished recording with his band.  And..the show goes on.
---