originally published: 03/29/2020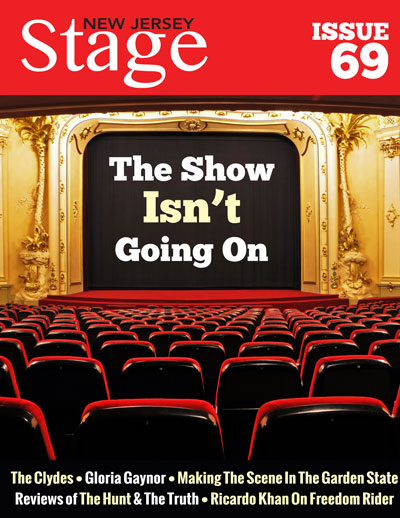 The latest issue of New Jersey Stage magazine has a cover which is all too familiar in today's world - an empty theatre with the words "The Show Isn't Going On." We debated about not putting out an issue during this period, but felt it was best to actually mark this period in time.  The issue is available for free at www.njartsmag.com
While most issues of NJ Stage Magazine focus on featuring artists performing in the area, this issue took a slightly different stance.  Our main event driven feature is on Freedom Rider, a play that was rescheduled from April to September and will kick off the season at Crossroads Theatre Company.  We interviewed Ricardo Khan about the play, which he conceived (casting four writers to develop the characters) and will direct.  This interview was included to give theatre fans a glimpse at what will be coming to the stage when shows begin again.
Music wise, we have interviews with Grammy winner and Newark native Gloria Gaynor and the indie rock band, The Clydes.  We also have reviews of the latest releases by Hair Magic, San Tropez, and Joshua Mark and Deal Casino's "Chicken Head" is our featured music video of the month.
Other articles include reviews of the films: The Hunt and The Truth; a look at how people can support and keep the arts alive in New Jersey; a look at the 2020 JerseyArts.com People's Choice Award winners; and an interview with Dewar MacLeod about his new book, Making The Scene In The Garden State.
Each issue of New Jersey Stage Magazine contains features that go beyond the traditional magazine with audio, video, and photo slideshows.  The magazine strives to present "the story behind the story" - a good example of that is with the feature on MacLeod's book in which videos take readers inside Thomas Edison's Menlo Park factory, Camden's RCA Victor Plant; hear from jazz legend Rudy Van Gelder; and see clips from the sixties dance show Disc-O-Teen and Asbury Park's Upstage Club.  Issues of the magazine are available for free at www.njartsmag.com and readable on any PC, tablet, or smartphone.
---