By Spotlight Central
originally published: 03/25/2020
Music lovers at Englewood, NJ's BergenPAC this March 8, 2020 evening are eagerly awaiting the start of a concert by famed jazz trumpeter Chris Botti.
Chris Botti was born in 1962 in Oregon, but spent several years of his childhood in Italy. His earliest musical influence was his mother, a classically trained pianist and piano teacher. He started to learn to play the trumpet at the age of nine, but only became serious with the instrument after hearing Miles Davis' recording of "My Funny Valentine."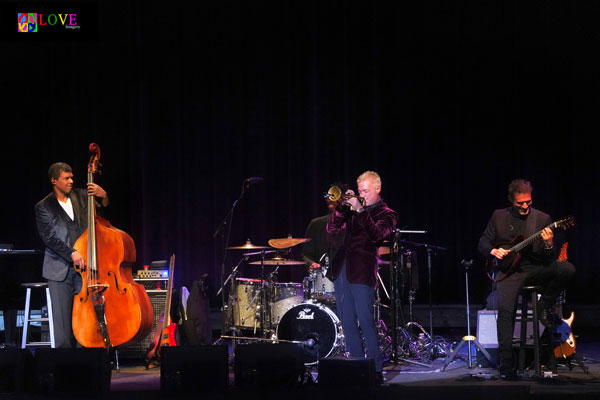 Following high school, Botti studied music at Indiana University, but left during his senior year to play as a sideman with the likes of Frank Sinatra and Buddy Rich. He spent a decade working with Paul Simon, and also accompanied such other great artists as Aretha Franklin, Bette Midler, Joni Mitchell, Roger Daltrey, and more.
After touring with Sting — whom he credits for changing the arc of his musical career — Botti went on to create over a dozen popular albums, in addition to several well-received PBS television specials, making him one of the world's foremost jazz musicians.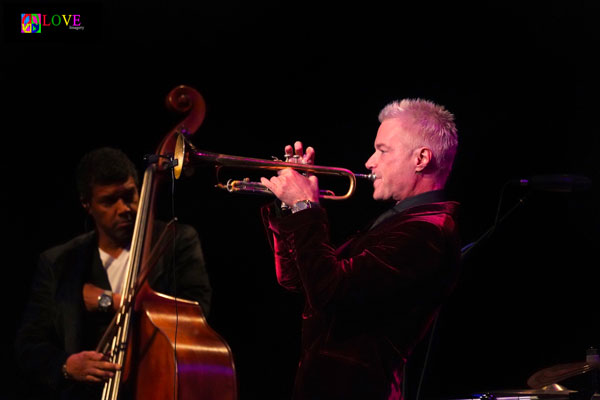 Inside the BergenPAC auditorium, the lights dim and the sound of a keyboard echoes over the audience as keyboardist Holger Marjamaa, bassist Reggie Hamilton, drummer Lee Pearson, guitarist Leonardo Amuedo, and violinist Caroline Campbell take the stage.
---
The article continues after this ad
---
---
Chris Botti makes his entrance to cheers and large applause. Opening his set with his mystical instrumental piece, "Sevdah," the glorious sound of Botti's trumpet rises above an ethereal-sounding synthesizer.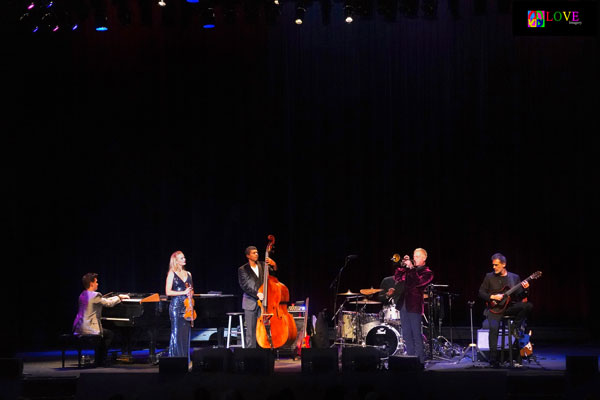 Caroline Campbell plays her violin with sweeping gestures, her melody line filled with wonder as it's accompanied by classical guitar, keyboard, upright bass, and drums.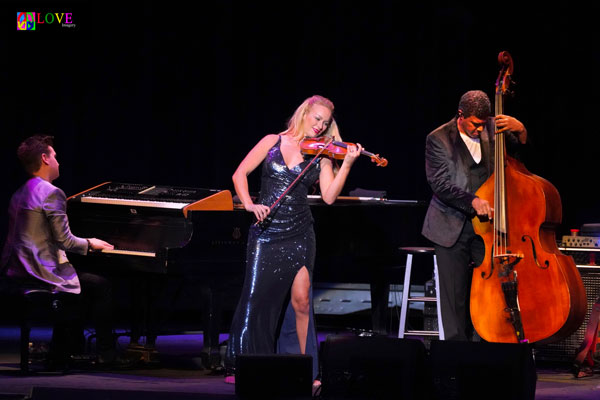 Botti rejoins the mix and he and Campbell take the melody and shoot it straight through the hearts of the crowd with a sound that sings to the soul. The audience reacts with rousing applause.
Botti and Co. continue with "Someone to Watch Over Me," where Botti's trumpet enters slowly and with feeling before Caroline Campbell picks up the melody on the violin.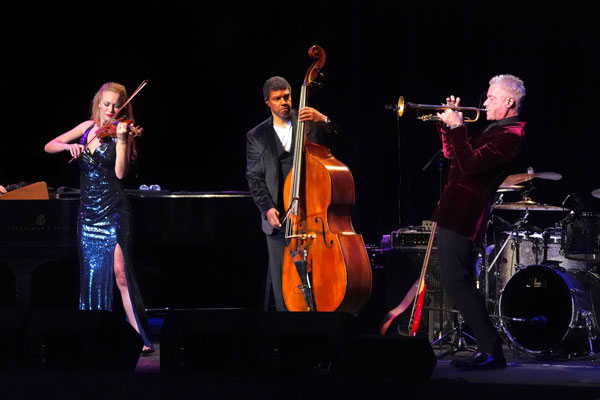 The two make beautiful music together on this classic American Songbook ballad before Botti holds out the last note to the crowd's great delight.
Following avid applause, Botti and the group move on to an arrangement of Nat King Cole's "When I Fall in Love." As the piece progresses, this melodic tune morphs into a torrid jazz improvisation — rendering the composition nearly unrecognizable — and taking the listener on an incredible journey filled with love for this uniquely American art form called jazz.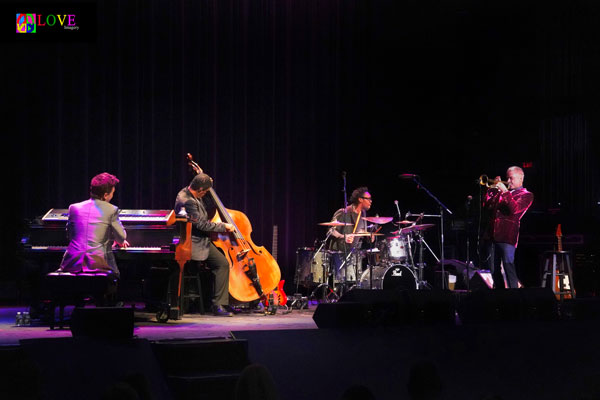 The audience claps along to the funky beat set by drummer Lee Pearson as keyboardist Holger Marjamaa improvises in cascades of runs over the rhythm section. Pearson follows up by playing on the rims of his set with lightning speed prior to playing his drums with his hands.
Botti steps up to the microphone to thank the audience for coming out tonight, announcing, "We just celebrated our 18th year of nonstop touring!" Explaining, "My role in life is to play the trumpet and curate this band," Botti goes on to introduce the various musicians on stage with him.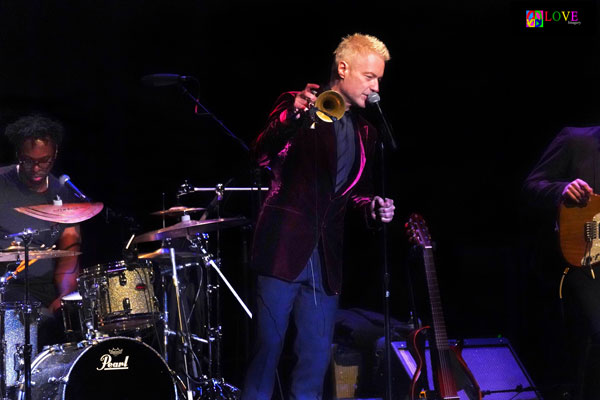 Caroline Campbell plays her violin sweetly and soulfully on the next number — Botti's Grammy-winning arrangement of "Emmanuel." As her notes swirl through the air, Campbell dances with her violin, bending and stretching her body as the melody soars.
Soon, it is Botti's turn to add his rich sound to the collaboration. The two virtuosi play as one, complimenting each other as they create a soundscape which tugs on the hearts of all present and elicits cheers and applause from the excited crowd.
Botti takes a moment to chat with a young boy in the front of the auditorium. After the youngster, Logan, 10, tells Botti he is drummer, Botti responds by stating, "Drummers need swagger and charisma," before introducing Logan to "one of the elite drummers in the world — Lee Pearson."
Here, Pearson is featured on a tour de force performance on "You Don't Know What Love Is."
As the tune opens, the soft swish of brushes on drum skins fills the space under Botti's meandering trumpet. Once the tempo becomes faster, however, Pearson starts to play with one hand and one stick while Holger Marjamaa takes the spotlight with a rollicking piano solo.
Pearson puts on a show playing with his hands as the rhythm section takes the song on an incredible journey which includes an amazing Reggie Hamilton walking bass solo. Botti comes back to add a line here and there before making his horn soar. Grabbing two drumsticks, Pearson plays with speed and abandon.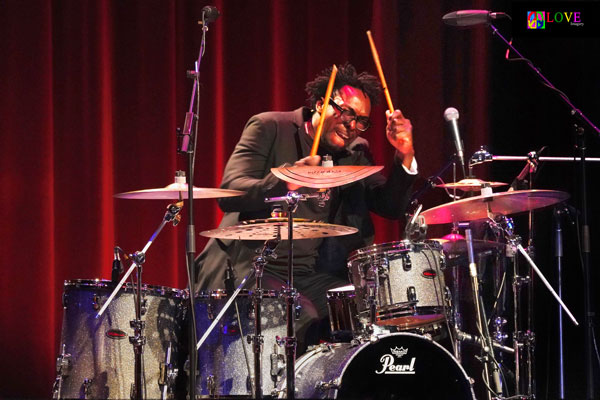 Pearson plays with his sticks on the neck of Hamilton's bass before standing up and taking off his shirt without missing a beat as colored lights dance overhead.
Ultimately, Pearson blindfolds himself with a towel, and with a stick balanced on his head, plays his drums behind his back — proving that Pearson is what Botti refers to as an "artiste" beyond compare!
Following incredible applause, Botti introduces saxophonist Andy Snitzer who joins the group on the Miles Davis' ballad, "Blue in Green." Botti's muted trumpet is soft and focused before Snitzer enters on tenor, telling his story as he bends notes playing up and down his horn.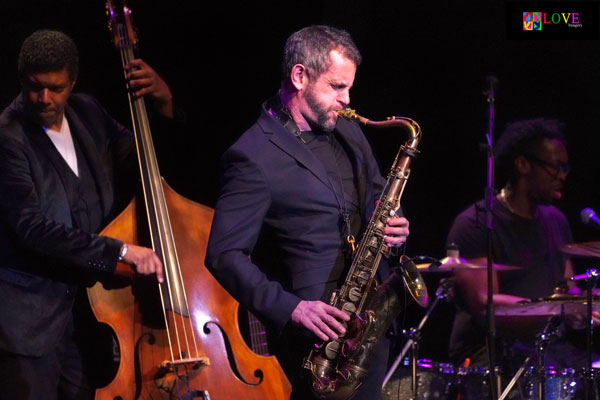 Reggie Hamilton scat sings while he plays his bass, the arrangement morphing into a shuffle as Holger Marjamaa's piano takes off. Trumpet and sax duel — calling and responding to one another as the song escalates — before both instrumentalists end on crystal clear high notes to enthusiastic audience cheers and applause.
Hamilton switches over from acoustic to electric bass and Leonardo Amuedo plays electric guitar on Miles Davis' "So What." Starting with a Reggie Hamilton bass solo, the arrangement soon becomes funky. Botti solos rapid-fire notes, screeching as lights flash before Snitzer takes his turn in the spotlight. The crowd happily claps along to Snitzer's tenor before bass and guitar are featured on this rhythmic jazz concoction.
The rest of the band leaves the stage to guitarist Leonardo Amuedo and Chris Botti who play a duet rendition of "You Are Not Alone." Amuedo channels Pat Metheny on his solo classical guitar intro before Botti enters with muted trumpet. Beautiful notes rise up from the instruments of these two talented musicians and fill the theater with pristine sound on this ballad with a slight Latin feel to it.
The crowd cheers and an audience member shouts out, "We're happy you're here!" to which Botti responds, We're more than happy!" Still accompanied solely by Leonardo Amuedo on the guitar, Botti performs a tribute to songwriter Leonard Cohen by performing a marvelous and moving rendition of "Hallelujah."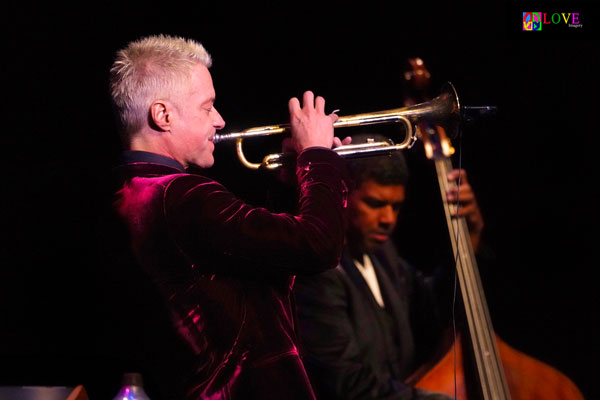 Botti surprises music lovers in the BergenPAC crowd when he comes down into the audience to talk with fans, and then plays a smooth and beautiful interpretation of "Somewhere Over the Rainbow" from his place in the audience, accompanied by Amuedo on classical guitar.
After Botti and the entire band return to the stage, Botti introduces tonight's vocalist, jazz singer Alita Moses, acknowledging, "This is only her second show with us." With her soft, pleasing tone, Moses is featured on Frank Sinatra's "In the Wee Small Hours," her lyrical interpretation impressing this audience of jazz lovers.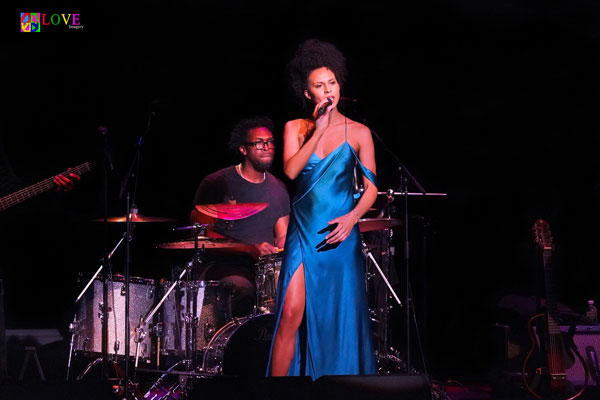 Ultimately the arrangement shifts into a jamming upbeat version of the song which features Leonardo Amuedo on an inspired electric guitar solo with Chris Botti's and Andy Snitzer's trumpet and sax functioning like a complete horn section.
Alita Moses is again featured on the jazz standard, "Embraceable You." With her smooth and effortless style, she croons, "Embrace me, my sweet embraceable you/Embrace me, you irreplaceable you," before Botti joins in with his rich full tone and the arrangement takes a slightly funky turn.
The crowd hoots and hollers and Botti invites Caroline Campbell back to the stage to play a classical violin solo which morphs into an earth-shattering rendition of Led Zeppelin's "Kashmir."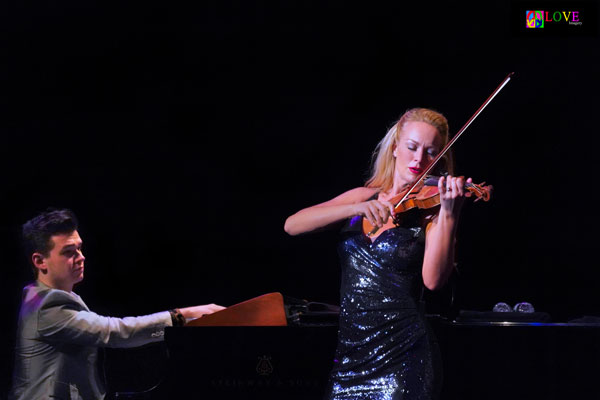 As Campbell moves across the stage like a cat, her bow flies over the strings — the music building and building, ultimately skyrocketing into the stratosphere — wowing the crowd and bringing them to their feet.
Botti jokes, "Now let's take a left turn," before launching into a jazzy arrangement of "There Will Never Be Another You." On this fast up-tempo swing arrangement, Moses scats up, down, and around as she's accompanied by the band. Holger Marjamaa plays a quick and melodic piano solo and Reggie Hamilton plays bass while Moses scats. Then, Botti adds his trumpet to the mix while Moses sings a counterpoint vocal scat to his solo.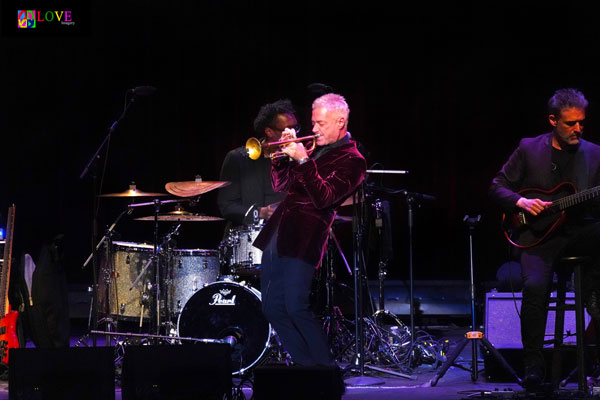 The audience reacts with wild applause and Botti responds by asking, "Are we ready to party for a second?" to which delighted audience members eagerly agree.
Here, Moses sings a rousing version of Al Green's "Let's Stay Together" while the audience cheerfully dances and sings along.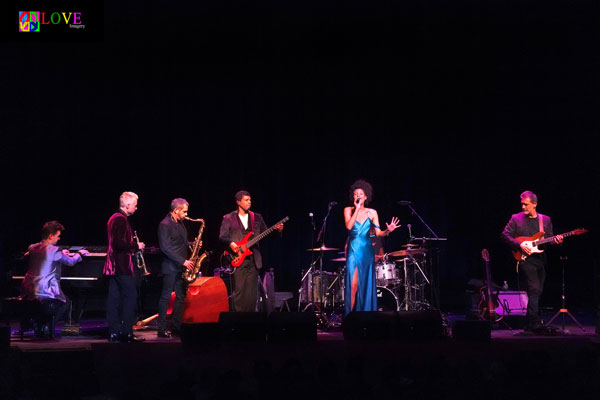 As the crowd hoots and hollers, Botti exclaims, "Let's hear it one more time, New Jersey, for all these great musicians! Thanks for coming out tonight. We love you, New Jersey!"
With audience members cheering on their feet, the entire group leaves the stage. The musicians soon return for an encore which consists of a lovely version of "What a Wonderful World" — featuring drummer Lee Pearson doing his best Louis Armstrong vocal recreation — before Botti and Co. send the crowd home with smiles.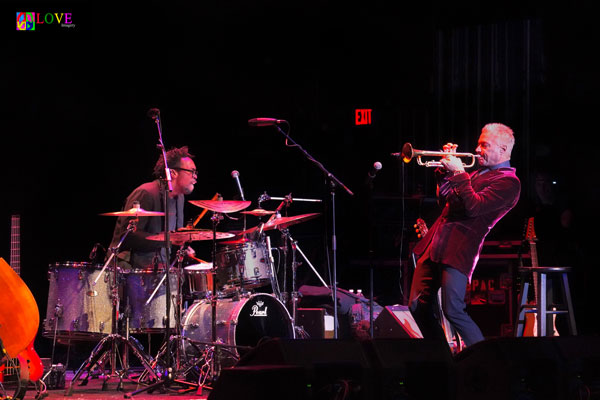 Declares Botti to the standing crowd, "Thank you for making this night so special!"
As audience members filter out of the BergenPAC auditorium, we take a moment to chat with vocalist Alita Moses, who is meeting with fans at the foot of the stage.
When asked what it's like to be the newest member of Chris Botti's ensemble, Moses exclaims, "It's an honor to be singing with Chris Botti!" Recalling, "I was so elated when I got the call to work with him," Moses reveals, "He and the band are such incredible musicians and they've been so welcoming, my nerves went away quickly," before concluding, "It feels so good to be up there performing with all of them."
We also chat with several members of the crowd who share their thoughts on tonight's performance.
Comments Lucille from New Rochelle, NY, "Chris Botti was just fabulous! He's such a great talent," before noting, "All of his musicians are so talented — I especially liked Caroline Campbell on the violin and his new singer, Alita Moses, on vocals."
Lawrence from Tenafly agrees adding, "Chris Botti was outstanding — he never disappoints — and Caroline Campbell is always great, too."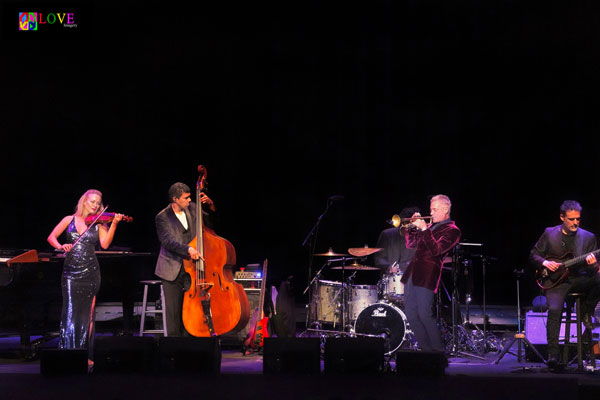 Lawrence's son, Logan, 10 — whom Chris Botti talked to from the stage — remarks, "It was a good show," before adding, "and, afterwards, I even got a pair of drumsticks for my drumstick collection!"
Jeanella from Tenafly declares, "Chris Botti was just great, and his singer, Alita Moses, was amazing." Brianna from Franklin Lakes agrees explaining, "There was a lot of talent on the stage — it was very impressive!"
Lastly, we chat with Andy from Hackensack, who asserts, "It's wonderful to have this level of talent right here in our own backyard at Bergen PAC," before adding, "There were so many surprises in this show, it was amazing — just brilliant!"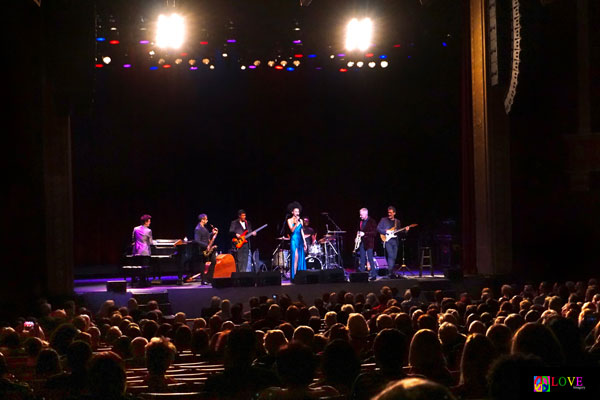 For more on Chris Botti, please go to chrisbotti.com. For information about upcoming shows at BergenPAC, please go to bergenpac.org.
Photos by Love Imagery
Spotlight Central. Your source for Jersey entertainment news and reviews
Love Imagery Fine Art Photography. all you need. peace/love/flower/power