originally published: 03/24/2020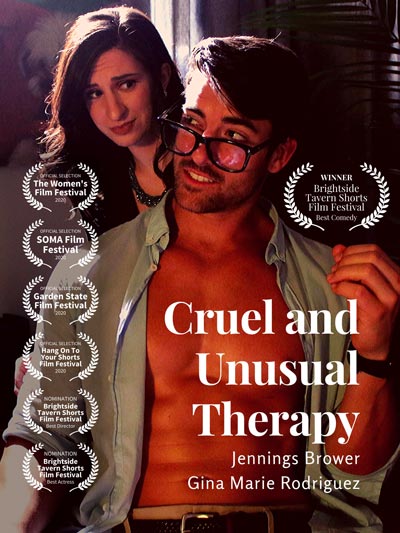 "Seeing a therapist is hard. Breaking up with one is harder." – This is the tag line for the short independent film Cruel and Unusual Therapy, written and directed by Gina Marie Rodriguez. The film is set to screen at the Garden State Film Festival's LIVE STREAM on Saturday, March 28 at 6:15pm alongside eight more short films.  In the midst of a global quarantine, the festival is offering their full schedule for ticketholders from the comfort of their homes.
Featuring TikTok star, Jennings Brower, and Westfield IFF Director, Gina Marie Rodriguez, Cruel and Unusual Therapy is a funny and sexy, seven-minute break from reality.  In the midst of a therapy session, Lianne (Rodriguez) struggles to focus on anything other than her abnormally attractive psychiatrist (Brower).
Gina Marie Rodriguez is an independent film producer, festival director, writer, and actress. Jennings Brower is an actor, model and content creator based in NYC.  
Tickets to see Cruel and Unusual Therapy are available for purchase online.  Additional ticket options can be found here.  At a time when arts organizations are struggling more than ever before, this is a wonderful opportunity to support this New Jersey staple.
The Garden State Film Festival (GSFF) was envisioned by 25-year film industry veteran Diane Raver and the late Hollywood actor Robert Pastorelli in 2002 and launched the following year. It is held in Asbury Park and surrounding area. The GSFF is a 501c3 non-profit organization. 
---