originally published: 03/23/2020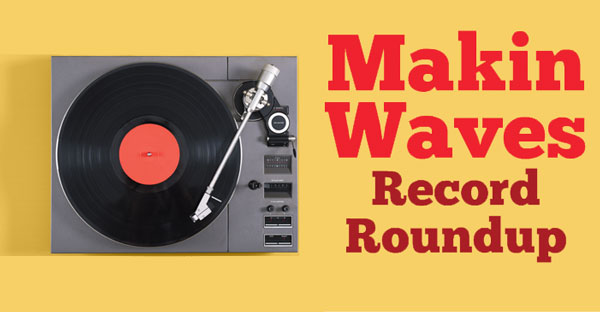 Like Asbury Park's MAMADRAMA and Philly's The Ramoms, Highland Park-based Hair Magic are a punk-inspired outfit consisting of moms who rock. Guitarist-vocalist Jennifer Rector, bassist-vocalist Christine Espiritu and drummer Christie Lutz are a fun, charming trio whose self-titled debut EP is as infectious as it is energetic, as edgy as it is genuine. 
Recorded at Volume IV in New Brunswick by the legendary Chris Pierce of Doc Hopper and The Groucho Marxists and mastered at House of Vibes in Highland Park by the legendary Kurt Reil of The Grip Weeds, "Hair Magic" also at time is surprisingly heavy. Me thinks that may be Pierce's input (he doesn't call his studio Volume IV for nothin'). 
Let's put The Ramones, The Runaways, and Black Sabbath in the Makin Waves Rock 'n' Roll Blender with a dash of The Go-Go's and The Crystals to make it sweet. That's how you make Hair Magic!
The EP opens with its first single, "Gale Force Wind," a catchy, yet attitudinal tune about surviving heartache. If Ozzy Osborne and Joey Ramone went on on spring break in Florida and met up with Frankie Avalon and Annette Funicello, "Gale Force Wind" is what their collaboration would sound like. And what a beach party blast it is with the moshy edge of Sabbath and The Ramones overlaid by the charming '60s fun of "The Swim." As you listen to the track, you can just feel the sand squishing between kids' toes. 
The rollicking rumble of "Rope" also is a mash-up of moshing and "The Swim," concluding with a fantastic bass riff by Christine. "Nag" is a snippet of a breakup song that fuses'60s girl groups, like The Crystals, with harder-edged '70s counterparts, such as The Runaways. The slash 'n' burn of "Don't Go" also is a treat.  
To close out the EP, Hair Magic place their tongues firmly in cheek to pay homage to 1970s heartthrob Randy Mantooth, star of the NBC-TV hit "Emergency," with The Waitresses-like "Randy Mantooth." I love the line "I've been through some stormy weather. Kiss my boo boo, make it better." 
Highland Park-based San Tropez describe themselves as an "American dream pop" band, but they actually seem to incorporate many British elements into their music, including Pink Floyd, David Bowie, The Cure, Echo & the Bunnymen and Oasis. There also are references to the good ol' American noise of Pavement and Sonic Youth on the band's five-song debut EP, "Lila."
The collection kicks off with the sonic emotional bludgeoning of "Tender and High." The tale about a heartbreaking dream is a cross between the haunting, emotional atmospherics and rhythmic passion of The Cure and the noisy, edgy soundscapes of Pavement.
"Pleasant Present," a mash up of the entreating sonic pop of Oasis' "Wonderwall" and David Bowie's grandiose anthem "Heroes" is a treat, but the standout track actually is the closer, "Stacks of Windows." The mighty mammoth aural epic is magnificently layered by Phil Connor at his New Brunswick studio, In the West. The menacing cacophony of cyclone- and robot-sounding guitars and rumbling rhythms is the perfect battle cry of a war between gods and monsters.
Also recorded at Lakehouse Studio in Asbury Park, "Lila" also features "Real Pollution," which brings an edginess to a Pink Floyd vibe, especially "The Wall" tracks "Comfortably Numb" and "Hey You." There's also The Cure-like and Echo & the Bunnymenesque rhythmically dense passion of "Time Is War."
Featuring members of such classic New Brunswick bands as The Wreaths, Sparks Fly from a Kiss, kiaro skuro, Duochrome, Magic Mountain, The Stuntcocks, Urchins, Angular Brothers, the local super group will tentatively perform April 11 at Pino's, their hometown haven for indie rock, as well craft beer and fine wine.
Asbury Park singer-songwriter Joshua Mark has followed his 2015 debut EP, "Breaking Ground," with another impressive five-song collection on Jersey Shore-based Ghetto Surf Records. "Keep Me in Your Mind" recalls the sensitive, organic-sounding singing and songwriting of James Taylor with a bit of the funky folk-pop of Jack Johnson. Some of his vocal inflections particularly recall J.T.
Throughout the EP, Joshua very effectively uses a fine falsetto vocal, which is first heard near the end of the opening track, "Do It Right." He often doubles his vocals with a deeper harmony underneath the falsetto. 
His uncle and label head is Jersey Shore guitar legend Billy Hector, whose exceptional playing is another highlight of the EP. From the crack of the Springsteen-like heartland-sounding opening, featuring a soulful organ wash, to the gospel runs of the closing "Carry My Burden," organist-keyboardist David Nunez also offers strong performances.
The opener is a Jackson Johnson-like breakup song that tells the folk-pop tale of an attractive fella torn between reminiscing about his lost love and moving on from the pain she caused. The tongue-in-cheek bridge, which sarcastically compares the relationship to heaven, is particularly Jack Johnson-like lyrically and vocally. The tune ends on a sweet note with a strong but pretty, ringing but crunchy solo by Billy.
The title track features a very strong James Taylor-like vocal, including excellent falsetto parts, as well as guitar parts by Billy that alternate between revving energy and sweet bird-like sounds that recall Eric Clapton's and Duane Allman's slide work on "Layla." Whereas the opening track deals with the pain at the end of a relationship, "Keep Me in Your Mind" is about the confusion and uncertainty that can come with the beginning of one, perhaps as a prequel or sequel to the opener. 
Billy steps out in front of "Not Backing Down" with the kind of riveting blues-rock solo he's delivered for more than 40 years in such bands as Hot Romance, The Fairlanes and now Billy Hector Band. The funky Jack Johnson-like track seems to be about a sucker who's willing to wait around for a woman who isn't interested in him. A gutsy solo by Billy adds to the track's rhythmic fun provided amply by bassist Wilbo Wright and drummer Sal Boyd. 
There also are a hot slide guitar solo by Billy and sweet falsetto by Joshua on the funky "Vermillion," which seems to lament a failed opportunity to express one feelings. Yet, Joshua wraps the melancholy around great interplay between the Wilbo, Sal and Billy, who does a rad riff throughout that seems to be inspired by Curtis Mayfield, as well as James Brown guitarist Jimmy Nolen. The song's precisely syncopated chime-like riff and funky rhythms are a stylistic 360 from a monstrously thick, rumbling, raw and rough solo that sounds like Godzilla on guitar.
The falsetto on "Vermillion" is so high-pitched that the James Taylor-like vocal throughout the rest of the track seems so much deeper even though J.T. was known for having a sweet, high-pitched voice. It makes things very interesting because it sounds like different singers, which demonstrates Joshua's vocal range and the beauty of a falsetto.
The closer mixes things up nicely with a pretty, sweet-sounding country-gospel arrangement featuring a strong backing vocal by Billy's longtime music and life partner, Suzan Lastovica. Lyrically, the track is ironic, riddled with questioning references to Christ that compare His pain to that of the protagonist. 
Joshua celebrated the release of "Keep Me in Your Mind" on March 6 at Danny Clinch Transparent Gallery in Asbury Park. Billy and Suzan joined his live band, the Attractives, who include Sal and a different bassist, Andrew Robinson. Fellow singer-songwriter Shaune Pony Heath-Thilberg opened the show.
Joshua also will tentatively perform April 1, The Asbury Soundbooth; April 17, Langosta Lounge, and Sundays at Lola's Café. He also plays Thursdays with Billy at Ragin' Cajun in Belmar.