By Gary Wien
originally published: 03/23/2020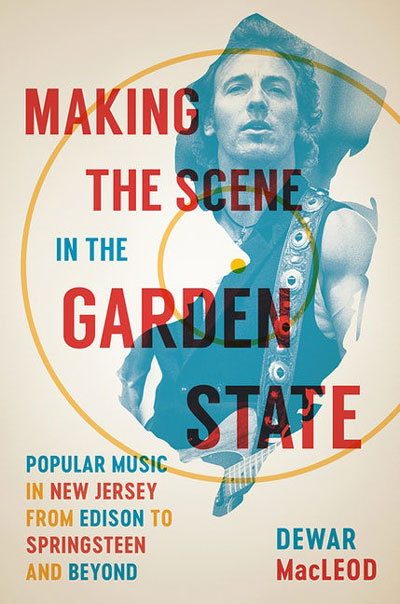 In Dewar MacLeod's new book, Making the Scene in the Garden State: Popular Music in New Jersey from Edison to Springsteen and Beyond, he explores the state's music history through stories about the musicians, listeners and fans who came together to create sounds from across the American popular music spectrum. The book was published by Rutgers University Press and released on March 13.
MacLeod is a professor at William Paterson University who teaches courses that include topics as diverse as the history of popular culture, rock'n'roll, childhood, suburbia, and U.S. foreign policy. His wide range of knowledge allows him to view music history in rather unique ways - going beyond regular music history into how music and music scenes are created and exist because of one another.
"I use the term 'scene' to discuss a variety of types of historical groupings of people around music, 'the contexts in which clusters of producers, musicians, and fans collectively share their common musical tastes and collectively distinguish themselves from others,' he notes in the book's introduction. There's no better way to provide a description for the book and what it covers than MacLeod's own description of each chapter.
Chapter 1, "Thomas Edison and the First Recording Studio," explores the first place that people came together to record music, Thomas Edison's laboratory in West Orange, New Jersey. Edison's phonograph, invented in 1877, dramatically altered the ways that musicians and listeners could engage with music. For the first time, sound was captured for all to hear for all time. The chapter explores the process of developing the technology and space for recording. Many scholars have examined the history of recording technology and some have documented the discography of the Edison cylinders, but few have looked at the experience and the social history of how the first place for music recording developed. Edison's studio created a music world for a new way of engaging with making and listening to music.
---
The article continues after this ad
---
---
Chapter 2, "The Victor Talking Machine Company and the Scene at Home," details Emile Berliner's invention of the flat disc gramophone, which became the basis for the Victor Talking Machine Company founded in 1901. With its globally recognized logo, Nipper, the marketing of the Victrola, and the creation of celebrity recording artists, Victor attracted musical artists as diverse as Enrico Caruso, Paul Robeson, the Carter Family, and Jimmie Rodgers, who flocked to Camden, New Jersey, to put their sounds on cylinders in the first decades of the twentieth century. At Victor's studios in Camden, singers and musicians created a new type of recording artists. And the Victrola signaled a new type of domestic scene, as middle-class consumers increasingly shaped their identities through their engagement with the commercially available products in the privacy of their own homes.
Chapter 3, "Jazz at the Cliffside: The Studios of Rudy Van Gelder," tells the story of the recording sessions in the legendary studios in Hackensack and Englewood Cliffs, New Jersey, where some of the most innovative and influential jazz of the twentieth century was recorded. Rudy Van Gelder's distinctive recording style lured artists such as John Coltrane, Miles Davis, and Thelonious Monk to his studios for musical exploration and innovation for Blue Note, Prestige, and other important postwar jazz record labels. The music world that developed in Van Gelder's studios was distinctive both for its sound and its ambiance.
Chapter 4, "Transylvanian Bandstand and Rockin' with the Cool Ghoul," explores the television dance show Disc-O-Teen, hosted by Zacherley, the Cool Ghoul, and broadcast on UHF Channel 47. The show brought young people from Newark and the surrounding suburbs together to dance to the latest hits and to local garage bands in the 1960s. Teens gathered every afternoon to dance on television, and other kids raced home after school to watch the proceedings with Zacherley and their favorite dancers. The teen scene at Disc-O-Teen took place within a larger context of the post-Beatlemania garage band explosion. Kids picked up guitars and played rock music in high schools throughout New Jersey (and across America). Young people's identities were formed within the context of the local and national communities of rock culture in the 1960s.
Chapter 5, "The Upstage Club and the Asbury Park Scene," describes the thriving rock scene at the Upstage Club before Bruce Springsteen ("The Boss") made the Asbury Park club The Stone Pony famous. From 1968 to 1971, the club hosted jam sessions by young local rockers like The Boss and Southside Johnny and a generation of up-and-coming musicians. In the late 1960s, the era of Woodstock, increasing intergenerational tensions over the Vietnam War along with riots in ghettos across the nation caused young people to embrace rock culture as a unifying element in opposition to mainstream culture. At the Upstage Club, the focus was music as escape from society and into artistic and individual expression.
Chapter 6, "'Drums Along the Hudson': The Hoboken Sound" details the history of the scene in Hoboken in the 1980s and 1990s. The club Maxwell's in Hoboken played host to thousands of local and touring punk, alternative, and indie bands from its opening in 1978 to its closing in 2013, forging an important stop on the "cultural underground railroad" of the indie music scene. Young people were no longer united generationally, but a subculture developed that unified some segments of youth through a shared taste in music and a shared DIY sensibility. The scene at Hoboken was central to the shaping of identity for local musicians and fans, as well as touring artists from the United States and the United Kingdom.
The conclusion explores the multiple music scenes in his hometown in northern New Jersey to demonstrate how music worlds continue to develop and thrive.
This is the second book by MacLeod, following Kids of the Black Hole: Punk Rock in Postsuburban California (Oklahoma University Press, 2010) which focused on the music of his youth (punk) which is also the music he currently plays in his band, Thee Volatiles.
Immediately after skimming through the book, New Jersey Stage contacted him to learn more.
---
I'm sure the Springsteen aspect will be very popular, but you definitely hit on two of the most important parts of New Jersey music history with chapters on Thomas Edison and Victor Records.
Right and it's interesting, when I started doing the research I had this all laid out with the chapters and a few other possibilities as well. Once I got into the Edison and Victor stuff, I went back to the editor and said, "Can I just do these two?" He's like no, that's not enough. They wanted a broader appeal and the book I had proposed to them, which I understood. There was so much with Edison and Victor that I feel I could have spent years just doing the Edison stuff alone and discovering deep into the archives.
I was interested in what happens when people come together to make music. Why did they do it? How does it affect them? How does it affect music? And what's that whole thing about? That's my concept of what a scene is: it's people coming together to make and enjoy music.
Victor and Edison were both making music, but I focused more on the reception of music and the communities that form around the mass reception of music as it is being marketed to a broader middle class in the early 20th century.
Many people would be surprised to learn about the artists who recorded in Camden at Victor Records back in the day.
Yeah and that's part of the purpose, right? To put New Jersey on the map as the place that's not just between the bigger cities and not just a suburb of New York City. It's not just the bridge and tunnel and all that. The New Jersey cities have rich roots even though they were so decimated in the 20th century.
Victor recorded in Philadelphia and New York as well, but I chose to focus on just the stuff that came through Camden. I wanted to highlight the fact that people were coming from all over the world to lay down tracks and everything had to stop when the factory whistle blew!
That's something I did not know and I'm embarrassed to say I didn't even know Edison was deaf.
Yeah, it's not well known but if you think about it you've probably seen pictures of him cupping his ear in some of the familiar photos. I read every biography of Edison, Franklin, and Lincoln and I loved Edison. There was always the legendary story in which he saves the kids from getting hit by a train and that was the child of the telegraph operator. That's how he learns how to do telegraph.
My favorite story is that he was late for the train and a guy reached down and pulled him up by the ear and on to the back of the train one day. I think it's completely made up though. It was Scarlet Fever or something like that which led him to lose much of his hearing as a child. By the end, he had lost almost all of his hearing in both ears.
You always hear about people losing sight or hearing and having their other senses get sharper. I wonder if that's how he could sense the vibrations of the music.
He talked about how he hated vibrato and tremolo; therefore he hated what the violin is supposed to do. He had a very pedestrian musical taste of what we might call the pop music at the time. But there were times when he would hear something and the finest musician in the world wouldn't hear it. He'd say you made a little error here and they would look at the grooves on the wax - lo and behold, there was the little tic that showed he was right. It's fascinating because he was hearing it, but not through his ears. It almost does feel like it was extra sensory.
I liked writing about him because he had bad music taste. Like when Rachmaninoff comes in and Edison kicks him out, saying he doesn't know how to play - he's just a pounder. They had to sneak Rachmaninoff back in when Edison wasn't around so they could record him.
Edison broke everything down scientifically and he failed in the music business. He ran his company into the ground because he refused to recognize why and how people listen to music with recordings. He didn't believe in stars. I make the analogy to Henry Ford who famously said, "You can have any color your want as long as it's black." Edison was like people could have any music they wanted as long as it said Edison on it. I don't think that was vanity - he understood he was the brand and he's right, but not with the fickle pop music marketplace that was developing. A single, solid brand was no longer enough. It was clearly enough to build the Edison empire and carried a lot of cache, but for pop tastes where you needed people to be buying on a weekly basis the people weren't going to keep coming back for the Edison name. They wanted Billy Murray; they wanted Ada Jones - they wanted to hear the stars and music that was fresh. They were judging labels by the names of the artists, not by the name of the labels.
Edison went out of business because he couldn't keep up with that. Victor Records did a much better job of recognizing both the classical and pop fans. The classical music was to give them the cache, although it wasn't where their profits came from. They put a lot of money into classical music just to say they were respectable - especially for a rising middle class. This was the same time period as Dr. Eliot's Five Foot Shelf - a 51 volume anthology of classic works from world literature that would give someone all of the knowledge they needed to be cultured and civilized in the modern world. It was something every rising middle class household would want. Victor also put out big catalogs of books each year to teach people about opera. At the same time, they were putting out Hawaiian songs, country songs, Hillbilly songs - anything that sounded interesting and fresh. They were on top of the search for novelty songs from the beginning and they understood that people were voracious and wanted to hear every kind of music.
I liked how you included scenes like Newark's Disc-O-Teen (a live-in-studio pop music show hosted by Zacherley, an early horror TV host) and Asbury Park's legendary Upstage Club that was the place where Bruce Springsteen, Southside Johnny, David Sancious, Bill Chinnock, and much of the original E-Street Band jammed at teenagers. How did you conduct research for the book?
For the Disc-O-Teen chapter, I found an online discussion group of people who had attended Disc-O-Teen and had memories of it. I quote from them anonymously and used that group as a research database to collect information on the bands that played there and the shows that took place, as well as the memories of the experience.
In a couple of chapters like the one on Rudy Van Gelder (Jazz at the Cliffside) and the chapter on Hoboken in the 80s, there has been so much great oral history and interviews in the last decade that I was able to piece a lot from there.
One of the reasons I wrote about punk and hardcore in my first book is I always remember the line somebody said once, "There's always been loud music, but not until hardcore was there a fad for it." I loved writing about people making music that was never going to be popular. You could even maybe objectively say that hardcore is not even good music - I wouldn't say that, but, for me, it was more about the experience and that they see themselves as artists. They actually became creative artists, poets, and musicians through the process of this. And that's what was going on at the Upstage Club. Everybody that walked in there had some experience that connected them to other people which connected them to music. It was the same with Disc-O-Teen.
It was extraordinary how many of these people stayed in touch with each other and stayed in touch with Zacherley. That was because they were teenagers at the time - just the right age of their life when emotions are stronger and memories last forever and all that stuff. But some of it was through the experience itself - it was so spectacular that they were on this little, obscure dance show. They all came from all over to see each other and dance together. They didn't all stay in touch, but thirty years later when somebody says, "Let's get together," they come from all over.
You point out how scenes do not necessarily need to have a superstar, which is something many people do not understand. Scenes are special to those who are part of them. Take Hoboken for example; I think it's pretty amazing to have a music scene in a one square mile town.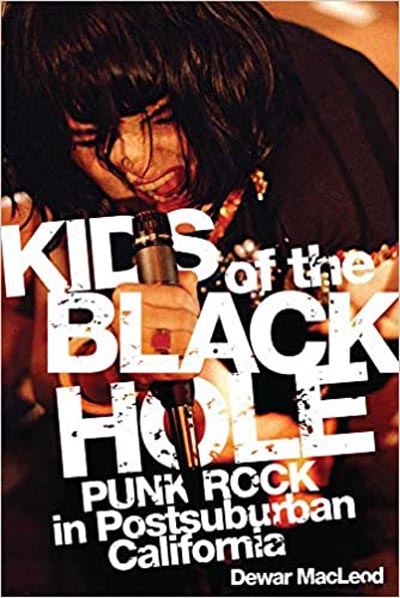 I came of age with punk music. It was the music that turned me on, but it was more than that. I had been going to arena shows and I tell the story in my punk book. I went to see Led Zeppelin at 15 and sat in the far regions, listening to 40 minute guitar solos. The next week I went to see The Ramones. I wound up leaning against the stage watching The Ramones. I was actually a little intimidated because I didn't get it at first. We now know The Ramones are The Ramones but, for me, it was leaning against the stage watching people jumping up and down and falling down that got me excited. Ever since then my personal relationship to music has been almost always on a smaller level and enjoying it with other people even if it's a bigger act.
I have two 20-something kids and I've raised them both to be like art happens wherever you are. Just find the like-minded people and find the people doing different kinds of things too and work with them. Genres are B.S., borders are B.S. Just like everything and work with everybody.
---
Gary Wien has been covering the arts since 2001 and has had work published with Jersey Arts, Elmore Magazine, Princeton Magazine, Backstreets and other publications. He is a three-time winner of the Asbury Music Award for Top Music Journalist and the author of Beyond the Palace (the first book on the history of rock and roll in Asbury Park) and Are You Listening? The Top 100 Albums of 2001-2010 by New Jersey Artists. In addition, he runs New Jersey Stage and the online radio station The Penguin Rocks. He can be contacted at gary@newjerseystage.com.
---